Plant City man arrested after fleeing officers on motorcycle with fake 'Mclovin' tag: FHP
TAMPA, Fla. - A 30-year-old Plant City man was arrested and ended up with a broken foot after speeding away from law enforcement in Tampa early Sunday morning, according to officials.
Troopers say Jessie Rivera was seen speeding and swerving between cars on his red motorcycle that had a fake "MCLOVIN" tag. Authorities say Rivera was going 110 mph in a posted 45 mph zone.
According to officials, a trooper got behind the motorcycle and turned on the patrol car's lights and siren. Authorities say Rivera turned around and looked at the trooper and rapidly started to speed away.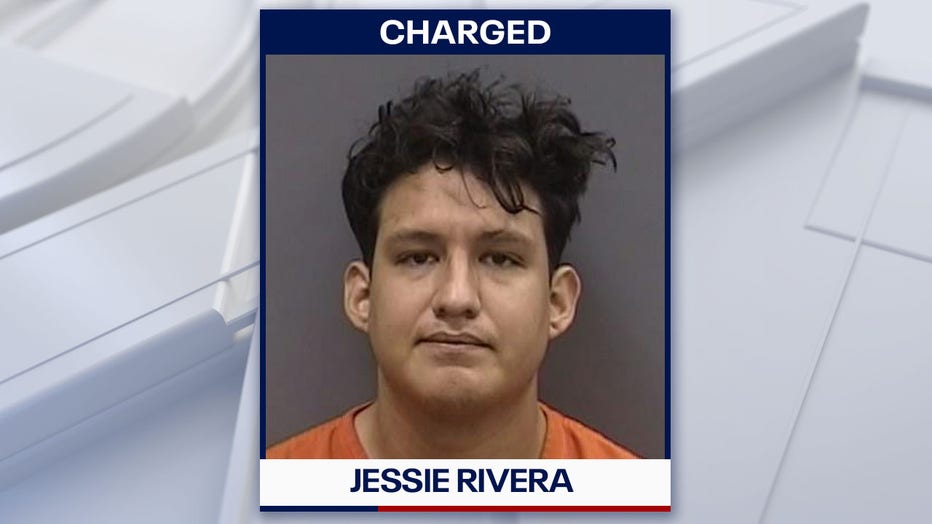 Courtesy: Hillsborough County Sheriffs Office
The trooper says he turned off the lights and siren and began to watch the motorcyclist from a distance and saw a St. Petersburg police officer and an unmarked Pinellas County sheriff's deputy attempt to make traffic stops. Rivera did not stop for either, according to FHP.
The trooper kept following the motorcycle across the Gandy bridge with no lights or sirens on, according to officials. Authorities say Rivera was going about 15 mph over the speed limit.
READ: Man dies after being ejected from car on SR-674: FHP
Rivera exited off the Gandy bridge onto SR-618, traveled on SR-618 to 22nd Street and left the highway, according to the Florida Highway Patrol. Officials say the motorcyclist turned north on 22nd Street and then east onto SR-60.
The motorcycle stopped at the intersection of SR-60 and 50th Street, and according to FHP, Rivera turned around and looked at the trooper who had been following him.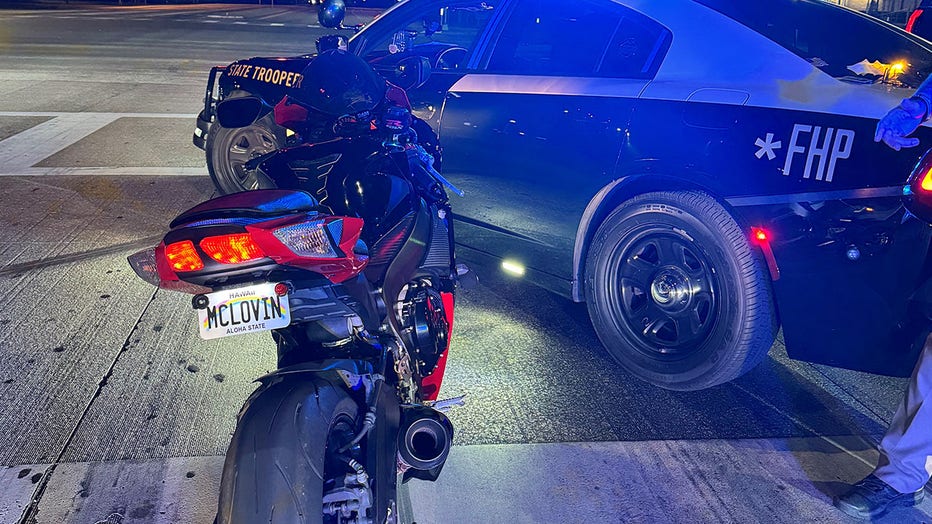 Courtesy: Florida Highway Patrol
When Rivera tried to take off again, he slipped a gear and ended up killing the engine, according to the arrest report. Officials say he tried to get the motorcycle back into gear.
Rivera tried to back up and go around the patrol car that was blocking him from escaping, according to authorities. The trooper says he grabbed Rivera as he was trying to flee and pulled him off the motorcycle.
The motorcycle fell on the trooper and Rivera, according to FHP.
READ: St. Petersburg woman dies after car crashes into tree: SPPD
Officials say Rivera was told not to pull away while the trooper placed him in handcuffs. The motorcyclist told the trooper that the motorcycle was on his foot and that he was hurt.
The trooper says he lifted the motorcycle off of Rivera and called EMS. 
According to the arrest report, Rivera was arrested and charged for fleeing to elude a law enforcement officer at a high speed around 12:16 a.m.
EMS took Rivera to the hospital and determined that he had a broken foot, according to FHP. After being treated he was released and booked at the Hillsborough County jail.