Man robs drugstore store for bottle of hydrocone pills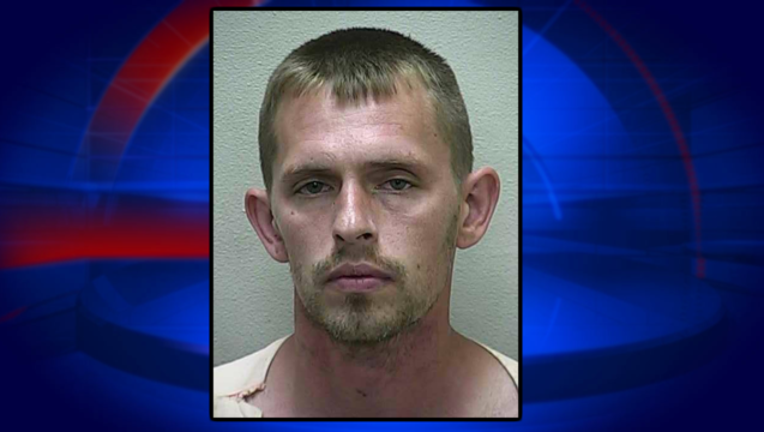 article
MARION COUNTY, Fla. (FOX 35 WOFL) - On Tuesday, October 10, 2017, Marion County Sheriff's Office deputies arrested Timothy Aaron Hughes, 33, for committing a robbery at the Sunshine Drugs store located at 3450 NE Jacksonville Road
in Ocala.
Hughes implied to the employee that he was carrying a weapon and demanded pills during the robbery.
At approximately 11:30 a.m., Tuesday morning, MCSO deputies responded to the incident location in reference to a robbery that had just occurred. An employee of the store told deputies that the robber, later identified as Hughes, approached him and said, "I don't want any trouble. I just need opioids."
The victim stated that the suspect had his right hand in his pocket and looked down at his hand and then looked back at him, making the victim believe that Hughes was armed. The victim complied with the demands and gave Hughes a bottle of hydrocodone pills. Hughes then fled the scene.
Witnesses told deputies that Hughes fled the store in a red older model two-door convertible with a black top. The information was immediately disseminated to local law enforcement agencies, and within 15 minutes, Ocala Police Department officers spotted the vehicle on East Highway 40 and conducted a traffic stop. Hughes, the driver, matched the physical description of the suspect described by the witnesses and was immediately detained.
Hughes made statements to deputies saying that he wanted to go back to the store to apologize to the employees. While walking into the MCSO Central Operations Center for an interview, Hughes told deputies that his family and kids aren't going to understand this over five pills.
Hughes was arrested and charged with Robbery with a Weapon- Weapon Implied. Hughes advised that he has only been in Marion County for a few days and is not a resident here. Based on this information, detectives requested that he be given no bond. A weapon hasn't been recovered at this time. 
-----------------------------
Information via the Marion County Sheriff's Office