Missing cat reunited with Florida family after 11 years: 'We are so happy'
JACKSONVILLE, Fla. - After 11 years, a family from Jacksonville can rest easy knowing its cat is safely back home. 
The epic reunion story started when Animal Care & Protective Service Officer Krystal Alfredson responded to a report about a sick cat, the animal shelter shared on Facebook. While the cat was microchipped, its registration was incorrect – so Alfredson was back at square one. 
The cat's microchip information did, however, point to the Jacksonville Humane Society, which was able to direct Alfredson to the owner's information from 2010. The phone number was no longer in service, but Alfredson was able to use the owner's address on file to find a current phone number. 
"The number worked, but was it for the owner of the cat named Derek from over a decade ago?? Officer Alfredson left a message describing the cat and provided information and where the kitty was being held for reclaim," ACPS said on Facebook. 
Hours later, the cat's owner, Angela Green, made her way to the animal shelter and was "shocked" to find her children's childhood pet sitting there. She said she was "devastated" when Derek went missing, but that's all in the past now, thanks to Alfredson. "Derek now gets to live out his life back in the place where he was raised and with a family who still loves him to this day," ACPS said. 
Green said Derek is fitting in just fine with her family's other cat, Cedric. She also shared photos of her son with Derek when he was first adopted and an updated photo of her now-13-year-old son with Derek the day he came home.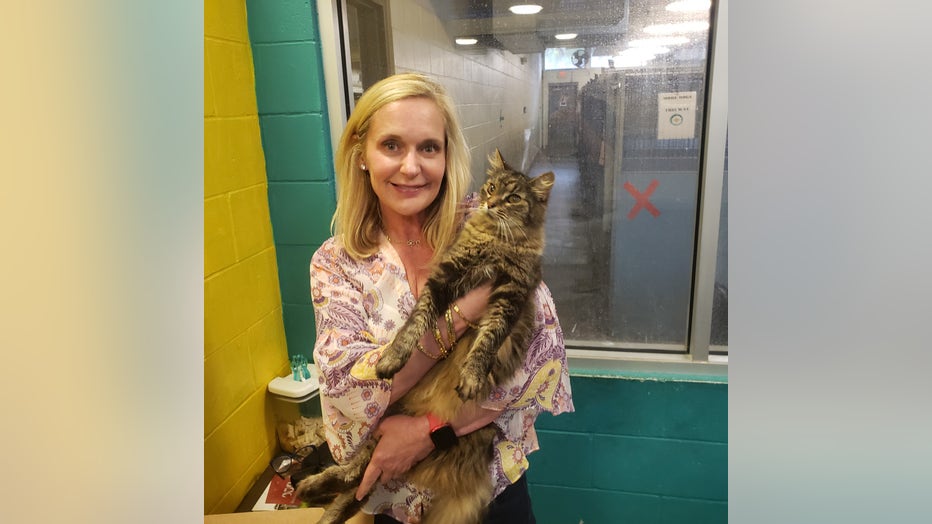 Photo: City of Jacksonville
"We are so happy and feel (unbelievably) lucky to have him back," she said.