Morgan, Latvala test waters in governor's race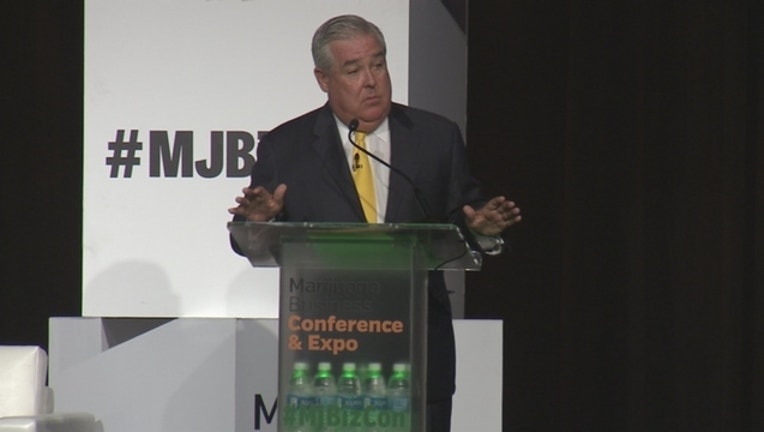 article
TALLAHASSEE, Fla. 9NSF) - Speculation about contenders for the 2018 campaign for governor picked up steam Thursday, as trial attorney John Morgan continued to flirt with a bid and a powerful state senator said he might join the fray.
In a visit to Tallahassee, one almost certain to stoke talk that he will run for the state's highest office, Morgan told reporters he was in no hurry to make up his mind.
"I don't think I have to do anything this year," he said. "The rest of these people have got to scramble to get money, for name ID."
An influential Democratic donor, campaigner for medical marijuana and seemingly ever-present television pitchman, Morgan would add a flashy name to a race that is already attracting interest from a growing number of high-profile state politicians.
In a telephone interview late Thursday afternoon, Senate Appropriations Chairman Jack Latvala acknowledged he is considering a run for governor.
"I've been involved in Florida government and politics for a long time. I think I understand it as well or better than anybody else who's been interested in becoming a candidate," said the Clearwater Republican, a political veteran considered by many in the legislative process as one of the state's savviest tacticians.
Latvala, who has a printing company in Largo, said he also has experience other candidates lack, as a small business owner.
"I've made a payroll. I've paid workers' compensation," he said. "I think I can be a good governor."
Agriculture Commissioner Adam Putnam and House Speaker Richard Corcoran, R-Land O' Lakes, are both rumored to be interested in running for the GOP nomination. On the Democratic side, Morgan could face former Congresswoman Gwen Graham, the daughter of former U.S. Sen. and Gov. Bob Graham, and other candidates.
Morgan, though, appears to be banking that his outsider profile could be attractive in a day when a reality television star is leader of the free world. And while he said he's friends with people like Graham and Corcoran, he also found subtle ways to point to the fact that he is not a career politician.
"Most of these people have been thinking about running for governor since Key Club," he quipped at a meeting of the Capital Tiger Bay Club. "I've been thinking about running ... since Christmas."
The visit was part of a "talking tour" that Morgan is on to gauge support for a run at the governor's mansion in 2018. Gov. Rick Scott cannot seek another term and could challenge U.S. Sen. Bill Nelson, D-Fla.
While he distanced himself from the politics of President Donald Trump, Morgan also hews closely to the outlines of the businessman's upstart campaign: a wealthy political novice who is brash and unafraid of impolitic remarks.
"Why do we need two terms of governors? Isn't one term enough of these guys?" Morgan said at one point. "If I ran, I'd only give you one term, I'm sorry to say. Then I'd go back to St. Bart's. Up in Virginia, it's a one-term deal, and it works just fine. If you can't get it done in one year, you damn sure don't need eight."
Morgan's speech was peppered with expletives rarely found in political speeches, with a scatological term beginning with "s" an apparent favorite.
If Morgan does make a bid for the governor, he said one of his top issues would be an increase in the minimum wage. Morgan said that would answer some of the economic anxiety that helped propel Trump to the White House and powered U.S. Sen. Bernie Sanders' unsuccessful run for the Democratic presidential nomination.
"The real problem is that we've tried everything in the world, but we've never tried the right thing," he said. "And the right thing is to pay somebody fairly for their day's work."
Morgan also appeared to have another similarity with Trump --- a willingness to say things that get his message across but might not be strictly factual. An example came during his discussion of the minimum wage, when Morgan said he would push an amendment to the state Constitution dealing with the issue if he didn't run for governor.
"I don't know if it should be $10, I don't know if it should be $11, I don't know if it should be $12, but whatever it is, it should be tied to COLA," Morgan said, referring to cost-of-living adjustments. "They'd make the minimum wage like $6 an hour in the '70s and let it stick forever. That's crazy with inflation."
The federal minimum wage has increased 13 times since 1970, and did not cross the $6 threshold until 2008. Meanwhile, because of a constitutional amendment approved by voters in 2004, Florida's minimum wage is already tied to the rate of inflation.
Regardless, constitutional amendments helped lead to Morgan's newfound interest in running for statewide office. In November, voters approved Amendment 2, a Morgan-led initiative that broadly allows for the medical use of marijuana.
And while Morgan said he wouldn't be a single-issue candidate, he believes recreational marijuana use will eventually be decriminalized in Florida, if not legalized outright.
"I think it is a sin and a crime that marijuana is not decriminalized," he told reporters before his speech to the club. "I don't think anybody should go to jail for possession of marijuana."
Even some would-be supporters, though, are hesitant about Morgan. Mary Pankowski, a member of the club, asked Morgan after his speech to consider shying away from a race against Graham.
"I think you could be a superb governor for the state," she said. "But I'd also say I almost hope what you'll decide to do is to carry your message across the state, tell people that you're for Gwen Graham, and give her some of your hard-earned money. Because, honestly, she has been in public office and she's made an incredible difference."
Information provided by The News Service of Florida.