National Hurricane Center watching two new tropical disturbances: Will they impact Florida?
ORLANDO, Fla. - The National Hurricane Center is watching two tropical disturbances – one of which could bring heavy rain to Florida, and another that is forecast to become a tropical depression this week. 
Here's what we know:
Invest 93L in Gulf could impact Florida
In the southwestern Gulf of Mexico, the NHC is keeping a close eye on an area of low pressure, known as Invest 93L, that is expected to move towards Florida by the end of the week. 
This will bring tropical moisture and heavy rain back into Central Florida through Saturday.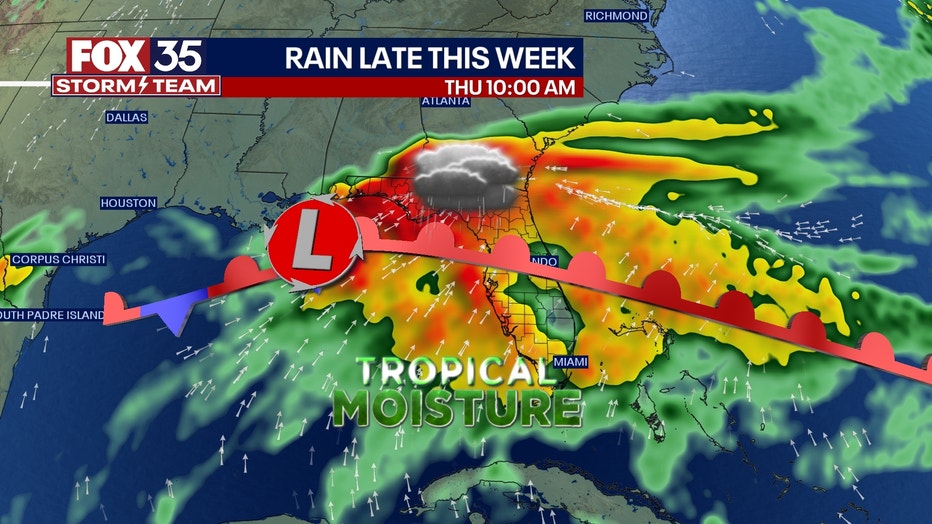 "Models indicate we could see 1-3+" of rain by the weekend. Another cold front could arrives later this weekend and will bring a shot of cooler air back to our area by early next week," Meteorologist Allison Gargaro said. It has a low formation chance over the next seven days. 
Invest 92L to become a tropical depression
Located off the west coast of Africa, Invest 92L has an 80% chance of developing over the next seven days and could become a tropical depression over the next few days.
"Environmental conditions appear conducive for gradual development, and a tropical depression is likely to form during the next couple of days while the system moves west-northwestward or northwestward across the eastern tropical Atlantic," the NHC said. 
Most models will take the feature on a northerly track while over the tropical Atlantic. At this time, there are no potential impacts to Florida. 
The FOX 35 Storm Team will continue to watch both systems for development and will provide you with updates as soon as new information is made available.