'Need to be held accountable': Florida firefighter posed as Hitler giving Nazi salute, according to complaint
MELBOURNE, Fla. - Calls for accountability are growing as antisemitism is on the rise and a fire department in Florida now finds itself caught up in the crisis.
The Anti-Defamation League (ADL) said 2022 saw the highest spike in antisemitism on record, according to their new report. While the city of Melbourne investigates a picture going around the Melbourne Fire Department said to be of a current firefighter posing as Adolf Hitler, Jewish advocates are calling for accountability and education to stop incidents like this from happening in the first place.
"Unfortunately, I can't say I'm shocked. I wish I could because that would actually make this easier if this was a random, out-of-the-norm incident, but unfortunately, these types of incidents have become normalized," said Linda Maurice. 
Maurice is the executive director for the Jewish Council of North Central Florida whose mission is to undertake philanthropic, cultural, and educational activities that enhance the Jewish community locally, regionally, and worldwide.
A recently filed Equal Employment Opportunity Commission (EEOC) complaint states that a Melbourne firefighter posed as Hitler, wearing a combat helmet and fake mustache. In the complaint, fellow firefighter Aaron Starkey said he went to his union about the photograph but nothing was done. It goes on to state that the person in the photo confronted Starkey and told him to stop raising any further complaints about his actions. The complaint states that the firefighter in the photo tried to downplay his actions but never apologized to Starkey.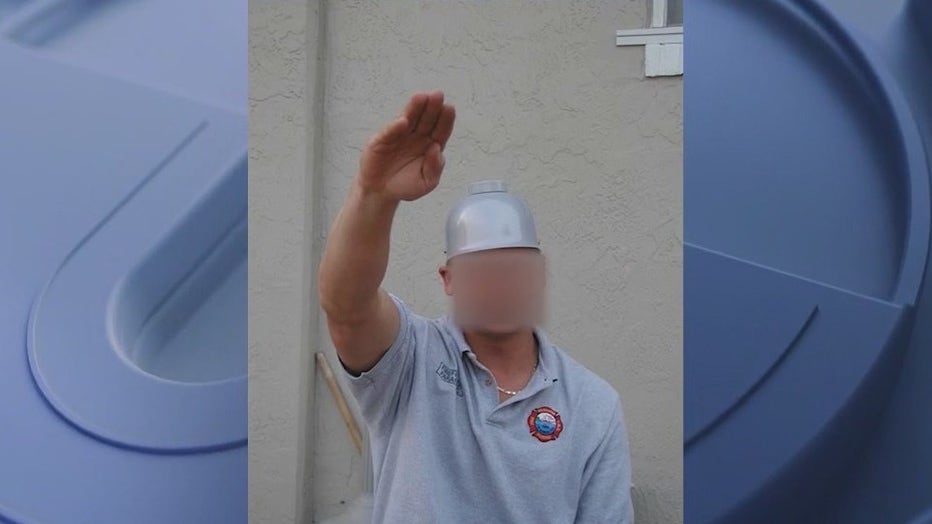 "Who dresses like Hitler these days? It's just unconscionable," Maurice exclaimed. This is the second anti-Semitic incident this week in Brevard County.
Over the weekend, State Representative Randy Fine tweeted about receiving a bag filled with antisemitic messages in it. According to Rep. Fine, R-Palm Bay, his son found a bag filled with paper and rocks in their driveway. The ADL found antisemitic harassment went up 29% last year, and Florida is one of the top five states with the most incidents.
"That is what I think is one of the most scary things, that we hear about them, we say 'Oh my God' it happened again, but we're used to them, and that I think is scarier than if it was just a random incident," said Maurice.
She said education can go a long way to stopping anti-Semitism, and accountability is crucial.
"We all make mistakes about things we say and do, but the fact that he stood there in front of a camera, that is an intentional action," she continued. "These people, when they open up their mouths, and they act out a certain way – they need to be held accountable, as well."
The City of Melbourne is currently investigating, as well as the EEOC.