Ocala's Veteran's Memorial Park vandalized again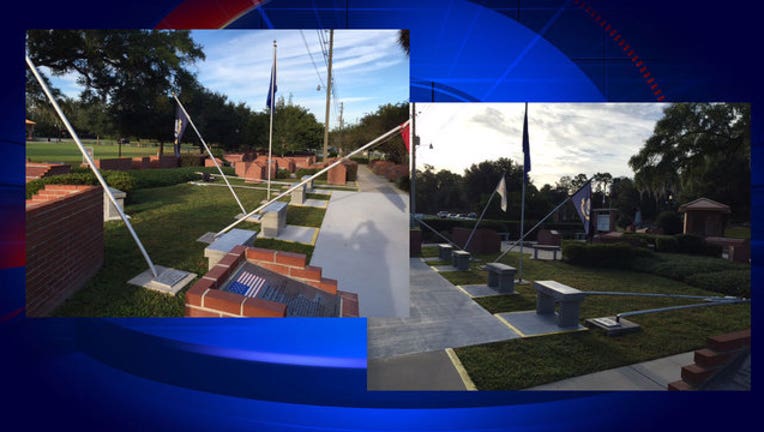 article
OCALA, Fla. (WOFL FOX 35) - The flags are fixed now, but for the second time this week, somebody vandalized Ocala's Veteran's Memorial Park.  Now police, and one veteran are asking for your help.  Bent, pushed over, and fallen. That is what five of the flag poles flying the branches of service flags looked like on Thursday.
Jeffrey Askew is  the Veterans Services Director  of the park and is a 22–year veteran of the Navy.  "It hurts," He said "This is a place of honor. Not a place where you deface something. Or destroy something."
Police said someone pushed down the flag poles in front of the history building sometime after 4 p.m. Thursday.  Officials are calling this vandalism "disgraceful," saying it's hard to say what kind of person could do this to a memorial honoring veterans.   "The people who sacrifice so much to protect our freedom," added Sgt. Cynthia Barnes, a spokesperson for the Ocala Police Department .  "They would come and basically do something so horrible."
This latest vandalism happened in the same park where vandals broke two  American Bald Eagle statues just days ago. Ocala police are unsure if the two acts of vandalism are connected.  Sgt. Barnes said, "The same as the Veterans fought for everybody's freedom, it's everybody's park. So, we're asking for everybody's help.  Askew added,  "I'd like for the community, if they know something, to notify Ocala police."
Repaired on Friday afternoon, the poles are up now and the flags are flying high again, like they have since the late 1990s. Looking at the flags flying in the wind, Askew said the flags send a strong message.  "We will not be defeated," Askew asserted.
If you know anything about this instance or the other vandalism, you are asked to call Ocala Police. You can also call Crime Stoppers at 352-368-STOP.