Florida to get a glimpse of one of the 'most beautiful' meteor showers on Saturday, NASA says
ORLANDO, Fla. - One of the "most beautiful" meteor showers of the year, according to NASA, will be visible from Florida this weekend. 
The Orionids will start to peak on Friday, Oct. 20, and officially peak on Saturday, Oct. 21, according to FOX Weather. While clouds might hinder visibility in some parts of the U.S., the Southeast region, including Florida, will have a pretty good chance of catching a glimpse of meteors traveling at about 148,000 mph into the earth's atmosphere. 
In addition to these fast meteors, fireballs or explosions of light could also be visible in the shower that originates from Halley's Comet. In short, as Earth moves through the remaining dust of Halley's Comet, it can produce luminous streaks called "trains" that can last for several seconds up to several minutes, NASA said.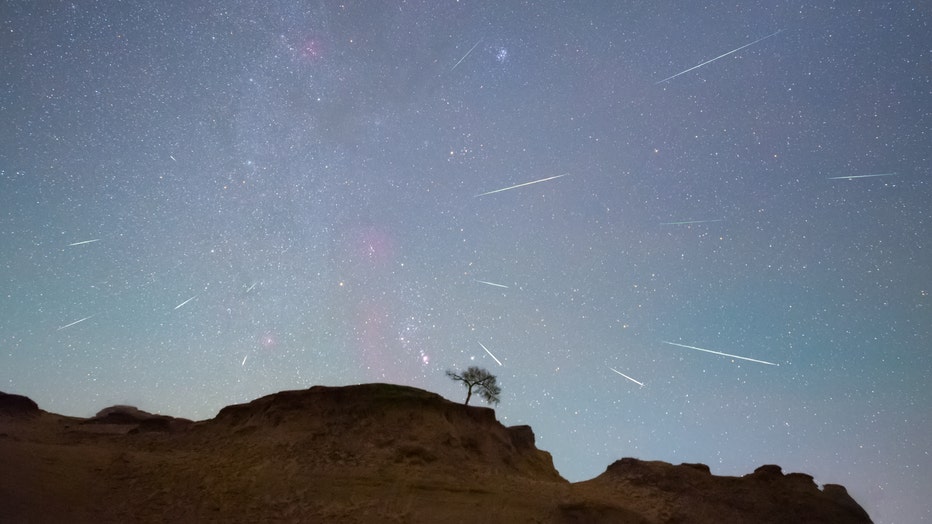 DAQING, CHINA - OCTOBER 22, 2020 - The Orionids meteor shower is seen over the Songhua River in Daqing City, Heilongjiang Province, China, Oct. 22, 2020. (Photo credit should read Costfoto/Future Publishing via Getty Images)
"While Halley's Comet only becomes visible to Earth every 76 years, Earth passes through the comet dust every year between September and November, providing a spectacular show courtesy of the elusive comet," according to FOX Weather. "The Orionid Meteor Shower is named for the point in the sky where the meteors appear to come from – the constellation Orion – which serves as a guide to help skygazers determine what meteor shower they are seeing. But it is not the source of the meteors."
According to FOX Weather, few clouds are expected in Florida. To be more specific, there's a 0% chance of cloud cover in Miami. There's also a nearly 40% full moon, which shouldn't provide too much light that will steal the Orionids' show, FOX Weather added. 
MORE SPACE NEWS:
The Orionids will continue to be active into November, but the full Hunter's Moon will make them a bit harder to see. 
To catch a glimpse of the Orionids, look toward the southeast, near Orion's constellation. Avoid city lights and the moon, too. The darker the sky, the better.