First look: Orlando group proposes $1.7B stadium to lure MLB franchise to Central Florida
ORLANDO, Fla. - Nearly four years after Orlando Magic co-founder Pat Williams first announced his intentions to lure a Major League Baseball franchise to the City Beautiful, we are getting a first look at a proposed 45,000-seat, domed baseball stadium that would eventually be home to the "Orlando Dreamers."
Williams, the founder and president of Orlando City Baseball Dreamers, said much progress has been made in putting Orlando on the map as an MLB expansion site. During a news conference on Tuesday, he unveiled artist renderings of a proposed stadium. Williams focused on four elements to help make an MLB franchise in Orlando a reality: the marketplace, the ballpark, the front office staff, and the owner. 
He said the market was right for a team and securing a franchise could generate an estimated $40 billion in revenue for Central Florida over the next 30 years, when including spring training and other development at the ballpark site. 
"This market is growing rapidly and growing in all four directions. They tell us a thousand people a day are moving to Central Florida and that doesn't take into account that this year there'll be 80 million visitors," Williams said. 
Williams said he met with Orange County Mayor Jerry Demings who lamented that all the region's major sports and entertainment venues to date had been constructed in Downtown Orlando. Mayor Demings urged Williams to look for a site in the county.
"If we do this, he [Demings] said, this ballpark has to be a tourist attraction unto itself," Williams said. "He said people from around the world are going to have to put this on their 'checklist.'"
Plans call for the stadium to be constructed on roughly 35 acres in the heart of Orlando's tourist district, where the Beachline Expressway (SR 528) crosses over International Drive.  The complex, which would be south of the toll road and adjacent to SeaWorld Orlando's Aquatica water park, would ultimately have a pedestrian bridge and walkway connecting it to a SunRail station, should the commuter rail line be extended to the Orange County Convention Center.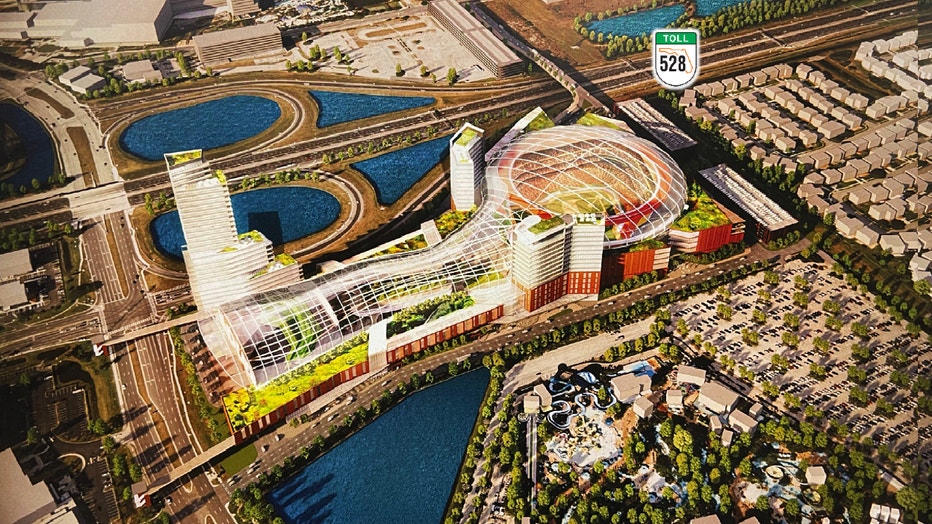 Orlando City Baseball Dreamers, LLC unveils artist rendering of a proposed 45,000-seat, domed stadium to be home to a Major League Baseball expansion franchise. [Credit: Orlando City Baseball Dreamers]
"Running a professional sports team is not for amateurs," Williams said of the front office staff. "You've got to have experience running a ball club, and we feel very good about that."
However, with all the planning and organization to bring the MLB to Orlando, Williams said a franchise owner is yet to be determined. 
"Usually, it's the owner who interviews potential employees. In this case, the employees are interviewing the owner to decide what owner we want. I'm not sure that's ever happened before," Williams added.
Saying there have been some interesting interviews with potential candidates, Williams described how the owner not only has to be acceptable to Major League Baseball and a good fit for the Orlando market but also must have wealth.
"Professional sports right now is not for millionaires. It's not for billionaires. It's for multi-billionaires. So you've got to have the wealth," he added.
Williams was joined by Jim Schnorf, Orlando City Baseball Dreamers Dreamer co-founder, CFO, and chief administrative officer.  The two detailed how the ballpark would be financed before Williams explained what steps had to happen next to bring the MLB to Orlando.
How will the Orlando Dreamers MLB ballpark be financed?
"Ballparks aren't cheap these days. We're looking at a $1.7 billion project," Williams said. 
The Dreamers' proposal calls for $700 million in private funds and nearly a billion dollars in public financing through the Tourist Development Tax (TDT), a resort tax on tourists that brings in millions of dollars for tourism development. 
"That will be the single-largest private financing amount for a Major League Baseball team for a stadium that's publicly owned in the history of baseball," Schnorf added.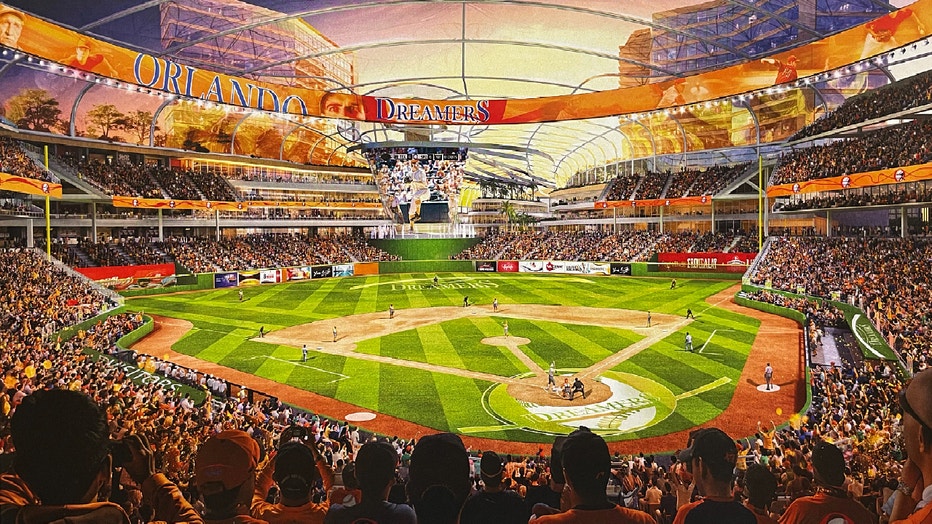 Orlando City Baseball Dreamers, LLC unveils artist rendering of a proposed 45,000-seat, domed stadium to be home to a Major League Baseball expansion franchise. [Credit: Orlando City Baseball Dreamers]
In addition to the ballpark, the complex would also include retail shops, restaurants, office space, 1,000 hotel rooms, and parking garages for approximately 6,700 vehicles.
Mayor Demings has asked for a task force to evaluate where resort tax dollars are spent and Williams said the Orlando Dreamers team would have to make a solid pitch to the county. He said, as part of the proposal, the Dreamers plan to build youth ballparks across Orange County as part of a grassroots effort to promote youth baseball.
"Baseball is not being played by the inner-city kids. The equipment is expensive, the fields are not there, and so we want to build a very nice quality baseball diamond facility in each of the six commission areas, just like the [Orlando] Magic did years ago," Williams explained.
Schnorf outlined plans on how the team would divert a portion of its revenues to cover debt and annual costs.  He also said a long-term capital improvements account would be created for enhancements and renovations down the road.
"This one is off the charts in return to taxpayers," Schnorf added. "In addition to that, I'm pleased to announce that part of this [financing] structure will be making sure that Orange County is not on the hook for any operating deficit of this stadium."
How do you get an MLB franchise to come to Orlando?
Williams said there are essentially two ways to bring the MLB to Orlando but added that timing is vital.
"You either move an existing team, or you dig into this world of [MLB] expansion," Williams explained. 
He noted that the MLB has expressed a desire to expand to 32 teams and believes this to be the last expansion for the professional league for many years to come. Williams said the MLB would likely seek one expansion franchise west of the Mississippi River and one to the east.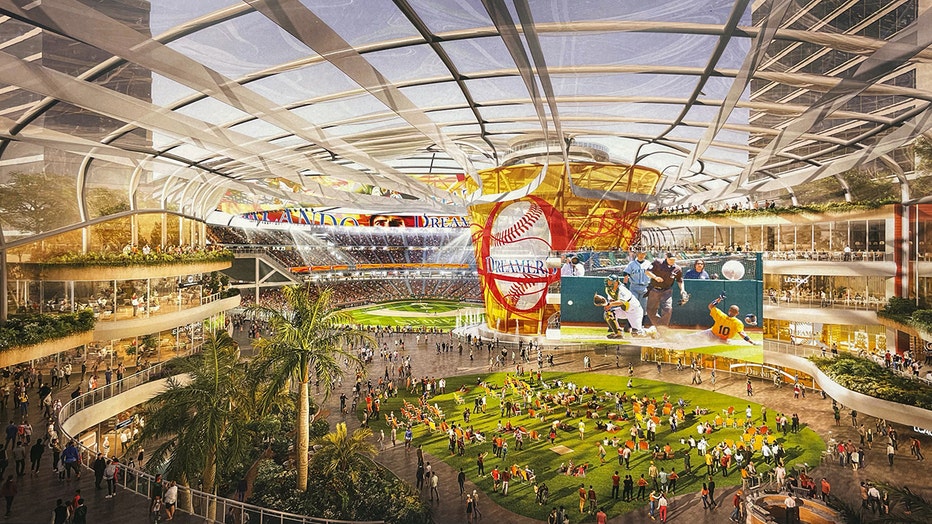 Orlando City Baseball Dreamers, LLC unveils artist rendering of a proposed 45,000-seat, domed stadium to be home to a Major League Baseball expansion franchise. [Credit: Orlando City Baseball Dreamers]
With the Oakland A's now looking to relocate to Las Vegas, Williams speculates that Portland, Ore., and Salt Lake City, Utah are both viable options for expansion in the west.  As for expansion in the east, Williams sees three cities as possible competitors with Orlando: Nashville, Charlotte, and Montreal.  
"Nashville has been pounding away at this for years. I wouldn't be shocked if it came down to the east of the Mississippi, between Orlando and Nashville," Williams added. "Charlotte keeps getting mentioned but nothing's stirring there. We don't hear anything going on in Charlotte. Montreal? Name keeps popping up. Not sure baseball has a desire to go back to Montreal after all of the problems they had up there. We will see."
However, Williams said that until the Tampa Rays determine where its next stadium will be located, it could be a while before MLB expansion talk begins to heat up again. Still, Williams said the time is now to act on a stadium proposal.
"You don't get many chances to add a professional sports franchise to your community. If we don't act now, we may never have this opportunity again.