Orlando International Airport in top 10 list of guns found at security checkpoints
ORLANDO, Fla. - As a TSA spokesperson put it: it's the top 10 list no airport wants to be on, but again, Orlando is on there.
Last year, Orlando International Airport (OIA) found nearly 100 guns in carry-on bags or on passengers. That number puts the airport on the Transportation Security Administration's (TSA) list of ten airports with the highest number of guns discovered, the TSA announced Wednesday.
According to the list, 96 guns were found at OIA security checkpoints in 2019. OIA is ranked ninth on the agency's list. Two other airports in Florida made the top 10. Fort Lauderdale-Hollywood International Airport ranked seventh with 100 guns discovered. Tampa International Airport came in at No. 10 with 87 guns. The most guns were found at Atlanta's Hartsfield-Jackson International Airport with 323, according to the TSA. The agency says in total, 4,432 firearms were found at airport security checkpoints in 2019.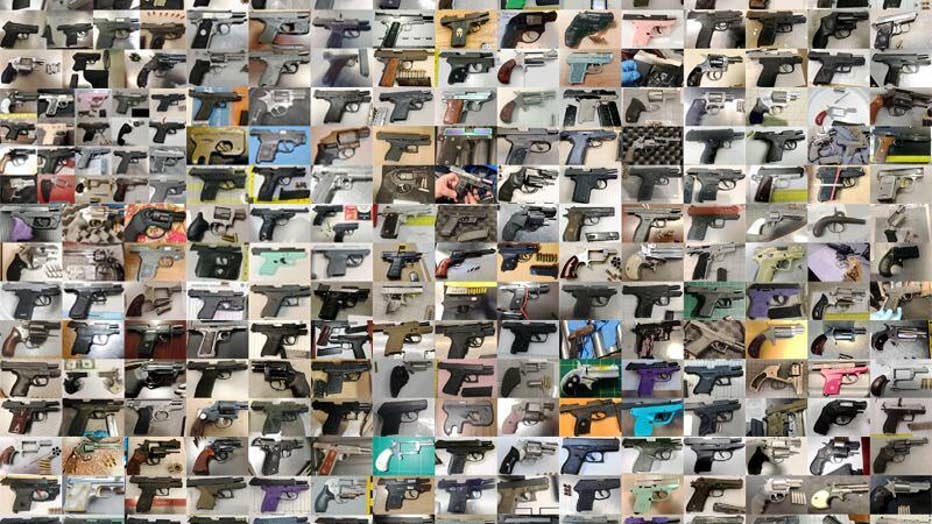 "Unfortunately, that is a record high that averages to 85.2 firearms per week OR 12.1 firearms per day. That's a 5% increase in firearm discoveries compared to 2018's total of 4,239," the TSA wrote in a press release.
MORE NEWS: Florida mom caught stealing from Gucci store, leaves child behind to run from security, deputies say
TSA spokesperson Sari Koshetz said Thursday that travelers caught with guns usually claim to have forgotten they were carrying one with them. However, she said it's most disturbing that about 87% of those confiscated guns were loaded and many even had bullets in the chamber.
"You also see how people sling their bags on to the x-ray belts, and an accidental discharge could have tragic results," said Koshetz.
Orlando security expert Dave Benson said that it's hard to say exactly why someone would walk into the airport with a loaded weapon but points out that many 'leave their brains at home' when traveling and in the rush could just plain forget; as many seemed to claim. Benson also adds that the current perception of the threat of crime in the world has more folks carrying weapons, both legally and illegally, and could lead to more showing up at checkpoints.
The TSA warns though that even if it's 'just a mistake,' it could be a costly one with civil penalties up to $13,333 per violation, required court appearances in some states, and even the possibility of arrest.
MORE NEWS: LEGO pop-up bar coming to Orlando this 2020
One silver lining in the report: Orlando's rank actually did improve. The 2018 year-in-review by the TSA ranked OIA 5th worst in the nation with 123 guns confiscated, and airport officials point out that the improvement in 2019 comes during a record setting year for travelers flying through OIA.
TSA leaders caution though that this is a trend that needs to turn around; warning that it could have tragic results if it continues.
"The biggest concern is that even one person brings a gun to a checkpoint," said Koshetz, "that trend is disturbing."
Here's the TSA's top 10 list: 
Hartsfield-Jackson Atlanta International Airport (ATL): 323 – an increase of 25 firearms compared to 2018

Dallas/Fort Worth International Airport (DFW): 217

Denver International Airport (DEN): 140

George Bush Intercontinental Airport (IAH): 138

Phoenix Sky Harbor International Airport (PHX): 132

Dallas Love Field Airport (DAL): 103

Fort Lauderdale-Hollywood International Airport (FLL): 100

Nashville International Airport (BNA): 97

Orlando International Airport (MCO): 96

Tampa International Airport (TPA): 87