Orlando International Airport ranked second-worst airport in US ahead of busy Thanksgiving holiday: report
ORLANDO, Fla. - A record 2 million people are expected to travel through Orlando International Airport this Thanksgiving holiday – and a new report is shedding some light on what that means for passengers. 
A report from aGamble.com said MCO is the second-worst airport in the U.S. when it comes to delays and cancelations. Coming in at No. 1 is Chicago Midway International Airport. 
The gambling website said the Orlando airport sees most of its issues arise during the Thanksgiving holiday period, which is from Nov. 18-29. MCO has a delay and cancelation rate of 27.1% during this period – and that number jumps up to 50% between December and New Year's Day, the report said. 
"Despite year-round favorable flying conditions and proximity to one of the world's largest theme park destinations, Orlando International Airport experiences more departure issues than any other U.S. airport across the Thanksgiving holiday period, during which a full 27.1% of flights were either delayed or canceled," aGamble.com said in its report. "Cancellations represent the lion's share of this figure – in 2022, the airport dropped 1,369 flights around turkey day. Throughout the entire holiday season (Thanksgiving through New Year's), 42% of flights were delayed or canceled at Orlando International. And post-Thanksgiving, an incredible 50% of flights were delayed or dropped from December through New Year's."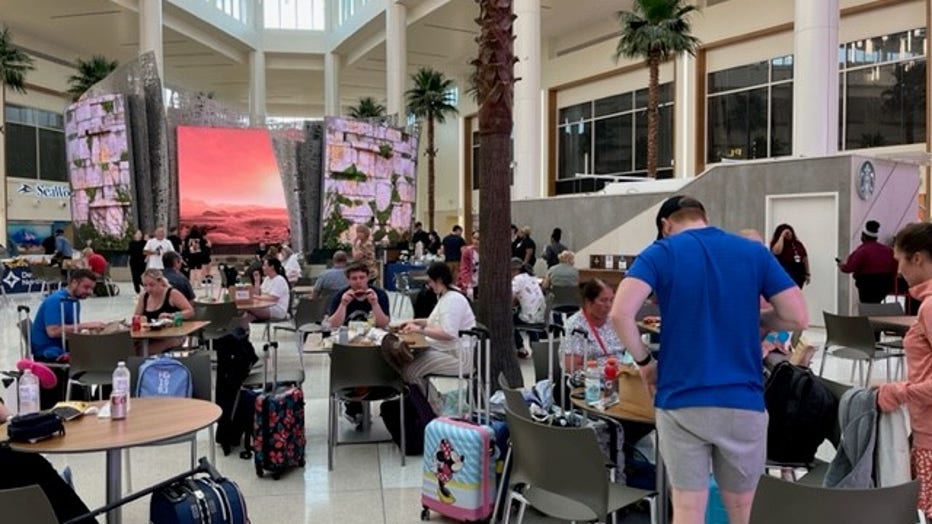 Photo: Orlando International Airport
The report defines delays related to "air carrier delay, weather, security, national aviation system delay, late-arriving aircraft, diverted flights as well as canceled flights."
These numbers were crunched using analysis from the holiday travel season between Nov. 18, 2022 and Jan. 4, 2023. 
Here's a look at the "worst" airports for holiday travel, according to aGamble.com:
Chicago Midway International Airport
Orlando International Airport
Fort Lauderdale-Hollywood International Airport 
William P. Hobby Airport (Houston)
Dallas Love Field Airport
Harry Reid International Airport (Las Vegas)
Metro Oakland International Airport (Oakland, California)
Baltimore-Washington International Airport
Tampa International Airport
San Antonio International Airport
MORE TRAVEL NEWS:
Click here for the full report.