Orlando weather: Hottest 4th of July in over 20 years brings scorching temps to Central Florida
ORLANDO, Fla. - Today's high: 97 degrees | Tonight's low: 77 degrees
Main weather concerns: Heat Advisory is in effect for the entire viewing area until 7 p.m. on this Fourth of July holiday on Tuesday. 
It will remain plenty warm through Tuesday evening on one of the hottest Fourth of Julys on record in Central Florida – 1998 was the last time Orlando saw a 97-degree high. 
Will it rain on the Fourth of July in Orlando, Central Florida?
Scattered showers and storms will continue through at least 9 p.m., which may delay the fireworks. The best chance of rain will remain inland and to the west of I-4. 
Areas like Leesburg, Clermont, and Ocala may need to watch the radar before the celebrations.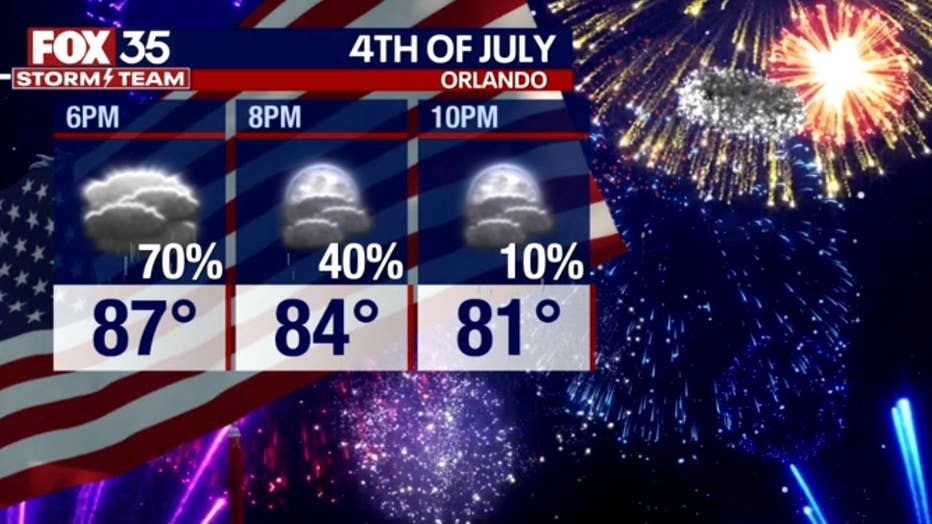 NEED 4TH OF JULY PLANS?: Where to watch Fourth of July fireworks in Orlando, Central Florida
WATCH LIVE: Fourth of July fireworks show at Lake Eola Park in downtown Orlando
Wednesday's forecast
We repeat this weather Wednesday with more big heat and afternoon storms.
Heat Advisories may again be issued for our area with heat index values between 105 and 110 degrees during the peak heating of the day. 
Storm chances could be even higher the next couple of days with more tropical moisture in place over Florida. 
Heavy downpours, frequent lightning and strong wind gusts will be the main threats within any thunderstorm. Highs will reach the mid to upper 90s inland and low 90s along the coast.
Outlook
No big changes are on the way other than slightly lower highs heading into the weekend. 
However, the summer heat will continue and so will the daily afternoon storms. 
This looks likely to continue into next week. Keep that umbrella close!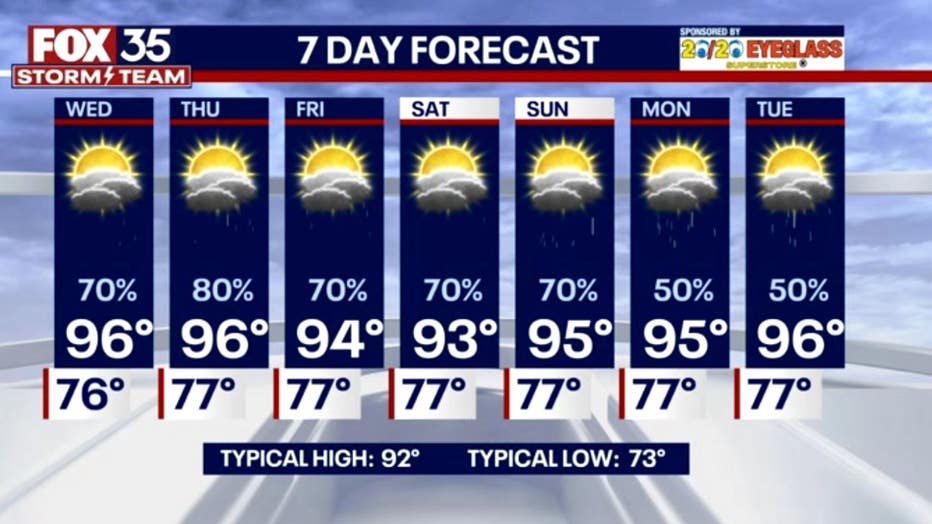 Tracking the Tropics
No tropical activity is expected in the Atlantic over the next 7 days. For now, Saharan dust has tampered activity, and it looks to stay that way for a while. Keep with FOX 35 for more updates!