Orlando weather: Heat and sunshine dominates as rain chances return to Central Florida
ORANGE COUNTY, Fla. - Tonight's low: 76 degrees | Tomorrow's high: 95 degrees 
Main weather concerns: Hot high pressure is in control of the local forecast. This means sizzling Summer heat with highs hitting in the mid-upper 90s, factor in humidity, and that puts the "feels like" temps or heat index in the 102-107 degree range. Sunshine dominates with a slight increase in afternoon clouds. If you head outdoors, hydration, sunscreen, and breaks in the a/c are certainly good ways to avoid heat-related illnesses.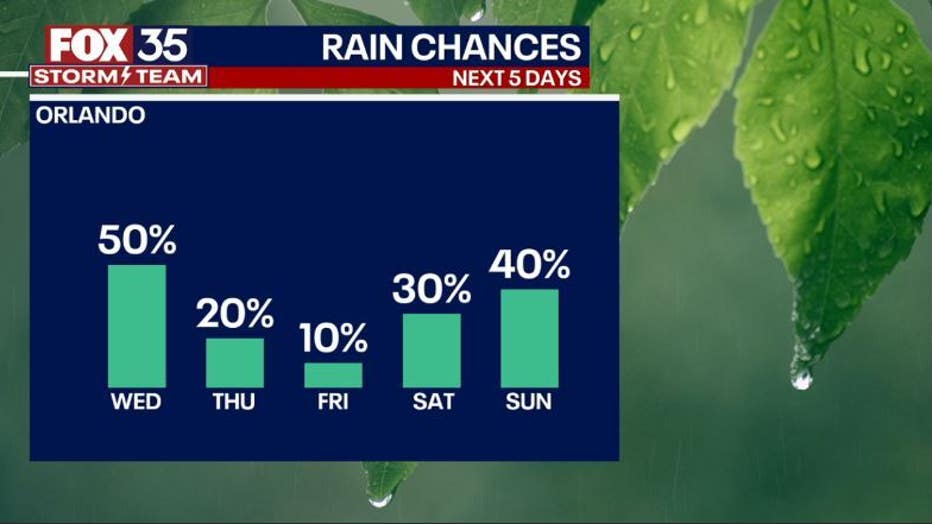 BEACHES: The beaches look great for logging some time on the sand today but, you should take precautions in the high heat. Sunshine dominates so don't forget the sunscreen and remember to hydrate yourself. The afternoon will offer up some scattered storms with chances around 50%. Lightning will be a hazard during this time. Surf rolls in at 1-3' with an Easterly swell in the water. UV Index stands at 10+ which means sunburn can occur quickly. Protect yourself!
THEME PARKS: Hot temps and sunshine early park side will give way to increasing rain chances mainly for the afternoon hours. Heavy rain, lightning, and gusty winds are all possible. Highs hit near 95 or so around the attractions with heat index temps near 107 degrees.
OUTLOOK: Rain chances increase longer term with an emphasis on early next week. The July 4th Holiday sees the typical coating of PM storms and hot afternoon temps around 95 degrees. Tropical moisture will be increasing during this time so locally heavy rain could be in the cards. In the tropics, things are quiet finally. The remains of CINDY are being monitored for possible redevelopment but, even that chance sinking lower as we course through midweek.