Orlando weather: Florida heatwave continues with strong PM thunderstorms storms possible
ORLANDO, Fla. - Weather alerts: A severe thunderstorm warning has been issued for parts of Brevard County until 6:45 p.m. Forecasters said a line of storms – between Cooca Beach and Melbourne – could produce wind up to 60 mph and quarter-sized hail.
Today's high: 94 degrees | Tonight's low: 77 degrees
Main weather concerns: It is a hot and humid day in Central Florida. Actual air temps will remain in the mid-90s, low 90s along the beaches. Feels like temperatures will soar to 103-107 degrees.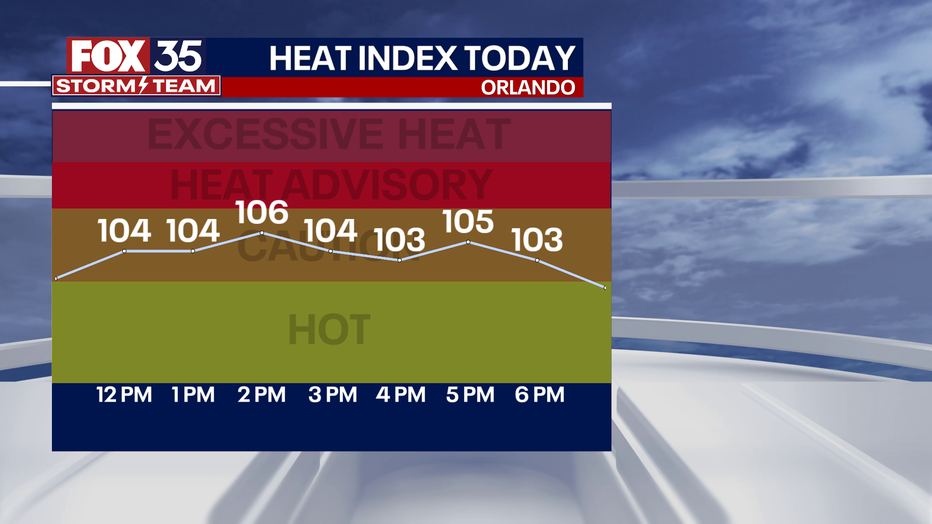 When will it rain in the Orlando area?
Showers and storms will develop after 2 to 3 p.m., scattering around the area through 8 p.m. and finally exiting the area after 9 p.m. Storm coverage remains at 60% with the chance for heavy rain and lightning.
BEACHES: Another sunny start to the day at the beach, but after 3pm rain chances rise to 40-50% coverage. Hot temperatures are expected with highs near 92 degrees. Heat Index values could reach up to 106 degrees. Rip current risk is moderate to high so swim near an open lifeguard stand.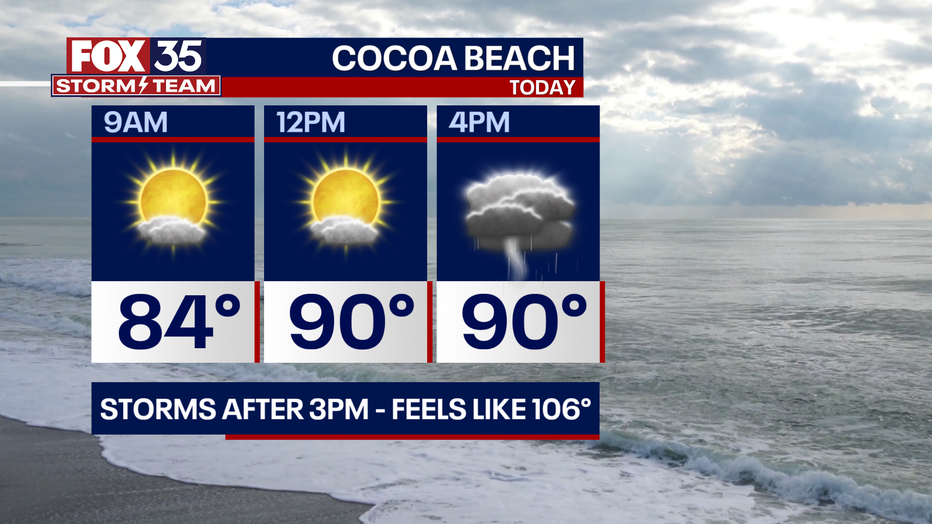 Sunscreen is also a must today due to a high UV Index, a sunburn can develop in 15 minutes or less for some. High tide peaks late-morning and low tide will occur in the mid-afternoon.
THEME PARKS: The theme parks will be sunny & hot today with feels like temperatures up to 106 degrees. Forecast highs near 94 degrees with rain chances on the rise after 2pm. Storm coverage at 60% with the chance for heavy rain, lightning and strong wind a times. When thunder roars, head indoors.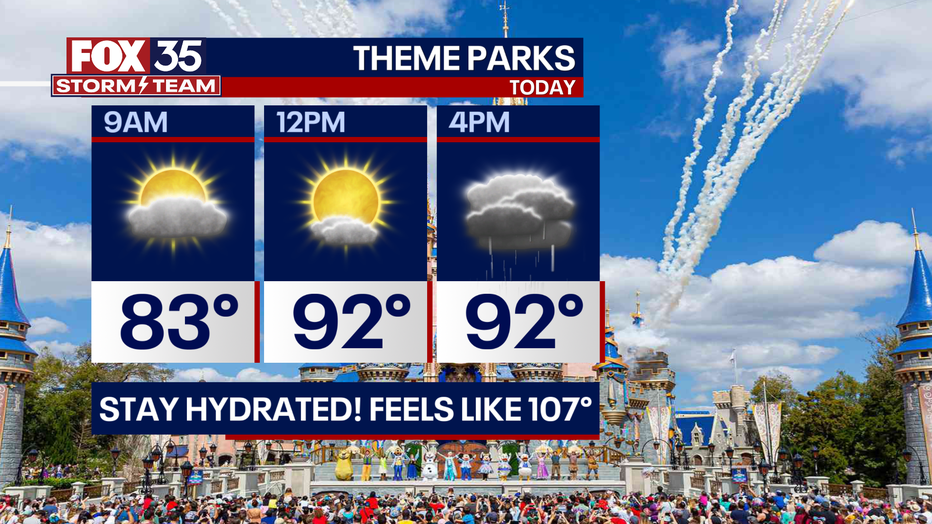 OUTLOOK: Central Florida can expect hot and humid weather to continue with pm storms each and every day through the weekend. Highs will climb into the mid to even upper 90s with plenty of humidity on top of the area. This combination will bring heat to dangerous heights with heat index values well into the triple digits. 
Rain chances will slowly rise through the remainder of the week with most of the action focusing on the PM hours. Heavy rain, lightning and gusty winds will accompany the stronger storms.
TRACKING THE TROPICS: It remains quiet in the tropics with no tropical development expected in the next 7 days. 
We will continue to monitor the Atlantic so depend on the FOX 35 Storm Team!