Orlando weather: More heat and rain in the forecast across Central Florida
ORLANDO, Fla. - Tonight's low: 71 degrees | Tomorrow's high: 92 
Main weather concerns: Orlando and Central Florida could see a few scattered showers pop up over the weekend, but next week presents our best opportunity for widespread rain. Temperatures will rise rapidly in the lower 90s this weekend. Rain chances start as we enter the PM hours.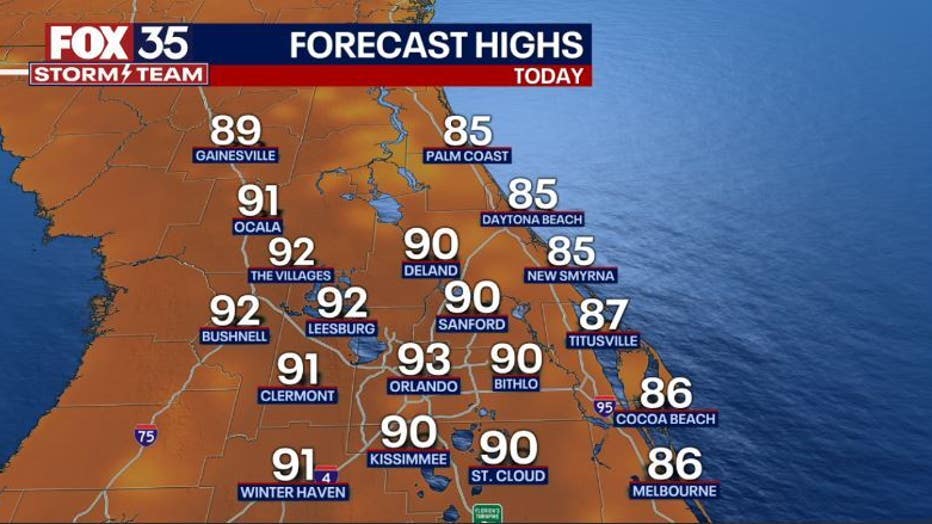 First showers develop with storms entering the scene after 3 p.m. Heavy rain, lightning and gusty winds will accompany the stronger storms. Rain eases through mid-evening, dropping to 30% coverage after coming off of a peak at 60%.
BEACHES: The beaches start off on a mostly sunny note with rain chances peppering in for the afternoon. Highs seaside hit near the mid-upper 80s. Rain chances peak at 50% along the coast with emphasis on the pm hours of this Friday afternoon and early evening. Surf is increasing today as a distant, longer-period Northeast swell comes in.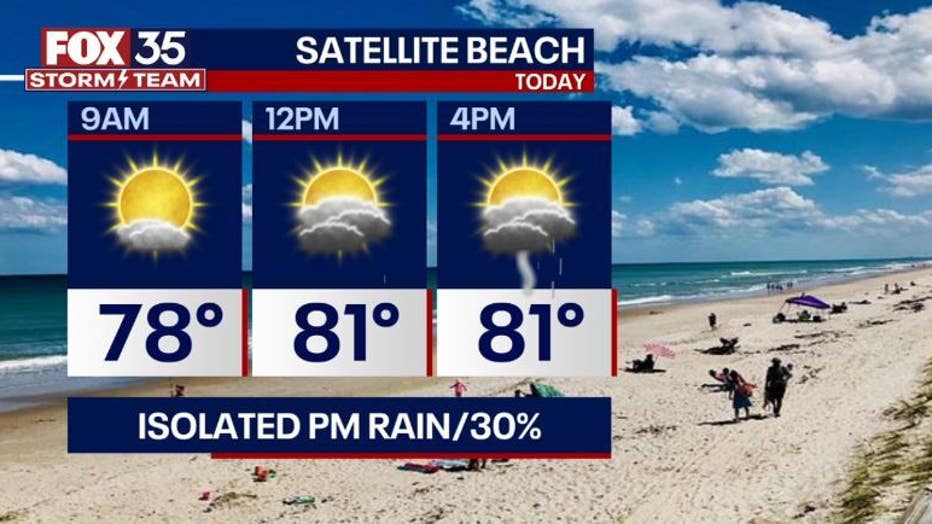 Surf conditions look quite fun actually! Favorable light local winds will keep conditions clean and glassy at most times, especially before the afternoon seabreeze develops. Expect surf heights in the waist-chest high range, and a few bigger peaks at some of the better Northeast exposures.
THEME PARKS: It will be a hot day at the theme parks with temperatures peaking at 92 degrees with a lot of sunshine to start. After 3 p.m. scattered storms could pop off with coverage at 60%. Heavy rain and lightning will be likely stronger storms.  Keep an eye on the sky and when you hear thunder roar, head indoors.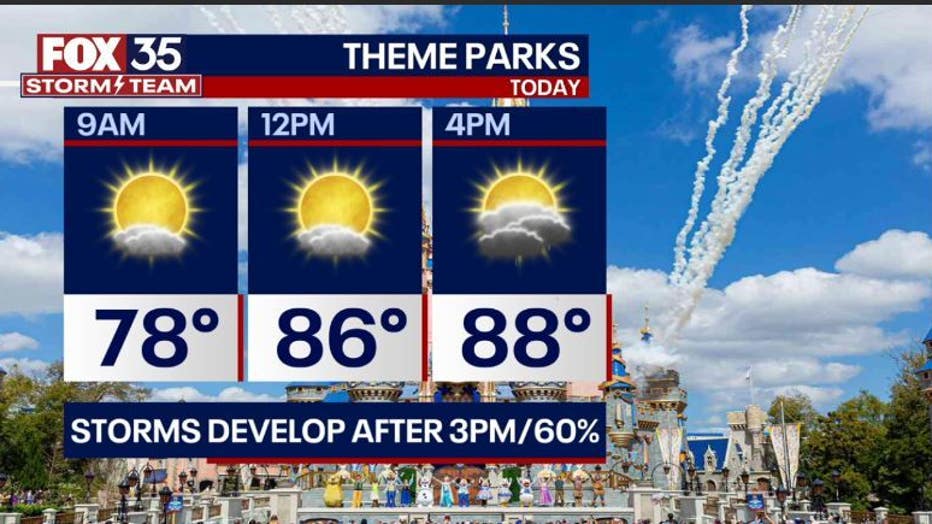 OUTLOOK: Summer-like weather continues for the rest of this week and continues into the weekend. You can expect hot afternoon highs and daily afternoon/ evening storm chances. Friday-Sunday looks fairly active as well with a 40-60% chance for strong storms across central Florida featuring heavy rain, frequent lightning, and gusty winds at times.
While rain chances will be lower overall to start your weekend, it looks like the rainy season is slowly sneaking into Central Florida! A much wetter stretch looks to be in the cards next week as moisture increases from the South.  Stay tuned and depend on the FOX 35 Storm team!