Orlando weather: Sunny, warm, dry weekend expected across Central Florida
ORLANDO, Fla. - Tomorrow's high: 82 degrees  | Tonight's low: 62 degrees 
Main weather concerns: A weak front will pass late Friday night and could lead to stray rain chances, but most will likely stay dry. This front will reinforce the dry air over Florida and keep our weather wonderful through this weekend. We'll see highs return to the low to mid-80s on Saturday under abundant sunshine.
BEACHES:
It will be a nice day along our east coast beaches. Skies will feature some afternoon clouds and stay dry all day. Forecast highs reach the upper 70s with overnight lows in the 60s. The rip current risk is moderate. Surf is in the 2-3' range.
THEME PARKS:
Enjoy the sunshine and warmer temperatures at the theme parks today! Expect a dry skies and afternoon highs near 82 degrees. Mostly sunny skies will prevail, don't forget your hat and sunglasses. Enjoy!
OUTLOOK:
Our local weather stays quite nice as we head into the weekend. Just a slight increase in a few showers on Friday evening as a weak front moves across the state. 
Rain chances look to cap off in the 10% range during this time. This means dry air slides back into the region for the coming weekend. Highs will return to the low/mid-80s by this weekend and into early next week. Winds will increase by next Tuesday and Wednesday.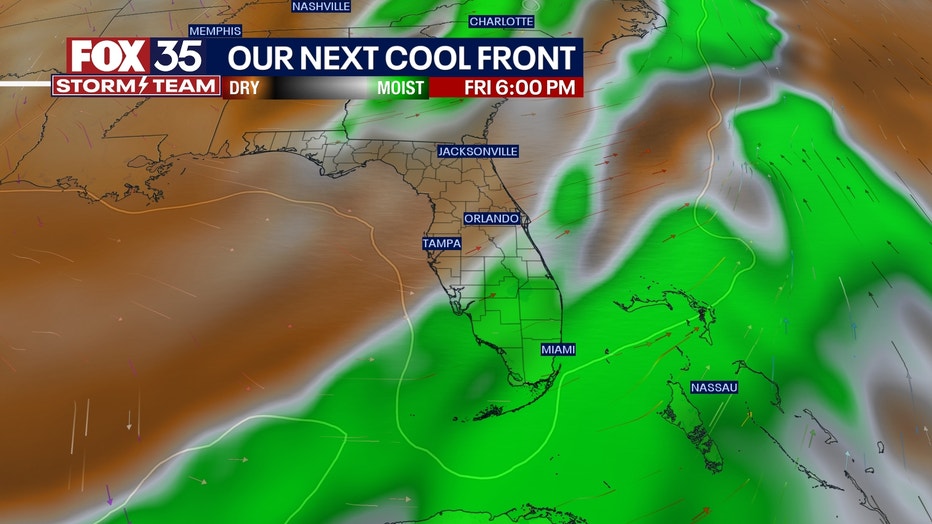 TROPICS:
Hurricane Tammy formed in the Atlantic Ocean on Friday. A turn toward the northwest is anticipated by on Friday, followed by a north-northwestward and northward turn Saturday night through Sunday night.