Orlando weather: Temperatures rising to summer-like heat heading toward the weekend
ORLANDO, Fla. - Tonight's low: 60 degrees | Tomorrow's high: 83 degrees
Main weather concerns: Thursday will bring another day of sun and dry conditions. High temperatures will break into the mid-80s with slightly cooler weather along the coast. Moderate risk of rip currents at our local beaches. Consider a good quality sunscreen if you find yourself outdoors for any length of time! Rocket launch conditions look fantastic tonight with a 95% go for weather-should be a good one!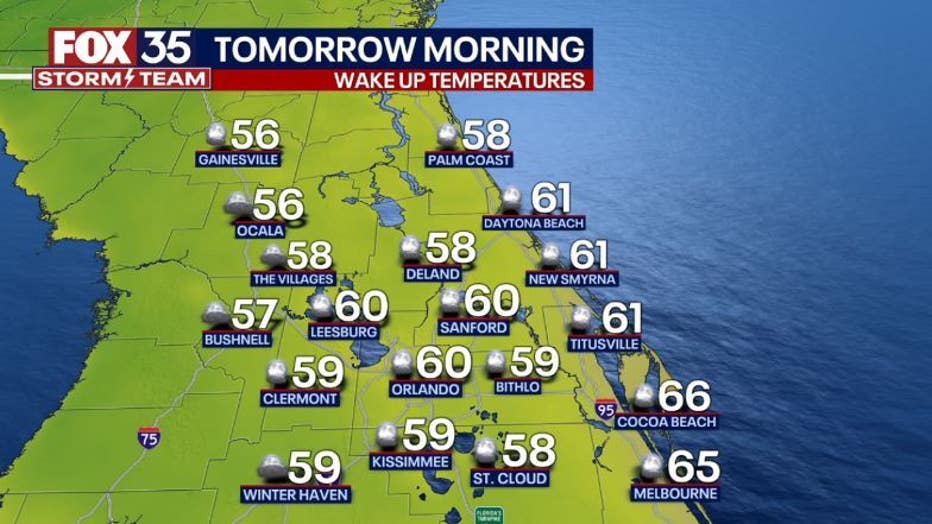 BEACHES:
Beaches look dry and relatively warm today. Seaside temps settle in the upper 70s today with a nice ocean breeze from the Southeast. Surf rolls in at 2-3' with a dominant ENE swell in the water all day. Surf will be best early in the day with favorable tides and lighter winds.
THEME PARKS:
Theme parks will feature mixed skies and comfortable warmth all day. Highs there will hit in the low 80s.
OUTLOOK:
Temperatures will continue warming in the coming days, heading into the 80s and eventual 90s as we move into the weekend. A weak front will move into the area on Saturday bringing only slight rain opportunities in the 10% or less range. With that said, the overall trend suggests very warm/hot weather with no real relief from the heat in sight. 
Definitely more of a Summer feel for the weekend and beyond!