Orlando weather: Rain returns on Wednesday with highs breaking 90 degrees across Central Florida
ORLANDO, Fla. - Tonight's low: 71 degrees | Tomorrow's high: 91 degrees 
Main weather concerns: Rain chances begin to increase heading into Wednesday afternoon and temperatures are also on the rise as we will potentially break into the 90s over most of the region this week. 
BEACHES: The beaches see warm temps and mixed skies. Highs reach 83 degrees. Lighter ocean breezes are expected from the East at 5-15 mph and surf rolls in at 2-3 feet – some larger set waves are possible as Northeast swell flows into the local surf zones.
THEME PARKS: It is a great day to head to the theme parks but rain chances increase by the afternoon when the highs will reach the 90s.
Rain chances remain near 20% late afternoon through the evening hours as a shower or two develop. Coverage is exceptionally low so most areas remain warm and dry. Don't forget your sunscreen!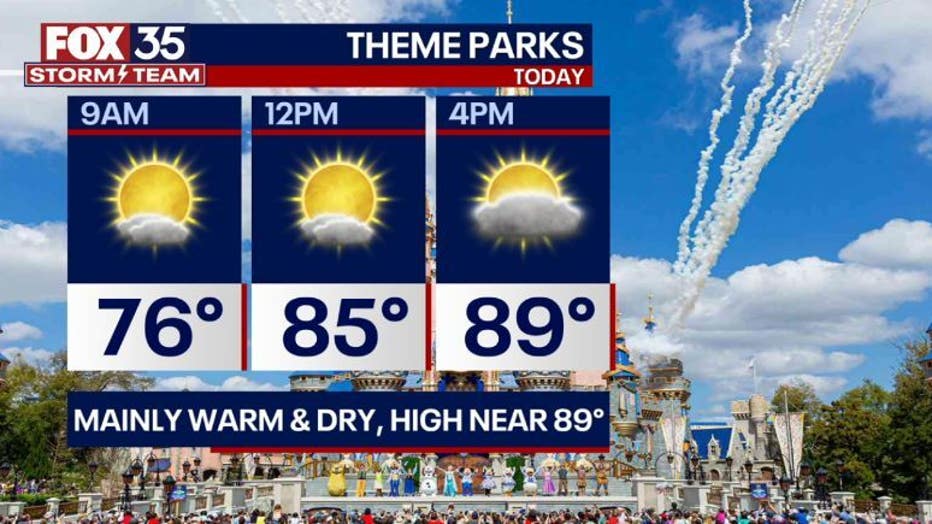 OUTLOOK: Expect local temperatures to return to the low-90s through the rest of the week. Humidity will be increasing, along with daily showers and storms. Rain chances will rise to 50% coverage starting Wednesday with a sharper rise to 60% by Friday. Heavy rain and lots of lightning will be the norm as a tropical airmass moves into Florida.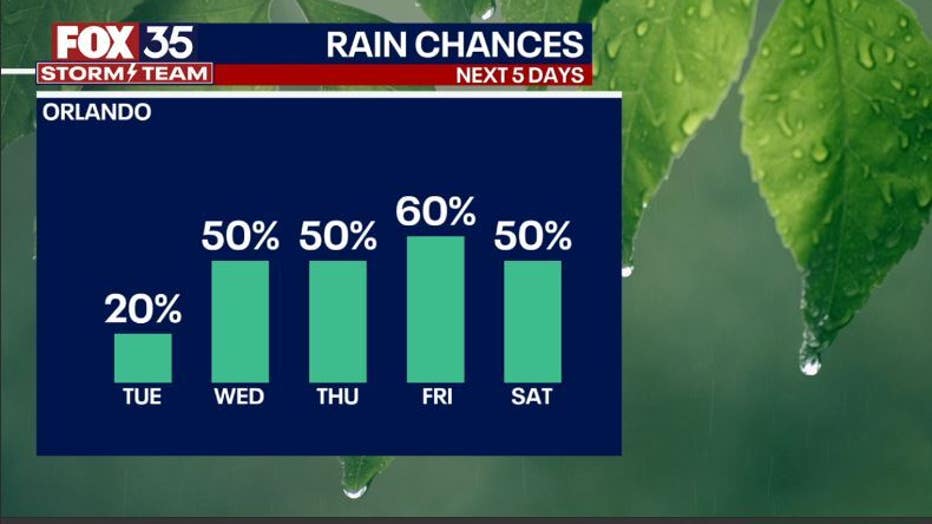 A few stronger storms will be possible on Wednesday. Much of the rain will develop during the PM hours, so the pattern during this time could be described as typical rainy season weather in Central Florida. We'll be tracking and keeping all updated.
 In the tropics, a very distant area of disturbed weather located on the other side of the Atlantic stands a 10% chance of development for both the 2-day and 7-day outlooks from the NHC.