Othal Wallace's father takes the stand in police shooting murder trial: 'He needed to get away'
CLAY COUNTY, Fla. - The second day of Othal Wallace's murder trial brought new details to light, new evidence to the table and new witnesses to the stand. 
He's facing the death penalty for the murder of Officer Jason Raynor in June of 2021.
There are several things the defense is not refuting – they haven't implied Wallace didn't shoot Officer Raynor, and admit he possessed several guns. They're only disagreeing about the circumstances that led up to the shooting, and how much Wallace can be blamed for the decision to pull the trigger. 
The defense argues Wallace may have been acting in self-defense. They talked about the term "consensual encounter" as opposed to a "probable cause stop." 
The question is: Was Officer Raynor detaining Wallace because he had reasonable suspicion to believe Wallace may have committed a crime, or did Wallace have permission to leave of his own accord? 
Officer Raynor placed his hands on Wallace, trying to urge him back into his car as Wallace tried to leave. 
MORE: Watch defense's opening statement in Othal Wallace trial
The judge pointed out that there's a difference between trying to leave and using deadly force. 
"Because he put his hands on your client, he had a right to shoot him?" Circuit Judge Raul Zambrano challenged the defense attorneys. 
The defense argued Officer Raynor was acting in bad faith. The lawyers and judge went back and forth for several minutes before finally dropping it. 
When the clock struck 9:00 a.m., the jury came into the room and the first witness took the stand.
MORE: Watch state's opening statement in Othal Wallace trial
Christian Pottela, a detective in Criminal Investigations with Daytona Beach Police Department, was first up for the day. 
He was off-duty the night of Raynor's murder, but was called in to help. Once Wallace was identified as the shooter, Potella started looking over Wallace's Instagram, on the handle @RBGvibes. The account was public.
One of the posts on that account was simply a black screen with audio. Pottela was drawn to it because it was posted shortly after Officer Raynor was shot. He screen-recorded it and sent the recording to investigators.
"I want y'all to know something man, I love y'all," said a man in the video who Pottela identified as Wallace. "Black power. Stay strong as a nation. Don't let these p---- a-- pigs f--- with you. I love y'all, Black power."
Shortly after, the defense leapt into action, calling for a mistrial. 
At the end of the video, the screen flitted to a still frame of Wallace's public Instagram profile. At the time, it included photos showing Wallace in a Black Panther shirt and one with him holding a rifle. 
The judge had previously ruled Wallace's affiliation with the Black Panther party should not factor into the jury's ruling. He decided the photos were too hard to see, so no mistrial was granted.
When the notion of a mistrial was brought up, family on Wallace's side had to exit courtroom, seeming to suffer a panic attack.
Later in the morning, another notable figure took the stand, Oltha Wallace, Othal Wallace's father. 
He testified that his son called him shortly after the shooting.
"He just said he had some stuff going on and he needed to get away," the senior Wallace said.
He says after he learned what his son had done, he turned off his phone.
"I wasn't going to give him a car," he said. 
The prosecution asked whether that was because he didn't want to get involved. 
"That's right, he answered.
The prosecution brought in DNA experts and law enforcement from multiple jurisdictions to testify about their role in the case. 
Robert Stafford, who used to be a patrol captain with the Alachua County Sheriff's Office, said he found Wallace's vehicle abandoned in a Home Depot parking lot in Gainesville.
The prosecution said after Wallace abandoned his car, he hitched a ride to Snellville, Georgia, which is just east of Atlanta. There, he hid out in a tree-house packed with weapons and ammo.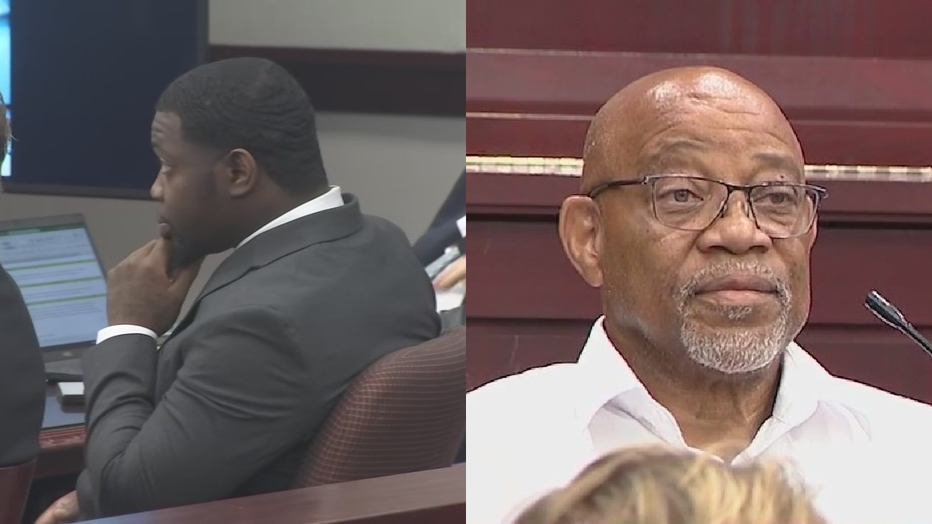 Agent Jonathan Salcedo, a Georgia State Trooper who serves full time on the SWAT Team, also took the stand. He was part of the crew that took 3 armored bearcats to Snellville to take Wallace into custody. 
ATF Agent Brett Antwine said beneath the bed where Wallace was sleeping, law enforcement officers found a glock with 16 rounds in the magazine and one in the chamber. He says the ATF also found an AK-style long gun with a banana clip and 30-round magazine, and over 500 rounds in total stowed away in the tree-house.
MORE: Bodycam video footage played during Othal Wallace trial
The defense pointed out to both Salcedo and Antwine that while Wallace was in the tree-house, he would have had the tactical advantage since he had the high ground. 
"If he'd wanted to, he could have opened up fire on you. And you wouldn't have known, because you didn't know the tree-house existed," one of Wallace's attorneys noted.
Both Antwine and Salcedo agreed to that point.
Cody Cassidy, who is an officer with the Daytona Police Officer but works through them with the U.S. Marshal's Service, is the one who was responsible for making the ID on Wallace to confirm he was after he was taken into custody. 
He says when he was taking Wallace in, Wallace said to him, "You already know who I am. You know what I'm capable of. Things could have been a lot worse."
The prosecution has another full days worth of witnesses to bring in Wednesday, and the judge is hoping for closing statements to be made on Thursday. 
The judge noted to Wallace that he will have to decide Wednesday evening or Thursday morning whether he wants to take the stand.