Parent outraged over Ocala school permission slip to learn Black National Anthem
OCALA, Fla. - A Florida elementary school sent home a permission slip for students to learn the Black National Anthem, which has now sparked controversy and outrage from at least one parent who spoke with FOX 35. 
The form asks for parental consent for kids to learn the Black National Anthem, a song called "Lift Every Voice and Sing." It went sent home with students who attend College Park Elementary in Ocala, Florida, which is part of Marion County Public Schools.
"When I actually sat down to read it, I was very confused. I was like 'What is this?'" said Amanda, whose child attends the school and asked that her last name not be used. She said the permission slip was sent earlier this week.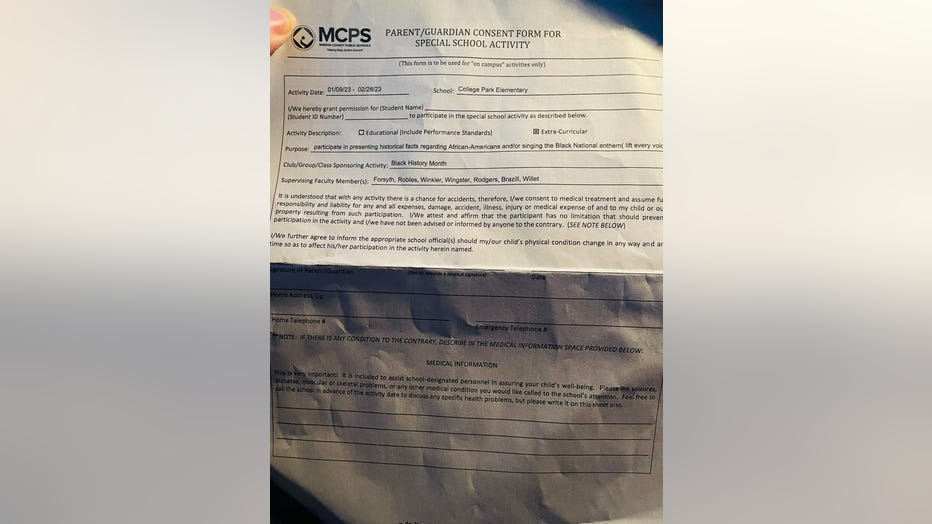 Permission slip sent home to parents (Courtesy: Amanda)
According to researchers with the University of Central Florida, the song was originally written as a poem by James Weldon Johnson in 1900, and was performed by children in Jacksonville, Florida. 
In a statement to FOX 35, the school district said the principal felt "the song contained lyrics that some parents…may find objectable" and that the permission form was sent home so families "could make their own choices to participate."  The district said it was sent home with third, fourth, and fifth grade students.
Amanda, whose daughter is in the third grade, questioned why she did not receive a permission slip for her daughter to learn about the Holocaust.
"I know they're different, but it's history. I would assume they'd send a form for that too, but nothing at all," she said.
Here is how the song begins:  "Lift every voice and sing, till earth and heaven ring, ring with the harmonies of Liberty."
However, it was this line that the district said it was concerned about: "We have come, treading our path through the blood of the slaughtered."
"Honestly, nothing in that song was a red flag," Amanda said when asked about the line the school had concerns about, adding that she looked over the entire song's lyrics.
"Nothing made me feel uncomfortable. Nothing made me think, 'This is too much for my daughter.' I mean, there's things that are worse on the radio, and on YouTube and on TikTok," she said.
On Facebook, another parent said she didn't receive permission slips for lessons taught during Hispanic Heritage Month or Women's History Month and because of that, the permission slip over the Black National Anthem "didn't sit right with her."
Amanda shared a photo of the form on her Facebook page and reactions were mixed, she said.
"Some people did not see anything wrong with it. Some people were defending it. Some people were very, very against it," she said.
Amanda showed FOX 35 News a text between her and her daughter's teacher, where she asked about the permission slip; the teacher told her to "throw it away." She said she went to the school's administrative officer and was told that the form did not matter and that students could participate with or without the form being signed.
The District said the song will be taught during school hours. It was marked as an extracurricular activity on the form, which the district says was a mistake.
There is an optional performance of the song that's outside of school hours, but that's separate from the plan to teach the song.
"If you're going to hit that and pinpoint that history, make sure you do it for all the other ones," Amanda said.