Possible indictment of Donald Trump could be very consequential, UCF professor says
ORLANDO, Fla. - A New York grand jury investigating Donald Trump over an alleged hush money payment to a porn star appears poised to complete its work soon, as law enforcement officials make preparations for possible unrest in the event of an indictment.
The possible indictment of the former president is bringing a lot of attention to Florida. It comes not only because Trump is a Florida resident, but also because Gov. Ron DeSantis is thought by many to be one of Trump's biggest potential rivals in the 2024 presidential race, although DeSantis has not officially announced his candidacy.
"I don't know what goes into paying hush money to a porn star to secure silence over some kind of alleged affair," DeSantis said at a news conference in Panama City on Monday. "I can't speak to that."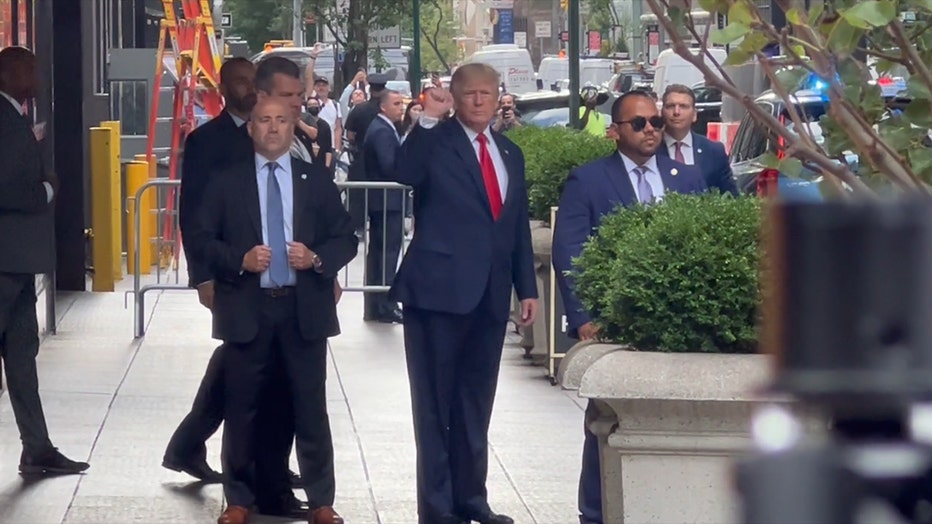 President Trump gestures to the crowd as he leaves Trump Tower in Manhattan on Aug. 10, 2022. (FOX5NY)
But, he added, "what I can speak to is that if you have a prosecutor who is ignoring crimes happening every single day in his jurisdiction and he chooses to go back many, many years ago to try to use something about porn star hush money payments, that's an example of pursuing a political agenda and weaponizing the office. And I think that's fundamentally wrong."
Many Republicans are calling the investigation into Trump politically motivated. Even DeSantis came to his defense, saying that this is an example of a prosecutor pursuing a political agenda and weaponizing the office.
Aubrey Jewett, a political science professor at the University of Central Florida, said if Trump is indicted, it could actually help him with voters. "I think if they perceive, as many of them have indicated that they do, that this is a political battle and not just about criminal justice, but that they're going after President Trump because of politics, that we could see unrest," he said. "We could see protests. We could see rallies in support of the president all right here in Florida." 
Jewett said while this could help Trump in the primary by gaining support from Republican voters, he said it could also weaken him in the general election.
Even as the New York investigation pushes toward conclusion, Trump faces criminal probes in Atlanta and Washington that, taken together, pose significant legal peril and carry the prospect of upending his prospects for a return to the White House.
Some information taken from the Associated Press.