Florida bill would make some methods of spreading antisemitism illegal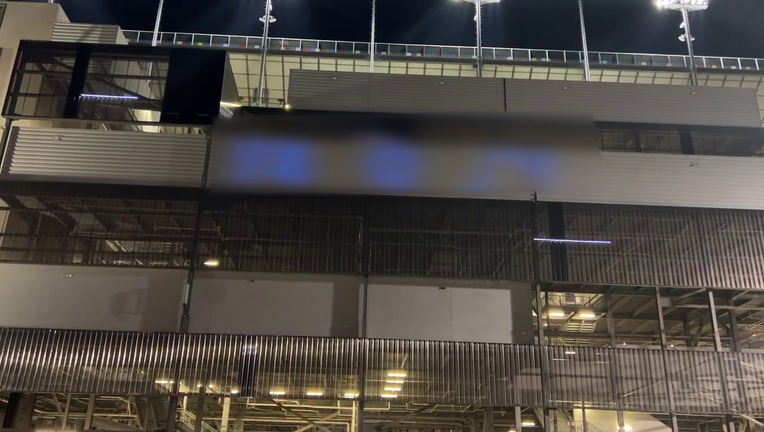 article
DAYTONA BEACH, Fla. - Visitors of the Daytona International Speedway were greeted Saturday by messages of hate, authorities said. One of the antisemitic messages was projected onto the grandstand by someone nearby. 
"To the casual onlooker, it makes us look like we're a bunch of Neanderthal, Jew-hating human beings," Volusia County Sheriff Mike Chitwood said Monday.
The group, which Daytona Beach police labeled as First Amendment Auditors, also used the pedestrian walkway to the track to spread their antisemitism by hanging a banner for everyone to see. 
"They're just a bunch of punk, coward scumbags that act together in a group to try to put fear into certain folks, in particular, of the Jewish faith," Chitwood said.
Neighborhoods nearby weren't spared. 
RELATED: Antisemitism worries rising for many U.S. Jews, survey finds
An Ormond Beach family found an antisemitic flyer that was tossed onto their driveway Sunday morning. The flyers were also found outside homes in Daytona Beach and Port Orange. 
"I was inside, and my daughter came in, and she had this in her hand and said, 'Daddy, what's this?' So I had to explain to her what it was exactly," Dana Micallef said. "It's something six-year-olds don't need to learn."
Florida State Rep. Randy Fine, a Republican who represents part of Brevard County, said while the group's hate speech may be protected by the First Amendment, how they share it is not. 
"If you want to have a march and carry a sign, you're allowed to do that. That's free speech. But actions and speech are not the same, and we're going to say if you break the law the consequences will be severe," he said.
A proposed bill in this legislative session would, for example, make it a misdemeanor to toss a flyer outside someone's home or project an image onto another building without that property owner's consent. It becomes a felony, and a hate crime, if the flyer or projected image is antisemitic.
"This starts with banners and flyers, and it ends with someone being killed, [like what happened] in South Florida yesterday, because they're Jewish," Fine said. "We need to take clear action against these folks, and I'm determined to make that happen.
HB 269 is currently in the Criminal Justice Subcommittee. Fine expects it will eventually go to a full vote and pass. If that happens, it would become law on Oct. 1.
In a statement, the Temple Beth-El in Ormond Beach said it was extremely saddened over the events and that "hate should have no comfortable place anywhere in America."
"We are extremely saddened that this kind of hatred still happens to anyone or any group in this day and age. Hate should have no comfortable place anywhere in America. At the same time, we are so thankful for all the support given us by the entire Volusia County community throughout the years. We are especially grateful for the attention and care of all our local law enforcement partners," the statement said.