Publix releases its 2023 holiday ice cream flavors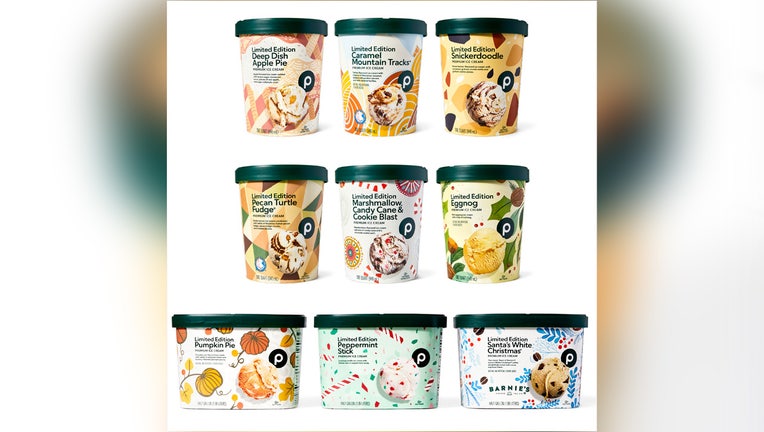 article
TAMPA, Fla. - The holidays may still be three months away, but Publix is helping ice cream lovers get into the spirit of the season early. 
The supermarket has released nine limited-time flavors that are in stores now.
Most flavors are available in quart-size cartons, but three flavors, including peppermint stick, pumpkin pie and Santa's White Christmas are only available in the half-gallon size.
RELATED: From Coconut Road to Moose Tracks, here's the scoop on how Publix creates its ice cream
The 2023 holiday ice cream lineup includes:
Caramel Mountain Tracks - Toffee-flavored ice cream with ribbons of Mackinac caramel, dotted with praline pecans and milk caramel turtles.
Deep Dish Apple Pie - Apple-flavored ice cream swirled with brown sugar-cinnamon sauce, pieces of real apple and sugar-rolled pie crust.
Eggnog - Rich eggnog ice cream with a kiss of nutmeg.
Marshmallow, Candy Cane and Cookie Blast - Marshmallow-flavored ice cream with bits of candy cane and a chocolate cookie swirl.
Pecan Turtle Fudge - Butter pecan ice cream with swirls of Mackinac butter pecan fudge, pecan fudge chunks and roasted pecans.
Peppermint Stick - Luscious vanilla ice cream with festive bits of peppermint candy.
Pumpkin Pie - Pumpkin pie-flavored ice cream with swirls of whipped cream and buttery-flavored pie crust pieces.
Santa's White Christmas - The classic flavor of Barnie's® Santa's White Christmas® coffee delightfully mixed with cocoa espresso flakes.
Snickerdoodle - Brown butter-flavored ice cream with cinnamon graham crumb swirls and graham cookie pieces.
Publix says it will release another round of special flavors in the spring.