Massive sargassum seaweed covers Central Florida beaches
COCOA BEACH, Fla. - People visiting Cocoa Beach, Florida said piles of sargassum seaweed weren't what they expected during a day at the beach. 
"It's crazy man! It's like I was just talking to my friend and saying that you could build a whole community out of this stuff!" said surfer Jaxon Stavropoulos.
Prof. Chuanmin Hu, who teaches oceanography at the University of South Florida College of Marine Science, said more of the stuff could be on the way. 
"When we enter the summer months, by end of May or early June, I'd expect more sargassum along ocean side of Florida Keys and east coast of Florida."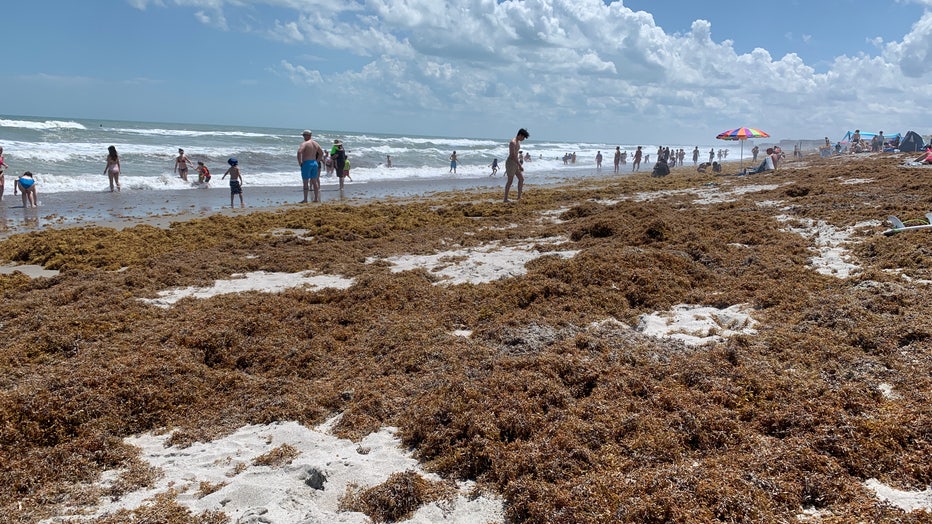 Prof. Hu said there would  be more of the seaweed floating in the eastern Atlantic right now, and currents could carry it this way. He said there were several reasons the sargassum blob could be growing so large. 
"The ocean circulation may bring nutrients from the ocean bottom to the surface to provide food to this plant. The warming ocean may also favor the growth."
Hu advised people to keep away from the sargassum weed once it started to rot. 
"Once it emits this toxic gas, like hydrogen sulfide ammonia, in two or three days, under Florida sunshine it may decompose and release the gas. Then it becomes toxic."
Brevard County officials said they were concerned and trying to track if a large blob as it moves across the Atlantic. They said they were working with nonprofit Keep Brevard Beautiful to make sure plans are in-place for proper removal.