Ground search paused until morning for 2-year-old Brooksville boy who wandered away from home
BROOKSVILLE, Fla. - The ground search has been suspended after nightfall for a Brooksville 2-year-old who went missing Thursday morning, but Hernando County Sheriff Al Nienhuis said deputies would continue searching from the air using infrared cameras.
State law enforcement issued a Florida Missing Child Alert for Joshua "JJ" Rowland who appears to have wondered away from his home between 10 and 11 a.m. Thursday.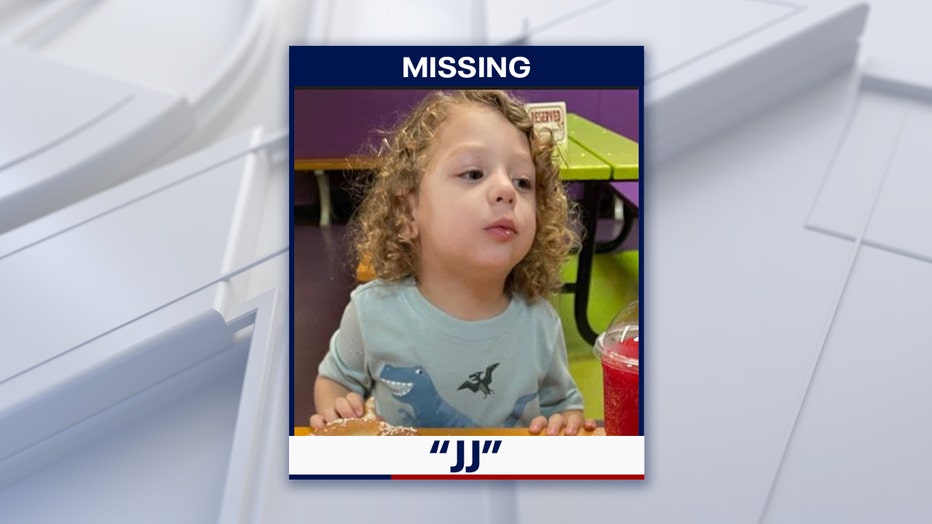 A 2-year-old named JJ is missing from his home in Brooksville
At least 50 first responders from surrounding agencies searched the area around his home for hours using horses, drones, helicopters K-9s and ATVs.
During a 5 p.m. press conference, Sheriff Nienhuis said the child still had not been found during the large-scale search of the area around Cheever Road and Yontz Road in northern Brooksville.
Sheriff Nienhuis said JJ's mother was asleep when the toddler disappeared. She last saw him around 10 a.m., but a witness later came forward to report seeing the boy playing in the yard around 11 a.m.
The area around the home is surrounded by trees and brush, and aerial footage shows a pond nearby. 
Hernando County Sheriff's Office spokesperson Denise Maloney said the property also has several barns and structures, and there are a few homes nearby.
Hernando County deputies search for missing 2-year-old boy
"We don't know if he's on the move or maybe hunkered down somewhere and is hiding, fell asleep, playing with some animal, we don't know," Maloney said. "It was reported that he walked out the door while mom, and he was sleeping. I don't know if he woke up and just left, not sure."
Meanwhile, the sheriff said deputies visited sex offenders in the area and did not find any sign of JJ. The sheriff also noted there is no indication the child was abducted at this point in the investigation.
"We ask everyone in the area who lives in this general area to please go outside of their property, look at bushes, look at any cars that are unlocked…to find this little fellow," said Denise Maloney, the spokesperson for the agency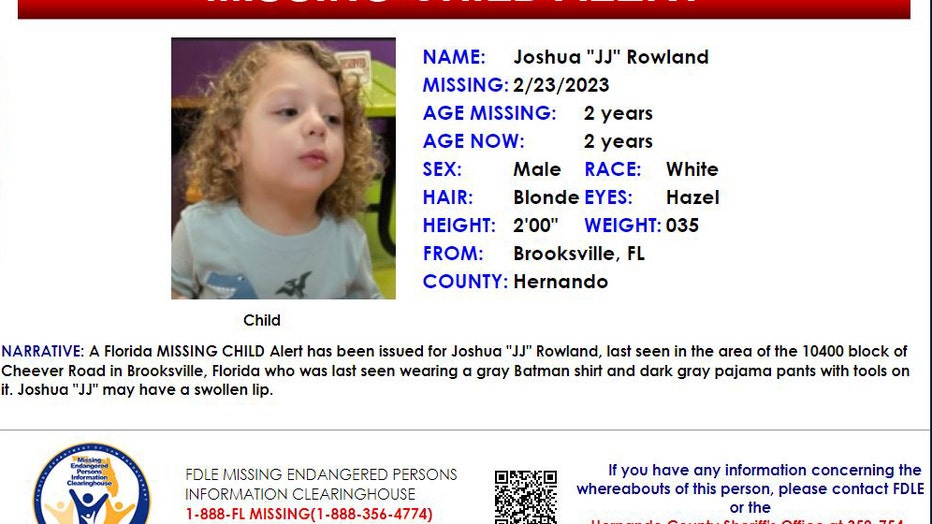 Florida Missing Child Alert flier for Joshua Rowland
.Maloney said Joshua's mother looked for the boy for about an hour before she called 911. 
He was last seen wearing a gray Batman shirt and dark gray pants. He has blonde hair. He turns 3 years old in July.
Google Maps satellite view of area where 2-year-old boy went missing in Brooksville
Maloney described the area around his Brooksville home, saying the property sits on a parcel where barns, sheds, and other homes are located.
"The woods here are so very thick," Maloney said. "So people who live in this area can check their own property and call 911."
Anyone with information is asked to call 911 right away.