SeaWorld Orlando's newest coaster blends thrilling twists and turns with an actual penguin encounter
ORLANDO, Fla. - Who says you can't experience the icy wonders of Antarctica in Florida? 
SeaWorld Orlando is turning down the heat with "Penguin Trek," an all-new coaster that promises to cool you down on even the hottest of Florida days. The groundbreaking ride promises an "unforgettable expedition" like no other, blending twists and turns with a special animal encounter with actual penguins. 
The new, immersive family coaster is slated to open in 2024, but Pass Members can ride it before anyone else, the theme park said in a press release Thursday. Passes for 2024 are on sale now. 
SeaWorld-goers will check their day jobs at the door and become wildlife researchers as they hop aboard a snowmobile-style car and travel through Antarctica to embark on a penguin research mission. The coaster moves at speeds of up to 43 mph across an over-3,000-foot track that twists and turns both indoors and outside. 
Once you reach the end of the ride, you won't find yourself in a simulated penguin colony, but you'll be face-to-face with actual penguins from SeaWorld's habitat. 
SeaWorld Orlando shared renderings of the new ride, which show an icy entrance before stepping into the "Sea Station Antarctica" loading dock and heading off onto their mission. There are also caution signs that warn of "penguins at play ahead."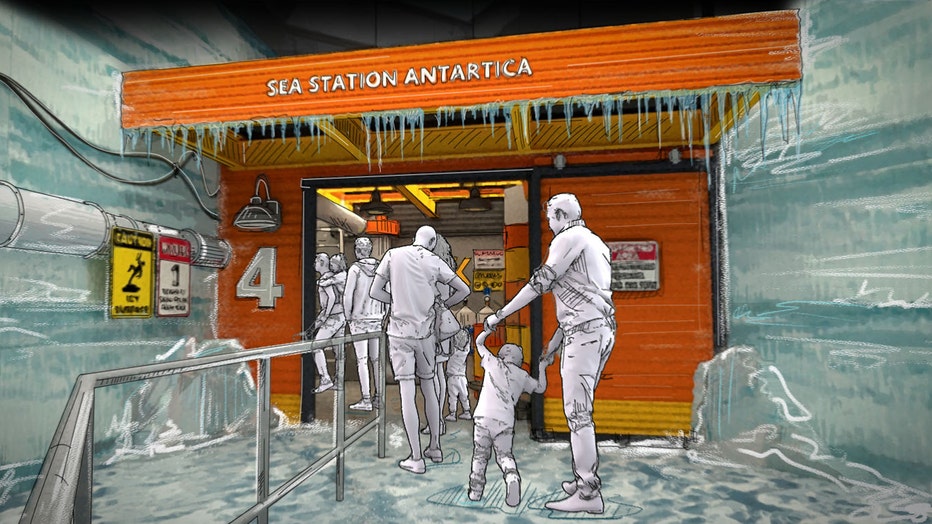 "We are incredibly excited to unveil our newest addition to SeaWorld Orlando's outstanding coaster lineup in Spring of 2024," said SeaWorld Orlando President Jon Peterson in a press release. "This family launch coaster embodies the spirit of adventure and exploration, offering an immersive journey through the wonders of Antarctica while further connecting our mission and commitment to our animal care, education and research. 
"We know our guests were ready for a new thrill that the whole family could enjoy, and we're excited to redefine the family launch coaster experience alongside our longstanding partners at B&M."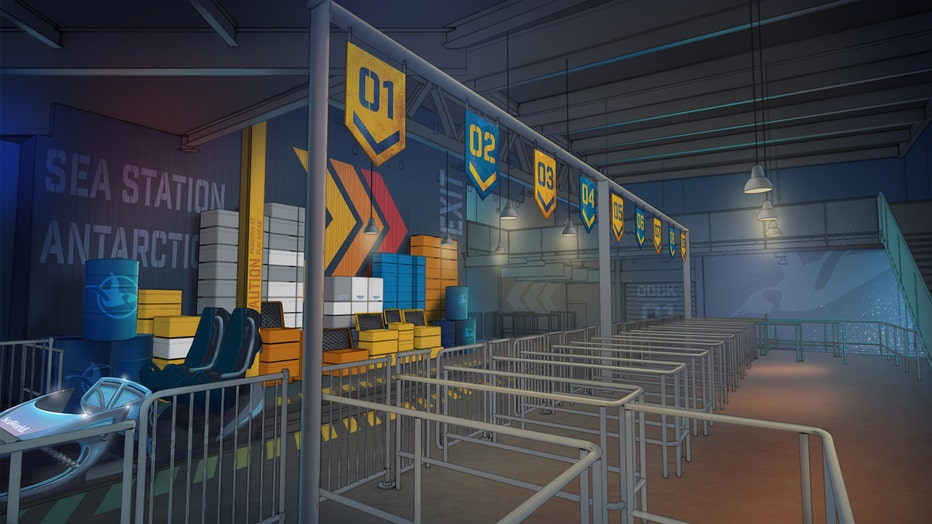 Peterson wasn't kidding when he said the whole family can enjoy this ride. The coaster accommodates rider heights from 42 inches to 77 inches. That's a three-and-a-half feet minimum, meaning the average 4- to 6-year-old could embark on the penguin research mission.  
Bolliger & Mabillard are behind the coaster's design and engineering, tying the park record for the most B&M coasters in one location with five at SeaWorld Orlando.