Security increased after two threats made toward Marion County middle school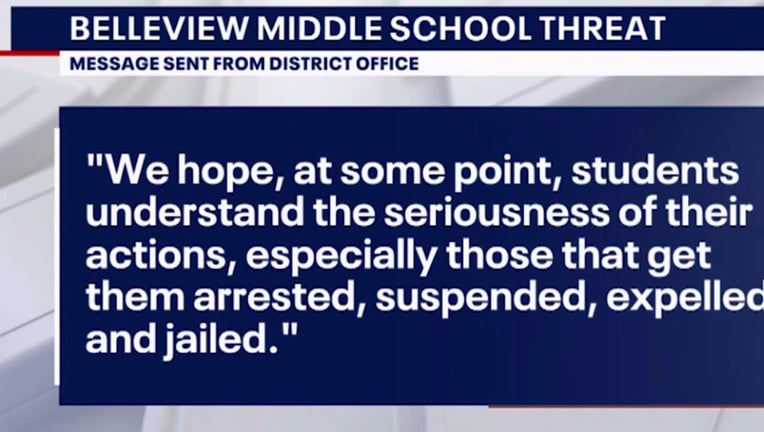 MARION COUNTY, Fla. - A Marion County middle school is stepping up security Thursday morning after two threats were made on social media within the past week.
Students at Belleview Middle School will see extra law enforcement on campus.
Officials say they believe the latest threat came from a hacked account and will likely end with an arrest.
MORE NEWS: People duck for cover during Titusville shootout caught on camera
This all comes just days after a 16-year-old ninth grader was arrested for making threats to both Belleview middle and high schools.That student was arrested when a school resource officer confronted the student after getting a tip from a school administrator. 
Officials say that student made threats to commit a mass shooting on Snapchat which led to more than 1,000 students skipping school at both Belleview middle and high schools. 
MORE NEWS: Charges dropped against Florida security guard accused of threatening President Trump
"We hope at some point, students understand the seriousness of their actions, especially those that get them arrested, suspended, expelled and jailed."
Marion County deputies say the student admitted to making the post.  
Parents dropping their kids off for class said they want their kids to feel safe.  
"My kid called pretty upset the other day and we had to come pick him up," Tony Otero said.
"I have one in high school and one in middle school," Fallon Griffin said. "The one in middle school is more scared, but I mean, we kept him out Tuesday. There was 657 kids that didn't go to school." 
Now with a second Snapchat threat in a matter of days, authorities said they expect to make an example of this student as well.  
"When we find the people responsible we make examples of them intentionally because this has to stop," Marion County School spokesman Kevin Christian said. "This is beyond a school issue, this is a community issue, this is a society issue."
But until then, each threat will be investigated and more security will be added.  
"I feel much safer about my kids being here when there's added security, but unfortunately, if a kid wants to cause harm to everybody, I don't think the security is going to do anything," Fallon said.
"More security the better," Otero said.  
School officials said they take these threats very seriously can result not only in expulsion from school, but arrest.