Lakeland self-proclaimed rapper arrested for murder made music video about deadly shooting: sheriff
LAKELAND, Fla. - A 19-year-old, who Polk County deputies say claims to be a rapper, was arrested for shooting a gang member in the back – and apparently even wrote a song about it, the sheriff said.
According to deputies, La'Darion Chandler shot 33-year-old John McGee on Dec. 17 after the two had an argument in the street. 
According to Polk County Sheriff Grady Judd, McGee's mother admits her son has not always conducted himself well in life. He added that McGee goes by "Bang Bang" on the street and is a known gang member.
Judd says he was released from prison on October 8, where he served about 4 to 5 years.
"He's a troublemaker, make no mistake about it, but he shouldn't have died," Judd stated. "But on December 17, two months after he was released from prison, he was shot in the back."
READ: What does it take to be a member of the SWAT team?
Judd says McGee was taken to the hospital after the shooting. He was expected to recover but died 24 days later because he refused to take the medicine doctors told him he needed to heal.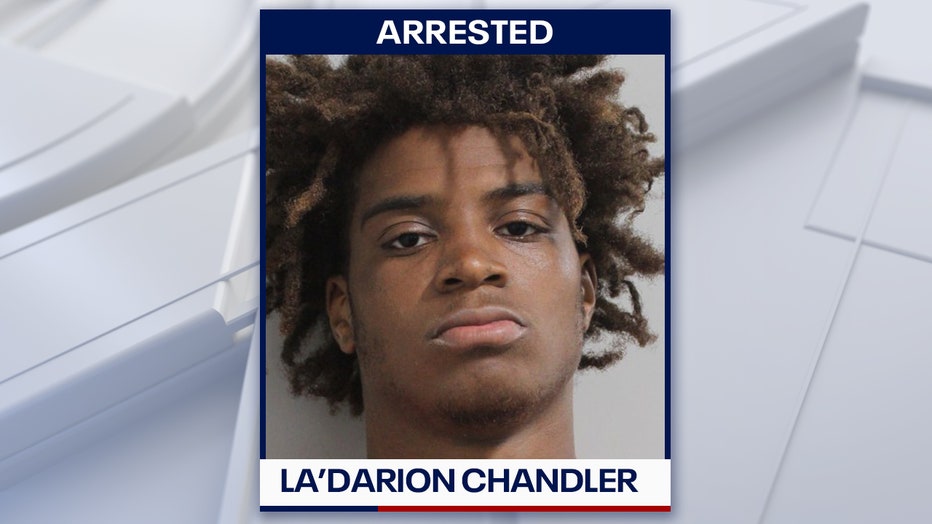 La'Darion Chandler mugshot courtesy of the Polk County Sheriff's Office.
While he was recovering in the hospital, Judd says deputies were trying to talk to him about the shooting, but he wouldn't cooperate.
"He was going to get well and go back and seek revenge on his own against this other opposing gang member," Judd shared. "What we believe is he wanted to take care of it himself. He didn't want that gang member locked up because if he was locked up, he couldn't get to him."
READ: More than 200 arrested in Polk County human trafficking bust
Judd calls the shooting a result of "testosterone overload."
"He was mean-mugging. He was bad-eyeing the other gang members and as a result, the event occurred," Judd explained. 
While deputies were investigating that shooting, Judd says Chandler pulled a gun on another guy a few streets away from where McGee was shot. The victim did not die, but deputies arrested him for that shooting and put him in jail.
As the investigation into McGee's shooting death continued, deputies learned Chandler made a rap video about shooting McGee.
"He's not much of a rapper. My rapper expert says he doesn't sing well. He doesn't move well. He's just a terrible rapper. But, he's a stupid rapper. He not only makes a rap video about shooting somebody, but he also admits to shooting the guy in the back. I'm a coward rapper, that's what I am. Watch me shoot the guy in the back," Judd stated.
After two-and-a-half months, Chandler was charged with first-degree murder.
"When we laid that first-degree murder warrant on him, subsequent to that, he started crying like a baby that lost his pacifier, and ostensibly his gun was his pacifier. He bragged that he carried a gun all the time, and he would shoot it at his rivals," Judd said.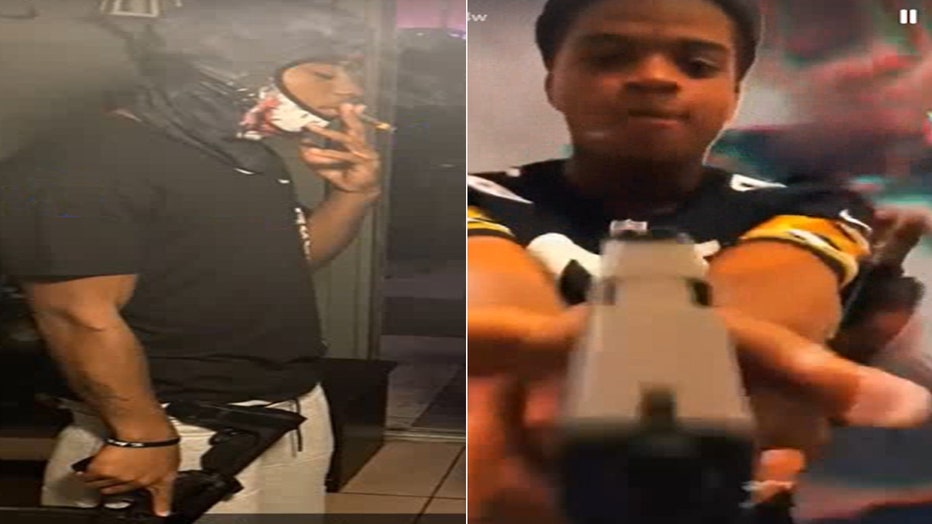 La'Darion Chandler with guns. Images are courtesy of the Polk County Sheriff's Office. 
Judd added that Chandler was on juvenile probation when the shootings occurred. Chandler had seven previous felony arrests, and five misdemeanor arrests beginning when he was 11 years old. 
He was incarcerated three different times, according to Judd.
Chandler's arrest was the result of a newly formed Gang Task Force and Judd wants him to go to jail for the rest of his life. 
Judd says law enforcement has not found the gun that was used to kill McGee. 
"We want the gun. We want the gun that's been pushed around. We know it's been pushed around. We want the gun that killed John McGee," Judd said. 
Judd said he will pay $5,000 for the gun and urged anyone with information to contact Crime Stoppers to arrange for a way to get it anonymously to law enforcement. 
The sheriff said during the Gang Task Force's first week in operation, it got four guns off the street and two were reported as stolen. 
"Let the message be loud and clear and all you gang bangers and gangsters and cool dudes and dudettes, understand we ripped this rapper, and he's in the jail. We unwrapped him from coolness and wrapped him up in a jail cell," the sheriff said.
In addition to first-degree murder, Chandler has been charged with convicted delinquent in possession of a firearm and aggravated assault with a deadly weapon.