Semi crash on I-75 leads to sulfur spill, closing portion of this major Florida road
Stream Good Day Orlando for live traffic updates:
OCALA, Fla. - Crews are working to clean up a major spill on US-27 from Interstate 75 in Ocala after a semi crashed and spilled its load, authorities said.
The crash happened shortly after 11 p.m. Monday in the southbound lanes of I-75 at the US-27 overpass, the Florida Highway Patrol said in a news release. 
Troopers said the semi – which was carrying a load of rock-form sulfur – was traveling on I-75 when its driver tried to switch from a right lane to a center lane, unaware that a vehicle was already in that lane.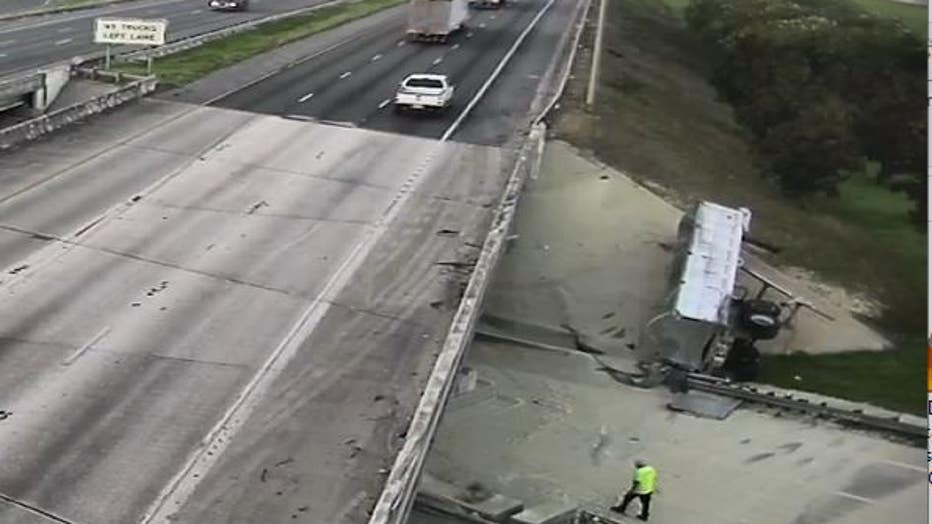 Officials said the semi struck the vehicle's right side before swerving and hitting a concrete barrier wall on the shoulder of the overpass, causing the trailer to flip, and spilling the load onto US-27.
The semi's driver was taken to a hospital with minor injuries. The driver of the other vehicle was not hurt, FHP said. 
As of Tuesday morning, troopers have shut down the southbound exit ramp to US-27 from I-75 in Ocala as crews work to clean up the spill.
Drivers can take the following alternate routes well before entering the Ocala area: Alachua County: State Road 26, State Road 24, State Road 121, County Road 234
Marion County: County Road 318, State Road 326