Sonic booms will be heard along Florida's Space Coast following Falcon Heavy launch on Friday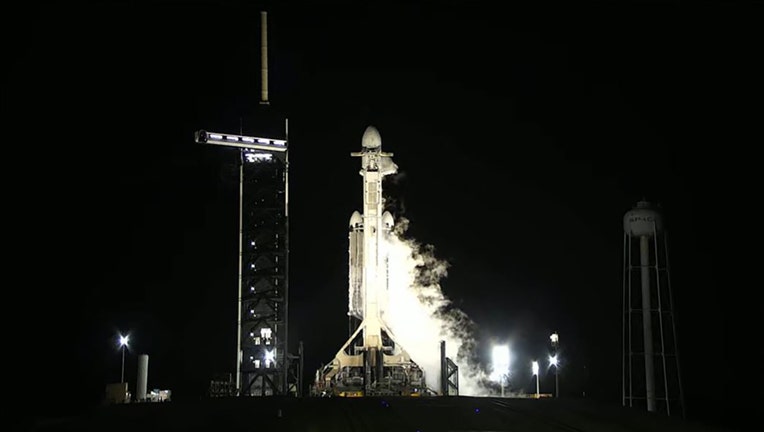 article
KENNEDY SPACE CENTER, Fla. - Florida Space Coast residents will likely hear some sonic booms on Friday as SpaceX launches a school-bus-sized satellite on the Falcon Heavy rocket.
SpaceX is targeting approximately 11:04 p.m. ET on Friday to launch the Jupiter 3 (Echostar XXIV) communications satellite from Kennedy Space Center Launchpad 39A. The launch was slated for Wednesday evening but was scrubbed with about a minute left in the countdown. It had been rescheduled for Thursday evening, but the space company said it needed more time for "vehicle checkouts" and that weather was more favorable for a launch on Friday.
Before NASA's Space Launch System rocket launch to the Moon last year, Falcon Heavy was the world's most powerful rocket. The Falcon Heavy has 27 Merlin engines and three first-stage boosters compared to SpaceX's Falcon 9 rocket, with one first-stage booster and nine Merlin engines. 
About eight minutes after launch, the two side rocket boosters will return to land at Cape Canaveral Landing Zones 1 and 2. As the rockets return to Earth, breaking the sound barrier, people across Central Florida will feel and hear the double sonic booms.
What is Falcon Heavy launching?
According to the satellite operator Hughes, Jupiter 3 will support in-flight Wi-Fi, maritime communications, and HughesNet satellite internet connectivity across North and South America. 
SpaceX's heavy-lift rocket is designed for larger payloads. Jupiter 3 is a massive spacecraft weighing about 9 metric tons with 14 solar panels that span 10 stories. 
The satellite was built by Maxar in Palo Alto, California, before being carried by a special Antonov commercial cargo plane to Cape Canaveral. The nose of the plane hinges open for large cargo to be loaded up.
SpaceX is planning another launch this week but with its smaller Falcon 9 rocket from Cape Canaveral Space Force Station. The company plans to launch another round of Starlink internet satellites on Thursday night at 10:20 p.m. from Space Launch Complex 40 (SLC-40) at Cape Canaveral Space Force Base in Florida. Additional launch opportunities are available at 11:10 p.m. ET and 12:01 a.m. ET, July 28.  Watch the Starlink launch live here.