Spirit Airlines customer put Orlando police officer in chokehold at airport during chaotic incident: Deputies
ORLANDO, Fla. - An Ohio man was arrested for allegedly putting an officer with the Orlando Police Department in a chokehold during an incident at the Orlando International Airport (MCO) on Tuesday. 
Edward Hariston, 41, of Ohio, is facing one count of attempted first-degree murder of a law enforcement officer, resisting arrest with violence, battery on a law enforcement officer, and disorderly conduct. 
Officers said they responded to the Spirit Ticket Counter at the MCO about a large group of people who were becoming aggressive with Spirit staff, an arrest affidavit states.  According to report, passengers were yelling at the Spirit staff, and some even went behind the ticket counters.
Investigators said Hariston was reportedly arguing with an employee when he reached behind the ticket counter, grabbed the computer keyboard, and began hitting buttons. That's when a police officer tried to stop him and a fight started, according to an arrest report.
The officer said he grabbed Hariston's arm to prevent him from damaging the property, and in response, Hariston grabbed the officer's arm. The officer said he pushed Hariston to "create distance" and Hariston then grabbed the officer's hands, lowered his body, and began pushing the officer backward. 
"We both fell onto the ground and Hariston put one of his arms around my neck in a chokehold and began to squeeze, restricting my airway, making it unable for me to breathe," the police officer wrote in the arrest report. "I began to get dizzy and immediately spotty, as my airflow was restricted, and I was beginning to lose consciousness."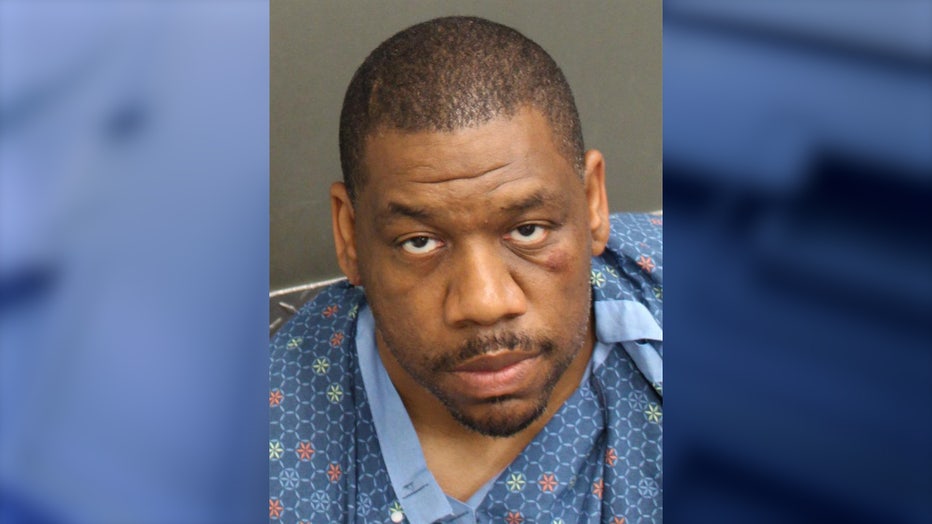 Credit: Orange County Sheriffs Office
The officer eventually broke free as other officers arrived at the airport.  Hariston was arrested and taken to the hospital for further evaluation. 
Neal Davis and his friends were in the airport at the time of the alleged incident but did not witness the fight. He said around 200 Spirit Airlines passengers were lined up and upset. 
"To become irrational like that, it's not right," he added. 
Davis said they got stranded in Orlando on Wednesday night after missing their connection due to the weather. "Not only are we out money, we're out paying an extra night for hotel."
Tina Woodford was also in the airport and said people were getting angry.
"We did see people get irritated and the workers getting irritated back at them, so I understand. It was just a bad situation," Woodford said. 
We reached out to Spirit Airlines and are waiting to hear back.