State says insurance companies responsive following hurricanes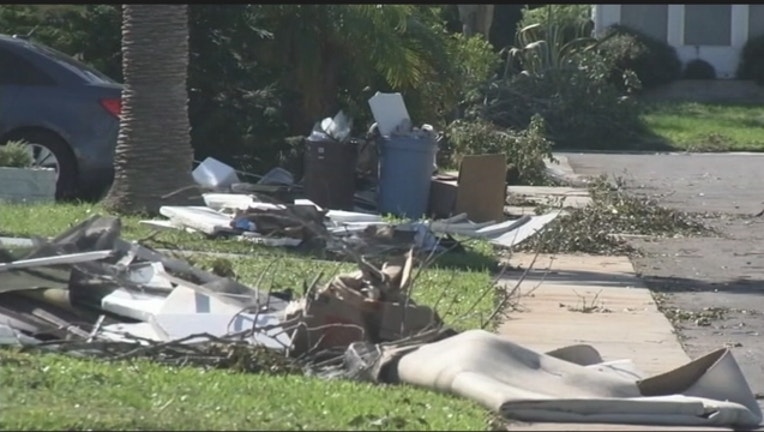 article
TALLHASSEE, Fla. (NSF) - Insurance companies, for the most part, have been responsive to customers affected by two hurricanes that caused hundreds of millions of dollars in damage in Florida this year, state officials said Friday during a roundtable discussion with industry executives.
Those conclusions were drawn from the state Division of Consumer Services receiving just 375 calls from Floridians about the handling of insurance claims out of the more than 100,000 property-damage claims filed following powerful Hurricane Matthew in early October.
"I know that there are individual circumstances of people that may not be pleased with the response, but overall I think we have seen the constant preparation that both the industry and our office and (the Florida Department of Financial Services) have put into being prepared for these circumstances has paid off," Insurance Commissioner David Altmaier said during the roundtable at Flagler College in St. Augustine.
Hurricane Matthew and the earlier Hurricane Hermine were tests for the insurance industry after more than a decade of Florida avoiding a direct hit from a hurricane. Hermine made landfall in North Florida, while Matthew caused widespread damage as it spun off the state's East Coast. The annual hurricane season ended Wednesday.
The 375 calls to the Division of Consumer Services about Hurricane Matthew claims were in addition to more-general calls from customers regarding their rights and what they needed to do after the storm, said Division of Consumer Services Director Tasha Carter.
"At this point, we are pretty comfortable that the process is working," said Carter, whose division is part of the Department of Financial Services.
She said insurers have responded in what the state views as a timely manner when the state agency advises them of complaints.
"There is a law that allows the insurance companies 20 days to respond once they receive a request for information from my office," Carter said. "What I've been seeing from the Hurricane Matthew claims, specifically, that we're averaging about a 15-day response time."
The top three reasons for calls regarding claims involved: claims that were denied and customers wanting someone else to review the requests or to explain the reasons for the denial; unsatisfactory settlement offers; and claim-handling delays.
"There were no red flags for our office because these reasons align with the same top three reasons for any other complaints that we're getting in our office," Carter said.
Matthew, which threatened the state and heavily impacted Northeast Florida on Oct. 6 and 7, had drawn 100,589 property-damage claims, representing $606 million in value, as of Oct. 28, according to the Office of Insurance Regulation. Volusia, Duval, Brevard, St. Johns and Flagler counties represented more than 70 percent of those claims.
The numbers are expected to be updated Monday. Altmaier said he didn't expect the damage estimates to change much when the numbers are updated.
The storm was the second of the year to directly affect Florida.
Hurricane Hermine, which made landfall in a sparsely populated part of the Big Bend and swept through Tallahassee in early September, resulted in $95 million in property-damage claims. Leon County accounted for about 3,500 of the 18,222 claims.
The Hermine claims numbers are as of Oct. 7, and are also expected to be updated next week.
Altmaier said there isn't a concern that insurers will be unable to pay claims from Hermine without dipping into their reinsurance --- insurance for insurers, which a few may have to do for Matthew.
"That's why it's there," Altmaier said.
The roundtable was advertised as a discussion of the 2016 hurricane season, the first for the state with a hurricane making landfall in nearly 11 years.
"There is certainly no illusion, certainly in this room, that we'll go another 11 years without hurricane activity," Altmaier said.
Little input was provided during the roundtable from private insurers.