Strong storms leave path of destruction, debris across Bay Area: 'It looked like the Wizard of Oz'
DUNEDIN, Fla. - As daylight broke across the Bay Area, residents in several communities got a good look at damage and debris left behind after strong storms, and tornadoes, rolled through overnight. 
Two confirmed tornadoes toppled trees, downed power lines and damaged buildings across the Bay Area, with most destruction being in Pinellas and Citrus counties. 
FOX 13 Meteorologist Jim Weber says there were 34 tornado warnings across the state since about 1:30 a.m.
In Dunedin, the storms blew out windows of storefronts at Causeway Plaza, just off Bayshore Boulevard. On the backside of the plaza, an air conditioning unit was on the ground that looked like it had been torn off the roof of the building.
RELATED: Porta-potty door lands in light pole near McDonald's after storms rock Dunedin: 'The parts were everywhere!'
Dumpsters and a truck were also overturned because of a possible tornado that touched down overnight.
FOX 13's Matthew McClellan says there was debris everywhere as well as inventory and supplies strewn about outside the strip mall, which houses a bingo hall, a Mexican restaurant, a wine room, a spa and a gym.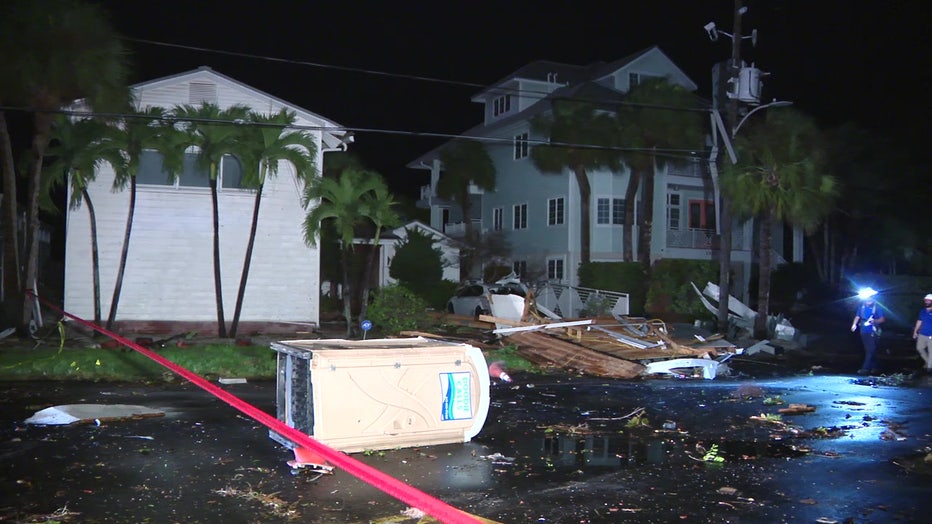 On Paula Drive in Dunedin, a home was severely damaged and appeared to have its roof blown off.
First responders were at the home early Thursday morning.
Video sent in by Holly Slay shows a possible tornado or waterspout moving toward Dunedin or Palm Harbor around 2 a.m.
Duke Energy cut the power to a northern Pinellas neighborhood because of the threat of live wires that are down.
A resident to lives in a home overlooking the Intercostal said he and his wife saw what they believed to be a massive tornado over the water. 
"It looked the like the 'Wizard of Oz'. I'm not kidding you," he said. "We stood there wondering if it was going to come at us, but, obviously it crossed the Gulf and went down across the Intercostal and it was over Dunedin it seemed like."
Courtesy: Clearwater Fire and Rescue
The Honeymoon mobile home park on Curlew Road in Dunedin also sustained a lot of damage. 
A woman who lives in the mobile home park said the storm ramped up in a matter of seconds. 
"The alert went off on my phone and I woke up, and I got up, and then I turned around and just sat back down on the bed and when I did, stuff started falling on my head," said Sondra Martin. 
Martin says by the time she made it into her living room, her roof was gone.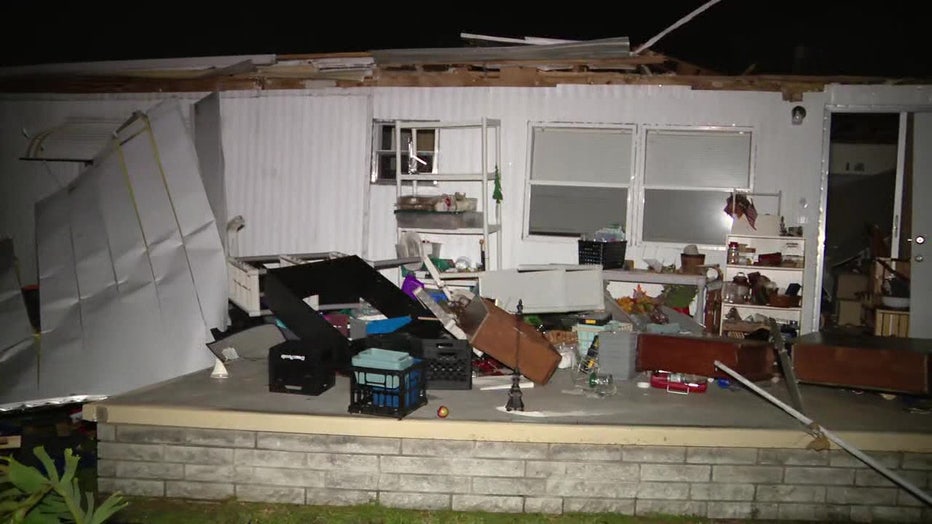 Storms damage Honeymoon Mobile Home Park. 
In Citrus County, all school is canceled for Thursday, October 12, after the west side of the county suffered significant damage from an unconfirmed tornado. 
Deputies in Citrus County have shut down several roadways due to extensive damage after a possible tornado touched down Thursday morning. 
Highway 44 is closed in all directions from the intersection of U.S. Highway 19 to Turkey Oak drive.
Highway 19 is closed in all directions from West Fort Island Trail to Northeast Fifth Street in Crystal River.
Fort Island Trail and Three Sisters Springs Trail intersection
NE 9th St., 8th St., and 1st St., in the Copeland Park area
Crystal Street near the intersection of W Balloon Lane
SE 8th Terrace
Ozello Trail and Winterset Avenue intersection
Whitewater Terrace and Turkey Oak intersection
Deputies are urging motorists to drive cautiously and watch for down power lines, debris and traffic lights that aren't functioning.