Susan Lorincz: What we know about Florida woman accused of shooting her neighbor
OCALA, Fla. - A Florida woman who reportedly shot and killed her neighbor in Ocala last weekend was arrested Tuesday night.
Susan Lorincz, 58, was taken into custody on charges of manslaughter with a firearm, culpable negligence, battery, and assault, deputies said.
She is undergoing testing to be medically cleared prior to being booked into the Marion County jail, a spokesperson for the Marion County Sheriff's Office said in a statement. She is expected to make a virtual appearance before a judge on Thursday.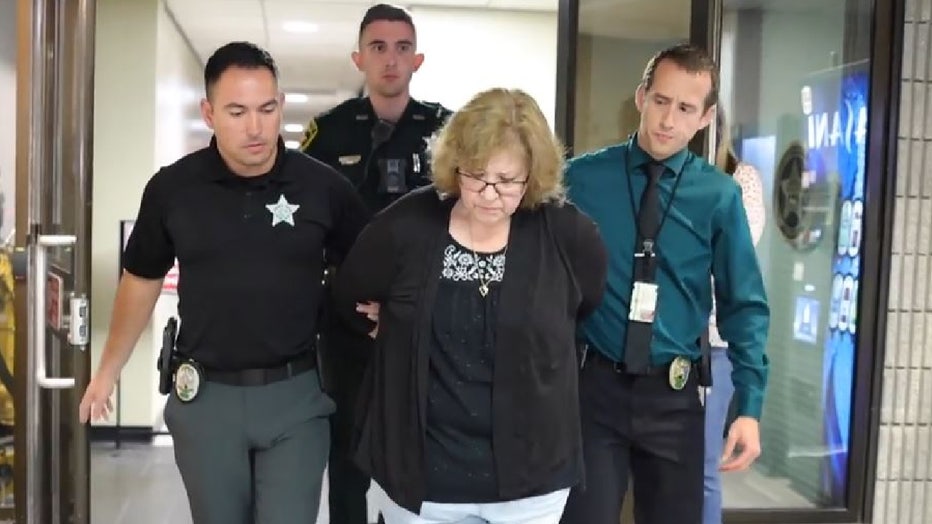 Susan Lorincz was arrested and booked into jail in the shooting death of her neighbor, Ajike "AJ" Owens. Photo credit: Marion County Sheriff's Office
The shooting: What we know
At around 9 p.m. on June 2, 2023, deputies of the Marion County Sheriff's Office responded to Lorincz's Ocala residence in the 1600 block of SW 107th Lane for a trespassing call. When they arrived, they found a woman, later identified as Ajike "AJ" Owens, who had been shot. She was taken to a local hospital where she died.
Owens went over to Lorincz's house to reportedly confront her about allegations that she threw a rollerblade skate at one of her kids earlier in the day.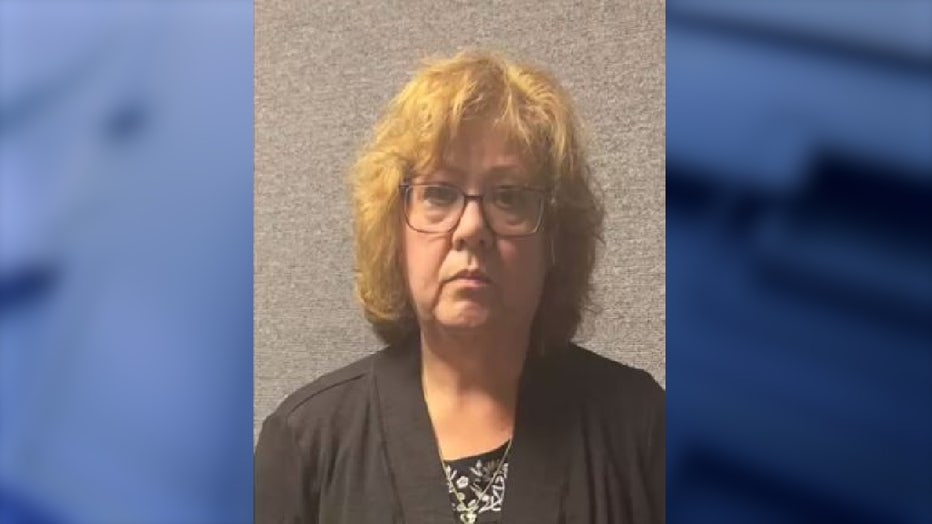 Susan Lorincz (Photo via Marion County Sheriffs Office)
Deputies said Lorincz fired one shot through her closed front door, striking Owens in the chest. Her young son was with her when the shooting happened, Marion County Sheriff Billy Woods said, which is why deputies are recommending the culpable negligence charge.
She bought a gun a year earlier after altercation with Ajike Owens
Lorincz told deputies she purchased two handguns one year ago but used to be afraid of guns. She said she purchased the gun for protection after an altercation with Owens. 
When deputies entered Lorincz's home, they found a single shell casing on the kitchen counter imprinted with "Blazer 380 Auto." Detectives said this was consistent with Lorincz's statement that she fired from the kitchen. 
In her bedroom, deputies said they found a small trashcan by the bed filled with papers. On top of the papers in the trash can, deputies found two handguns that were on top of each other. The gun on top was identified as a Ruger LCP II 22 LR. 
There was a magazine inserted and one live round inside the chamber with live ammunition in the magazine, and the gun was in a soft holster, the arrest report shows.
The second handgun was identified as a Remington M380 caliber that had a magazine inserted and one live round inside the chamber with live ammunition in the magazine.  
Lorincz "possibly" researched stand-your-ground information before the shooting
When Lorincz used the words "reasonable" and "prudent" during her interview, detectives asked her why she used that verbiage. She said she researched self-defense information on the internet on the same day of her second interview. She also admitted to "possibly" researching stand-your-ground and self-defense laws in the recent past. 
She also admitted to swinging the umbrella at the juveniles on the day of the shooting. 
Deputies placed Lorincz under arrest, who refused to cooperate, the arrest report shows. Detectives said she stated "kill me" and would not comply by standing up. As she was being escorted to a patrol car, she complained of chest pain and attempted to fall to the ground. 
The was taken to the hospital and made her first court appearance on Thursday. 
911 call: "I grabbed my gun and shot at the door" 
The 911 calls that were made the night Owens was shot and killed, show Lorincz's panic before and after the shooting. 
Minutes before the shooting, Lorincz called 911. 
Dispatch: I need you to lock all your doors and windows, OK
Caller: I have
Caller: Her sons said they were going to come and kill me.
Dispatch: And did you know her?
Caller: Yes, she's come after me several times because of her children. Her children keep trespassing over here. They're bothering me and bothering and won't (expletive" stop")
A couple of minutes later, Lorincz called 911 again indicating that she just shot Owens. 
Caller:"Oh my God, this lady just tried to break down my door. I shot through the door. (inaudible) (heavy breathing, emotions)Yes. The woman was screaming and yelling, and she was trying to break down my door."
Dispatch: It was a female?
Caller: Yes
Caller: "I didn't know what to do. I grabbed my gun and shot at the door cause I thought she was going to kill me...oh my God.
Caller: I shot at the door because she wouldn't stop. I told her 'get away,' and she wouldn't and (inaudible).
Moments later: 
Dispatch: Where is the gun now?
Caller: It's in my bedroom. (pause) This is the woman who attacked me
Dispatch: OK, so you still see the subject?
Caller: I don't know where she is. I'm still in my house. I didn't open my door to her.
Dispatch: It's only you in the home.
Caller: Yes, it's just me.
Following the shooting, the dispatcher asked Lorincz to lock her doors who then said she heard a lot of screaming outside her home.
RELATED STORIES:
The victim: What we know about her
Owens was a mother to four children. Her best friend, Kimberly Robinson-Jones, said she had a smile that would light up a room.
She adored her children and made sacrifices as a single mother to be there for them in each and every way.
"She would never want to miss a football game, a practice, cheerleading. She was there," Robinson-Jones said. "They were her world. They were her everything, and now, because of this senseless act, they are now without her."
The "neighborhood feud"
Woods said the shooting happened during an apparent "neighborhood feud" that had been going for sometime between the suspect and the victim.
Records show that 911 had been called a half-dozen times since 2021 involving Lorincz and Owens. In two cases – February 2022 and April 2023 – Lorincz called 911 because she was upset that Owens' dog was on her property, and called months later to report that Owens had repeatedly opened her mailbox. She told deputies, according to the report, that she was not missing any mail.  
Deputies said the investigation has revealed that Lorincz had become angry with the children overtime, specifically about them playing in a field near her home.
Prior to the shooting, MCSO said Lorincz was overheard yelling and arguing with the children, who were playing in a nearby field, and then threw a rollerblade skate at one of the children – a 10-year-old boy – which hit him in the toe.
When the boy and his 12-year-old brother went to talk to Lorincz about what happened, she opened the door and swung an umbrella at them, the sheriff's office said.
'Stand Your Ground' law discussions
Prior to her arrest, Lorincz claimed the shooting was self-defense under Florida's "Stand Your Ground law," Woods said. 
The Stand Your Ground law states "a person is justified in using or threatening to use force, except deadly force, against another when and to the extent that the person reasonably believes that such conduct is necessary to defend himself or herself or another against the other's imminent use of unlawful force."
She made allegations that Owens tried to break down the door, but investigators said between witness statements and surveillance video, that wasn't true.
MORE: Florida's 'Stand Your Ground' law and when it applies
"On her side of the story, she made claims that her life was being threatened," Woods told FOX 35 News during an exclusive interview Tuesday night.
"The way the laws are written in this state, and this is what people need to understand – our hands are tied in law enforcement in these cases where we are instructed that we cannot make an arrest because we have to rule out whether the shooting was justified or unjustified," Woods said. 
Woods said Owens' children, who likely witnessed the shooting, were the key in making an arrest in the case. 
The Owens family is being represented by renowned civil rights Attorney Ben Crump and Attorney Anthony D. Thomas.
They are expected to hold a news conference at noon Wednesday.