Teen dies after diving into lime rock quarry, 13 others arrested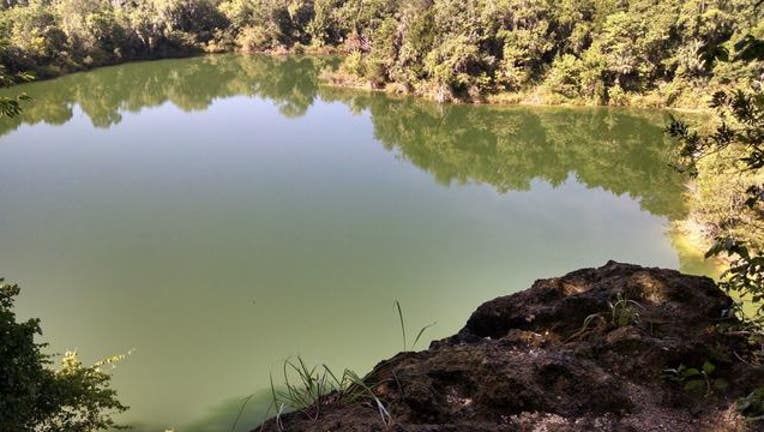 article
OCALA, Fla. (WOFL FOX 35) - The Marion County Sheriff's Office (MCSO) reports that they are actively investigating the death of 17-year-old Trey Austin Dagwan Cardoza from Largo, Florida, after he cliff-dove into an inactive lime rock mining quarry. 
The teen was found unresponsive in the quarry on Monday by MCSO deputies, states the report. Cardoza reportedly passed away from his injuries at Ocala Regional Medical Center early Tuesday morning. His cause of death is still pending.
Several hours before Cardoza's accident, 13 people were stated to have been arrested in a separate incident for trespassing on private property to swim in an inactive lime rock quarry. Another three were arrested late last month for trespassing in the same area. They told deputies they were swimming in the quarry and taking pictures, knowing they were trespassing. No one was injured in either incident. 
Cardoza is the second person to have died as a result of trespassing on private property and swimming in a Marion County lime rock quarry this summer. In May, an 18-year-old male from Tampa drowned in a lime rock quarry. In all of these cases, The MCSO says these individuals saw videos of trespassers cliff diving into Ocala quarries on social media and wanted to try it themselves.
The Marion County Sheriff's Office will be proactively patrolling these areas and strictly enforcing state statutes for anyone involved in trespassing at these locations. Cliff diving and swimming in these areas is extremely dangerous and has taken the lives of two young adults with promising, bright futures this summer already. The men and women of the MCSO will do everything in their power to prevent further loss of life as a result of these preventable accidents.