Third surfer bitten by a shark at New Smyrna Beach this year describes 'lucky' moment
NEW SMYRNA BEACH, Fla. - Just a couple of days after getting bitten by a shark, Brandon Boncore isn't fazed by the sight of his surfboard, still spotted with his own blood.
He was surfing near the inlet early Monday morning in New Smyrna Beach when he fell off his board riding one of the last waves of the day.
"The shark bit me right on the foot," Boncore said. "Something clamped onto me. I knew it was a shark right away, but it was just a lot of pressure that kind of clamped on my foot. Took my right foot, kicked it away, and at that point got on my board and paddled away and tried to wave someone down."
Boncore was rushed to the hospital where he had surgery. He said he was lucky the bite missed most major tendons and arteries, but a tooth had to be removed from his bone.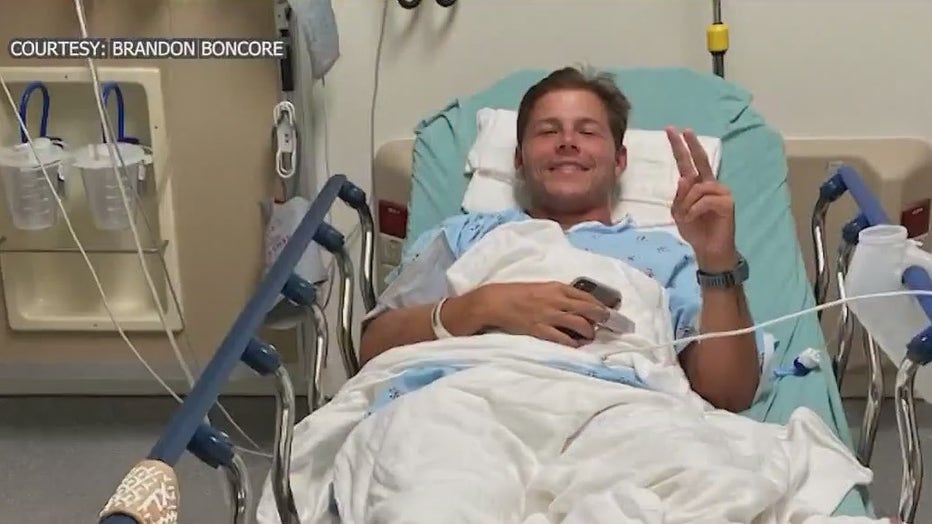 Brandon Boncore was bitten by a shark at New Smyrna Beach.
"One of my buddy's friends actually got bit last week, and his was a lot worse than mine, so I'm really lucky," Boncore said.
Boncore's recovery won't be as extensive as it will be for Chris Pospisil, the last shark bite victim in New Smyrna Beach.
"I surfed that day," Boncore said. "He was there in the afternoon. I surfed that morning, the same spot so that could have happened to me, and it kind of did."
Monday, the SKYFOX drone captured images of sharks swimming in the same area. Boncore says he saw them too, but insists he'll get back out there.
"If there's sharks around, just kind of keep your distance and that's all you can do," Boncore said. "That's part of the package, right? You go out and surf, there's sharks in the water. It's not our ocean."