Orlando weather: Mix of partly sunny skies, scattered showers on Saturday
ORLANDO, Fla. - Tonight's low: 73 degrees | Tomorrow's high: 92 degrees 
Main weather concerns: It will be another warm afternoon across the region on Saturday. Forecast highs today will reach the low-90s through the Orlando metro and along our Atlantic coast communities. Scattered storms are possible.  Download the free FOX 35 Storm Team Weather App by clicking here to get severe weather alerts straight to your phone.  Morning lows will cool down into the upper 60s and lower 70s.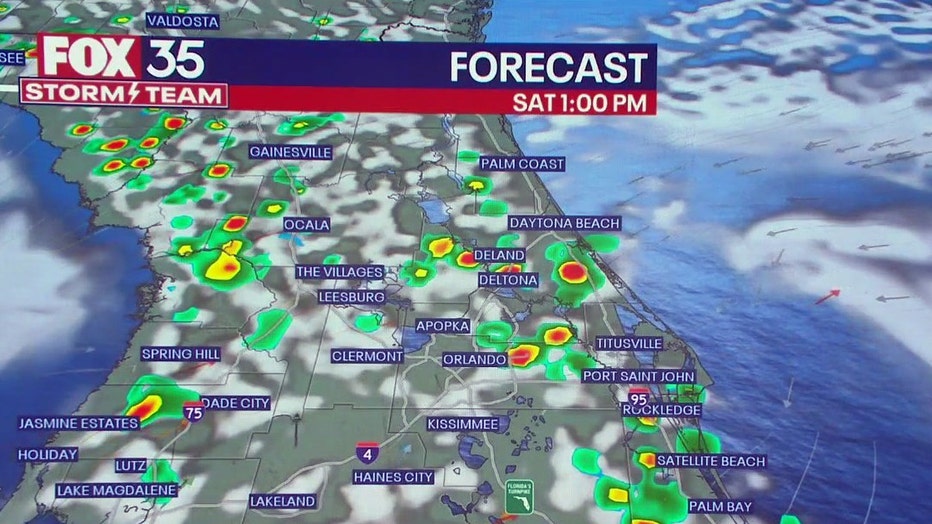 BEACHES: It is a warm day at our beach communities with afternoon highs soaring to near 90 degrees. Mainly afternoon showers and storms will bring the chance for severe weather. Within any strong storms, you can expect heavy rain, lightning, gusty winds, and small hail. There is also a chance for an isolated tornado, mainly along our coastal communities. 
THEME PARKS: It will be warm and humid at the attractions. Afternoon highs will reach the low-90s with a mix of sun and clouds to start. Mainly after 1 p.m., showers and thunderstorm activity will be on the rise. Heavy rain, lightning, gusty winds, and hail are possible. When thunder roars, head indoors.
OUTLOOK: Central Florida has a hot and humid weekend ahead. Forecast highs will reach the low-90s with the chance for evening showers and storms at about 40-50% coverage. For any outdoor plans that you have, stay hydrated and keep your FOX 35 Storm Team weather app handy. 
Looking ahead to next week, temperatures will be on the rise. Forecast highs by the middle of the week are expected to reach the mid-90s... hello summer! In the tropics, things remain quiet for now. No tropical activity is expected within the next 2 to 7 days. If anything changes, the FOX 35 Storm Team will keep you updated.