Showers to linger into Thursday morning over parts of Central Florida
ORLANDO, Fla. - Tonight's low: 73 degrees | Tomorrow's high: 87 degrees  
Main weather concerns:
Our wet, stormy weather pattern continues for Central Florida. Expect, warm, humid conditions as tropical moisture pours into Florida from the South.  This also means rain chances return with slight chances in play before the PM hours, a much higher increase is expected after 2 p.m.
RAIN TIMELINE
Click through the below gallery to see when the stronger storms are expected to move through the Orlando/Central Florida area. 
Coverage stands at 70%+ with a few storms gaining quite a boost in intensity by late afternoon and into the early evening. Heavy rain, lightning, strong wind gusts, and ponding of water are all possible. High temps hit in the mid-80s in most locations this afternoon, and lows tonight fall into the 70s.
BEACHES:
If you decide to head to the beaches this Wednesday, do know that rain chances won't be too far behind! The latest forecast models are showing a few rain opportunities along the beaches before 12 p.m. After that, a little lull in rain chances will be in place through 1-2 p.m. with coverage increasing again after that time. Heavy rain and lightning will be the main issues in any stronger storms. Rip current risk is moderate. Surf rolls in at 2-3' with a mix of ENE swell in the water through the day. Tides are high at 7 a.m., low at 1 p.m.
THEME PARKS:
Mixed skies and warm, muggy conditions at the attractions on this Wednesday. High near 86, rain chances reach a peak of 70%+ after 2 p.m. this afternoon but, don't rule out any showers before this time.
OUTLOOK:
Tropical moisture dominates for the next few days. Scattered to even numerous afternoon storms will be likely all week long. Typical hazards like heavy rain, frequent lightning, and gusty winds will be possible in the strongest storms. Many areas could see 2-4" by the end of the work week.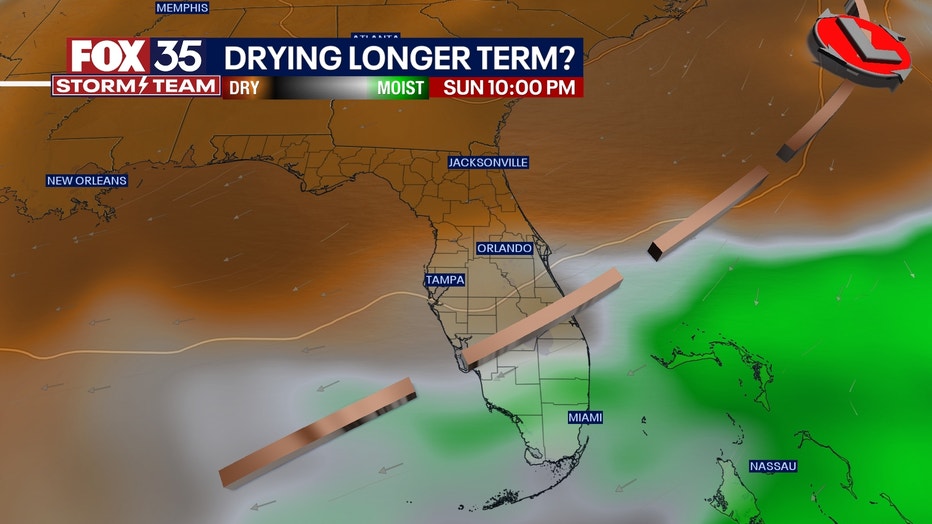 Skies hopefully start drying out late this coming weekend through early next week. Depend on the FOX 35 Storm Team and download our Storm Team weather app to use the interactive radar feature.
These high rain and storm chances are all thanks to tropical moisture over the state of Florida. With a front to our north, this moisture has nowhere to go, so our humidity remains high.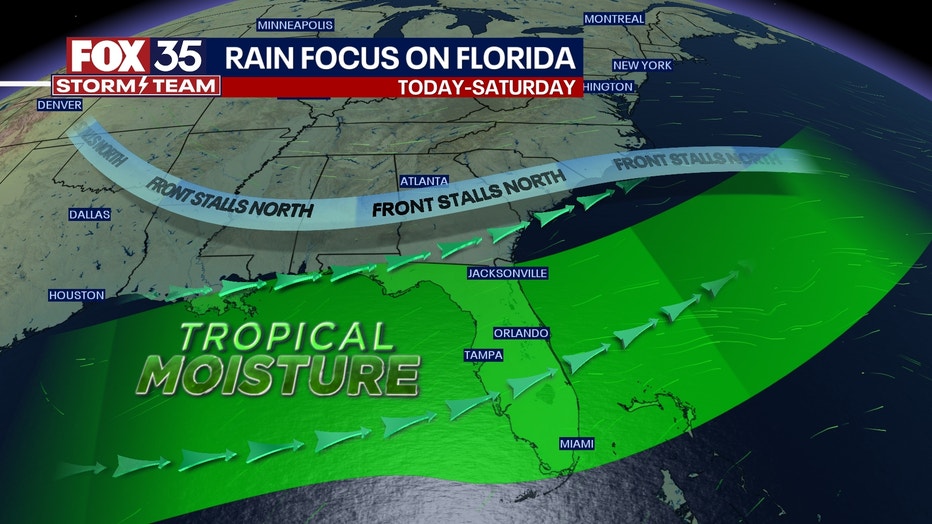 Make sure to keep your eyes on the skies and remember to head indoors when you hear thunder roar. The FOX 35 Storm Team is looking ahead to next week when some drier air will move back into the region. Rain chances look to drop to 30% coverage by early next week.
Download the FOX 35 Storm Team weather app here and turn on the alerts. You will get notified when lightning is moving into your neighborhood.
TRACKING THE TROPICS:
Tropical Storm Philippe continues moving West over the Central Atlantic. Phillipe will diminish in intensity, becoming a depression by late week and then a remnant low-pressure area late weekend.  Behind Philippe, another tropical wave is being monitored with a 90% of development over the next 7 days. A tropical depression is likely to form mid-late week. Keep with the FOX 35 Storm Team for the latest updates!