Orlando weather: Tuesday morning rush hour in Central Florida could be impacted by storms
ORLANDO, Fla. - Tonight's low: 74 degrees | Tomorrow's high: 93 degrees 
Main weather concerns: There is the potential for heavy rain and strong wind gusts Tuesday morning across Central Florida. The rain is expected to disrupt the morning rush hour, so commuters should build in a little extra travel time.  The FOX 35 Storm Team is monitoring conditions for localized flooding given how much rain we have seen in recent days.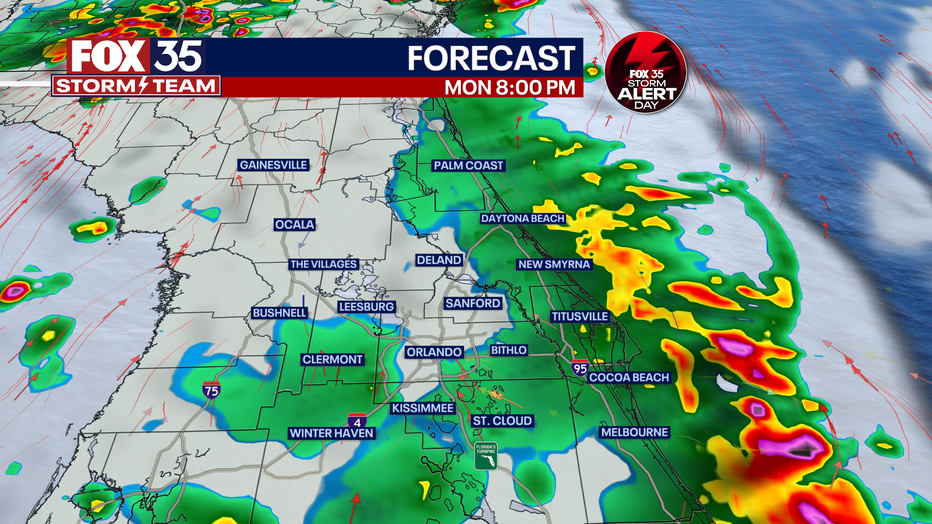 Storms that moved across Central Florida on Monday evening produced an incredible display of lightning. The video below shows different vantage points from the Orlando area looking east. 
BEACHES: It will be a hot day at the beach with afternoon storms. Forecast highs will hit the low-90s with feels-like temperatures in the triple digits. After 2 p.m., we will see a rise in rain, gusty winds, and the chance for hail and even an isolated tornado. There is a low rip current risk with a surf height of around 1 foot.
THEME PARKS: We have a stormy afternoon at the theme parks today. Storm chances are possible through midnight. Heavy rain, gusty winds, and frequent lightning are possible. When thunder roars, go indoors. Highs reach the low-90s today under partly cloudy skies.
OUTLOOK: Rain chances are on the rise each day this week. Daily storms are expected thanks to a stubborn system over the Southeast. Heavy rain and lightning will be likely every day so keep that umbrella close! It will be humid and warm all week with highs in the upper-80s to low-90s. Stay hydrated and download the FOX 35 Storm Team weather app to use our interactive radar feature.
Tracking the Tropics
The FOX 35 Storm Team is monitoring two tropical systems. The first tropical wave strengthened into Tropical Storm Bret late Monday afternoon.  Bret is producing an area of showers and storms located several hundred miles west-southwest of the Cabo Verde Islands. It now appears likely Bret will strengthen into a hurricane by mid-week.
The second tropical wave, known as Invest93-L, is creating an area of disorganized showers and thunderstorms located near the west coast of Africa. Some gradual development of this system is possible through the middle and latter parts of this week.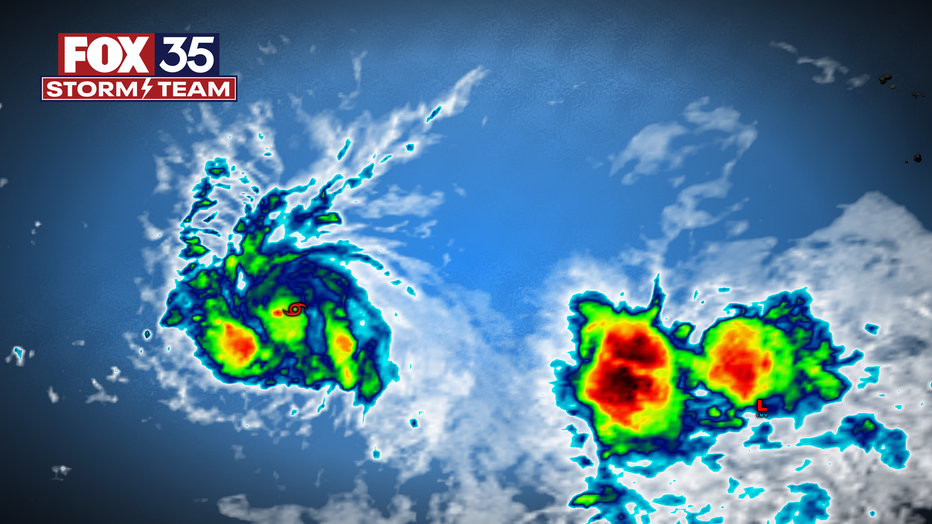 Tropical Storm Bret (left) and Invest93-L (right), June 19, 2023.
The NHC is giving it a 90% chance for further development within the next two days. Depend on the FOX 35 Storm Team for your tropical updates.