Tracking coronavirus: Florida sets new single-day death record as 156 more are reported; almost 14K new cases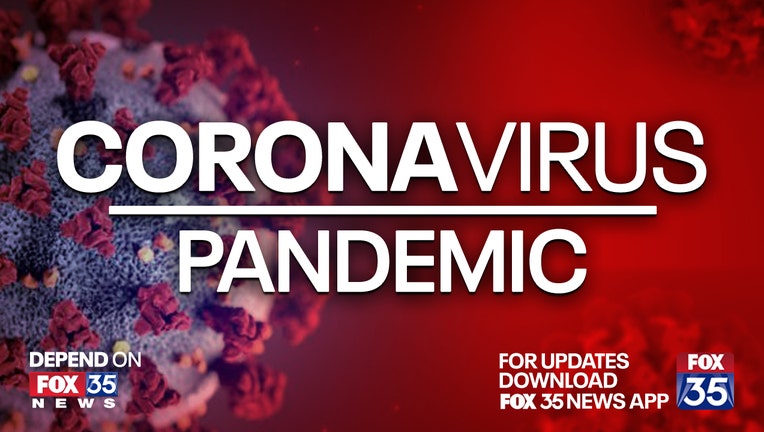 article
ORLANDO, Fla. - Below is a log of the day's events as it relates to the global coronavirus pandemic.
5:00 p.m. -- The CDC announced an extension on its ban on cruise ships in U.S. waters through Sept. 30, due to "ongoing" coronavirus outbreaks aboard ships. Details HERE.
2:30 p.m. -- Publix announced Thursday it will require all customers to wear a face covering while inside its stores, starting Tuesday, July 21. Read more HERE.
1:00 p.m. -- Target and CVS are the latest retailers to announce that shoppers will be required to wear face masks or face coverings at all stores nationwide. When the new policies take effect HERE.
1:00 p.m. -- Gov. Ron DeSantis and first lady Casey DeSantis held a roundtable discussion in Tampa on the impact of the coronavirus on mental health.
The Republican Governor said the stress of the illness will affect people even if they didn't catch the disease or know anyone who did and whether they are children whose schooling, socializing and activities have been disrupted or adults who've taken an economic hit.
"Many have had no personal impact at all in terms the actual illness, but who have been profoundly impacted with the changes that have occurred in society. You're worried about a paycheck, you're worried about kids, you're worried about family members," DeSantis said. "I understand that, and that is something we're going to continue to put a lot of attention on as well."
12:30 p.m. -- Starting Friday, some state-supported coronavirus testing sites will have self-swab testing lanes for symptomatic individuals, a move that they expect will reduce wait times and expedite test results. See which Florida locations will offer the new test HERE.
11:30 a.m. -- Master Detention Deputy Richard "Rick" Barry at Lake County Jail has passed away after testing positive for COVID-19, the Sheriff's Office says. More about Master Deputy Barry HERE.
10:45 a.m. -- The latest numbers from the Florida Department of Health show that there have been 315,775 cases of coronavirus statewide, resulting in 4,677 deaths. That is an increase in 13,965 cases and 156 deaths.
This is the biggest single-day jump in deaths yet. The previous record was just days ago, reported on Tuesday, as 132 new deaths were announced by health officials. This is also the second-largest daily increase in cases, with the record being set on Sunday with 15,300 new cases.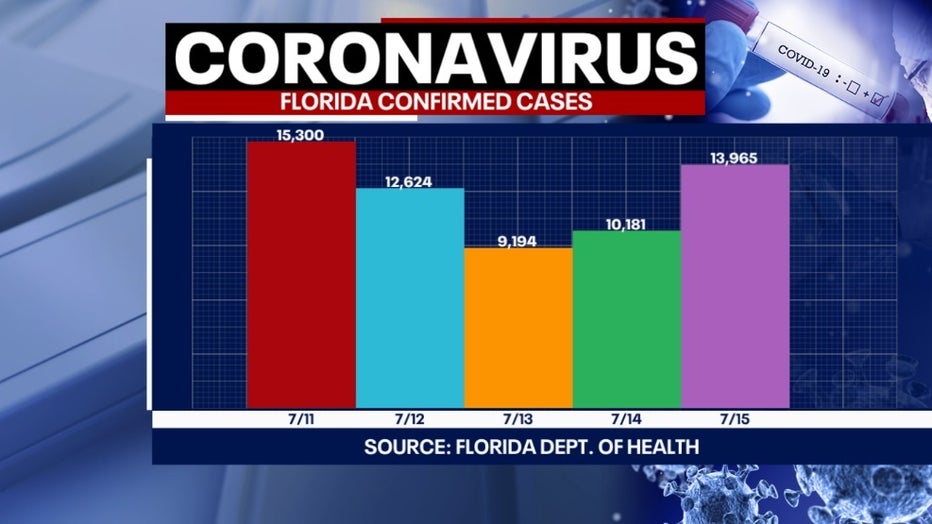 Hospitalizations also have been surging, filling up ICU units at several hospitals. Statewide, the number of patients being treated in a hospital for the coronavirus was at 8,809 Thursday morning, up from 8,276 at the same time the day before.
10:10 a.m. -- The Republican National Committee is sharply restricting attendance on three of the four nights of its convention in Jacksonville, Florida, next month, as it looks for ways to move forward with the event while coronavirus cases are spiking in the state. Details HERE.
8:55 a.m. -- The number of laid-off workers seeking unemployment benefits remained stuck at 1.3 million last week, a historically high level that indicates many companies are still cutting jobs as the viral outbreak intensifies.
7:17 a.m. -- A woman in Winter Springs referred to people who wear facial masks as "cult members" in an outburst outside a local Walmart. Footage uploaded to Twitter shows the woman shouting at onlookers. "You guys are F***ing cult members," she yells, "I'm not wearing a mask!" See the video HERE.
6:45 a.m. -- As COVID-19 cases increase in Central Florida, some hospitals are trying to make room for those patients. HCA Healthcare North Florida says four of its locations will push back elective surgeries again as more people sick with coronavirus fill hospital beds and ICUs. 
5:30 a.m. -- In our ongoing investigation into coronavirus data compiled by the Florida Department of Health (FDOH), FOX 35 News has learned that Centra Care, AdventHealth's urgent care chain, was only reporting positive results to the state, alongside hundreds of other test sites and labs. Read more HERE.
5:00 a.m. -- U.S. Centers for Disease Control and Prevention Director Dr. Robert Redfield said Tuesday if all Americans wore a mask it could bring the COVID-19 pandemic under control in weeks. "I think the data is clearly there, that masking works — whether it's a face covering, whether it's a simple surgical mask," Redfield said. Details HERE.
RELATED: Interactive map of COVID-19 cases across Florida 
Phase two of Florida's reopening is ongoing. The following is in effect:
Restaurants can now allow bar-top seating with appropriate social distancing.
Bars and pubs were originally able to operate with 50 percent capacity indoors and full capacity outside as long as appropriate social distancing is followed. However, the state has put a temporary ban on liquor sales at bars as COVID-19 cases surge, forcing many bars to close.
Retail stores can now operate at full capacity with responsible social distancing and sanitization protocols.
Gyms can now operate at full capacity as well with appropriate social distancing and frequent sanitization. 
Entertainment businesses, like movie theaters, concert houses, auditoriums, playhouses, bowling alleys and arcades, can operate at 50 percent with appropriate social distancing and sanitization protocols. 
Personal services businesses, including but not limited to tattoo parlors, acupuncture establishments, tanning salons, and massage establishments, may operate with guidance from the Florida Department of Health.
Pari-mutuel betting facilities can submit a request to reopen to the Department of Business and Professional Regulation. The request must include an endorsement from their county mayor or county administrator if there is no mayor.
Miami-Dade, Broward, and Palm Beach -- which are the counties that got hit the heaviest by coronavirus in Florida -- will remain in phase one for the time being. When ready, they can seek approval from their county mayor or county administrator to enter phase two.
RELATED: FOX 35 EXCLUSIVE: Labs directed to only report positive COVID-19 tests
Coronavirus can spread from person to person through small droplets from the nose or mouth, including when an individual coughs or sneezes. These droplets can land on objects and surfaces. Others can then contract the virus by touching these objects or surfaces, then their eyes, nose or mouth. 
As stated before, symptoms of the coronavirus include fever, cough and shortness of breath. They may show in as few as two days or as many as 14 days following exposure, the Florida Department of Health says. Most people recover from COVID-19 without special treatment, but the elderly and those with underlying medical problems are more likely to develop serious illness.
If you display coronavirus symptoms, you should contact a local health organization and make them aware of your condition prior to arrival while also following specific instructions or guidelines they may have.
RELATED: Coronavirus data funneled away from CDC to private tech firm, sparking worries
If you are experiencing a medical emergency, call 911 and let them know if you have been infected or believe that you may be. If you are infected, a medical professional or another authority will likely advise that you remain isolated while sick. This includes staying at home and not going into public places or large events.
Please visit the Department's dedicated COVID-19 webpage for information and guidance regarding COVID-19 in Florida.
For any other questions related to COVID-19 in Florida, please contact the Department's dedicated COVID-19 Call Center by calling 1-(866) 779-6121. The Call Center is available 24 hours a day. Inquiries may also be emailed to COVID-19@flhealth.gov.
RELATED: Next coronavirus stimulus package could include $5,000 advance of child tax credit
Globally, there have been over 13.5 million COVID-19 cases, resulting in over 584,000 deaths, according to John Hopkins University.
Below is an interactive John Hopkins University dashboard, showing a country-by-country breakdown of positive COVID-19 cases across the world.
MOBILE USERS: Click here to view the interactive John Hopkins University dashboard
CLICK HERE FOR COMPLETE CORONAVIRUS COVERAGE
Tune in to FOX 35 Orlando for the latest coronavirus news.