Tropical Storm Bret no longer forecast to become hurricane, NHC says
ORLANDO, Fla. - Forecasters are monitoring two tropical systems in the Atlantic Ocean which are continuing their track to the west.  
One system, Tropical Storm Bret, became the second named storm of the 2023 Atlantic Hurricane Season on Monday. Behind Bret is a disturbance that forecasters have identified as Invest 93-L. 
Tropical Storm Bret
Tropical Storm Bret, previously known as Invest 92-L, strengthened Monday morning to become a tropical depression and then into a tropical storm late afternoon, the National Hurricane Center (NHC) said. 
As of Tuesday, the storm is no longer forecast to become a hurricane, the NHC said in an advisory. Bret is expected to remain a tropical storm when it reaches the Lesser Antilles Thursday, the latest track shows. 
Tracking Tropical Storm Bret: How far from Florida is it?
Late Tuesday, the system was located about 730 miles east of the Windward Islands and is moving toward the west at 17 mph. That motion is expected to continue over the next several days. It currently has maximum sustained winds of 50 mph and a minimum central pressure of 1003 MB. 
A Tropical Storm Watch is in effect for: 
Barbados
Dominica
Martinique
St. Lucia
A Tropical Storm Watch means that tropical storm conditions arepossible within the watch area, generally within 48 hours.
"Bret is battling dry, dusty air – that's the Saharan Dust to its north – and it's battling some wind shear, and that's why it doesn't look that good on the satellite imagery but it still has a sustained core and winds that have allowed it to remain a tropical storm," said FOX 35 Meteorologist Ian Cassette. "So ahead of where it's moving to, it's likely going to be running into an unfavorable environment."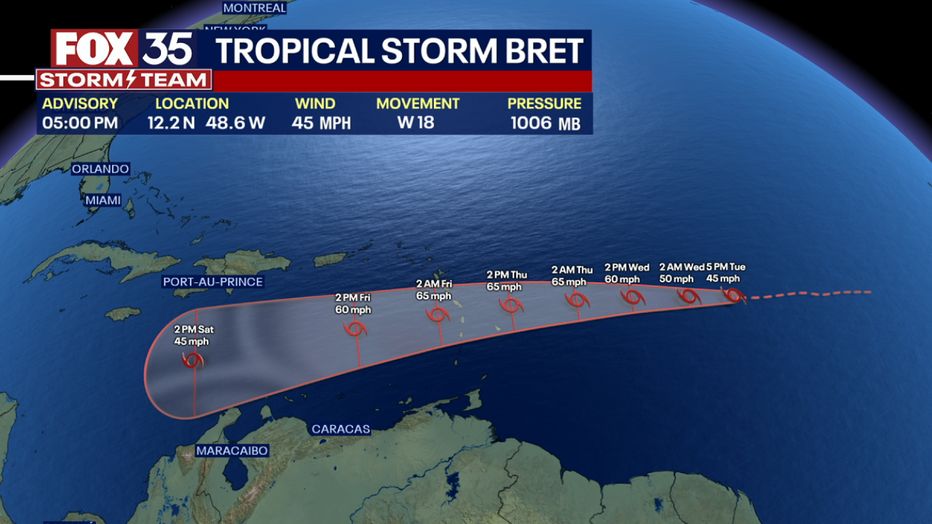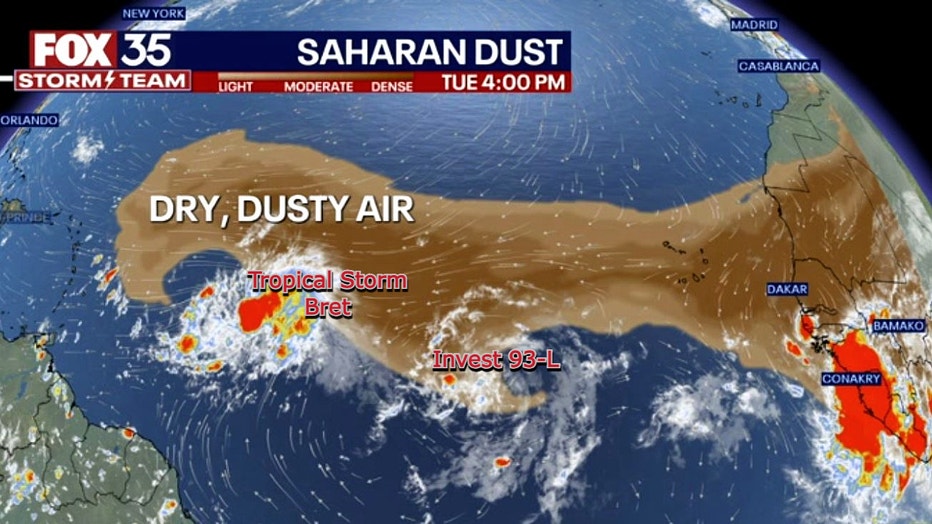 On the forecast track, the center of Bret is expected to move across portions of the Lesser Antilles Thursday afternoon and Thursday night and then move across the eastern Caribbean Sea on Friday.
Tracking Invest 93-L
Another tropical disturbance in the Central Atlantic Ocean, also known as Invest 93-L, is located several hundred miles east of Tropical Storm Bret, the National Hurricane Center said. 
"Environmental conditions appear conducive for further development of this system, and a tropical depression will likely form during the next couple of days while the system moves westward at 10 to 15 mph across the eastern and central tropical Atlantic," the NHC said.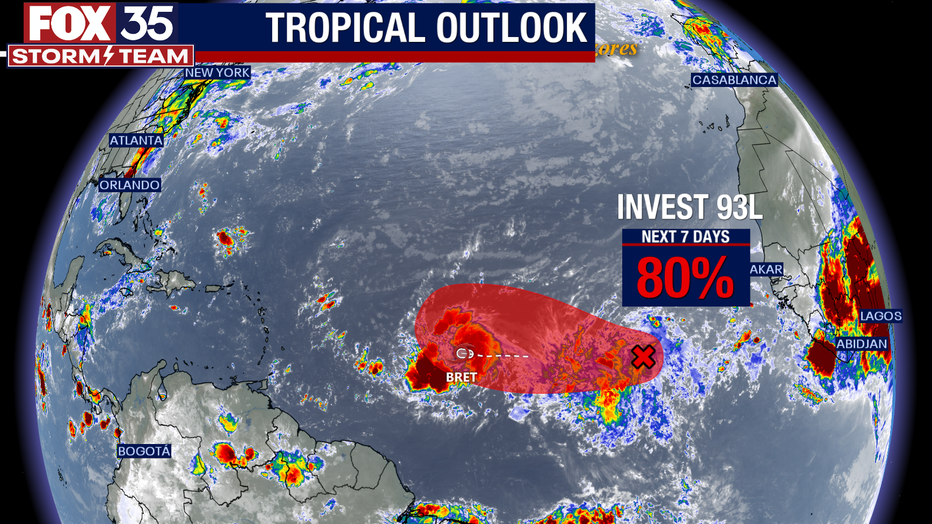 Currently, it has a high, 70% chance of formation over the next 48 hours and a high, 80% chance of formation over the next seven days.
What is an Invest system?
An invest system is short for "investigative system" or "area of interest". The invest tag is reserved for areas of disturbed weather being monitored for potential tropical development. Once the National Hurricane Center ear-marks an investigative area, spaghetti forecast models are applied to the situation, helping to forecast future tracking.
Invests are identified by numbers ranging from 90-99, the letter "L" is attached if the system resides in the North Atlantic. 
2023 Atlantic Hurricane storm names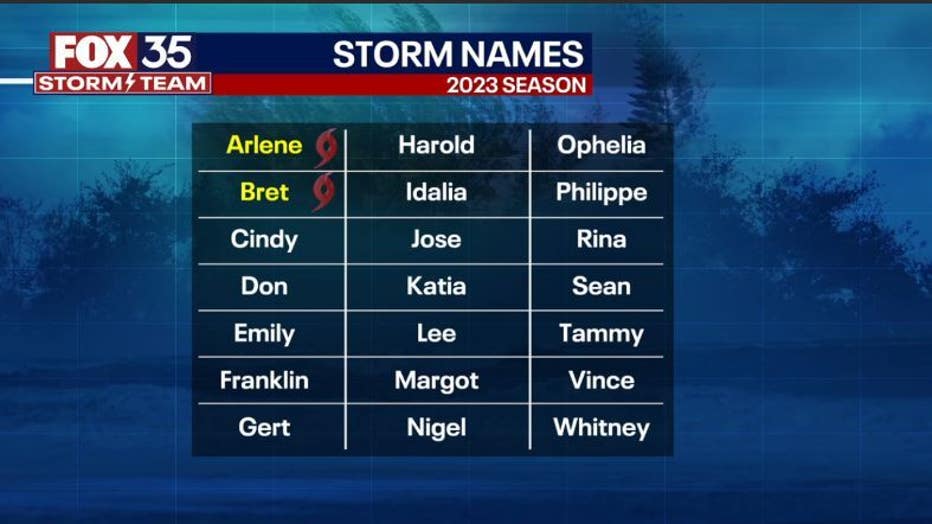 Preparing for hurricane season
Whether it's your first hurricane season in Florida or you've experienced a few, preparation is key – and the FOX 35 Storm Team is here to help you before, during, and after a storm.
The 2023 Atlantic Hurricane Season officials runs June 1 - November 30, 2023. This year, experts with Colorado State University and National Oceanic and Atmospheric Administration are predicting below-average or near-average hurricane seasons, but anyone who's lived through one of these powerful storms knows that just one can bring catastrophic damage.
If you missed our FOX 35 special, Tracking The Tropics: 2023 Season Preview, you can watch it again below. The FOX 35 Storm Team takes a look at how many storms we could see this year, how El Nino could impact this year's season, a new tool that could help protect your home, and a look inside Florida International University's "Wall of Wind."