Officials hope to find 'hero' who helped free 4 trapped on Florida jetty: 'Very treacherous weather rescue'
VOLUSIA COUNTY, Fla. - The search is on for an unknown hero who bravely helped save four people who found themselves trapped on a rock jetty in Florida during stormy weather a couple of weeks ago.
"We need your assistance finding and recognizing the brave individual who selflessly stepped forward and saved a child's life on June 15," Volusia County Beach Safety said Tuesday in a Facebook post.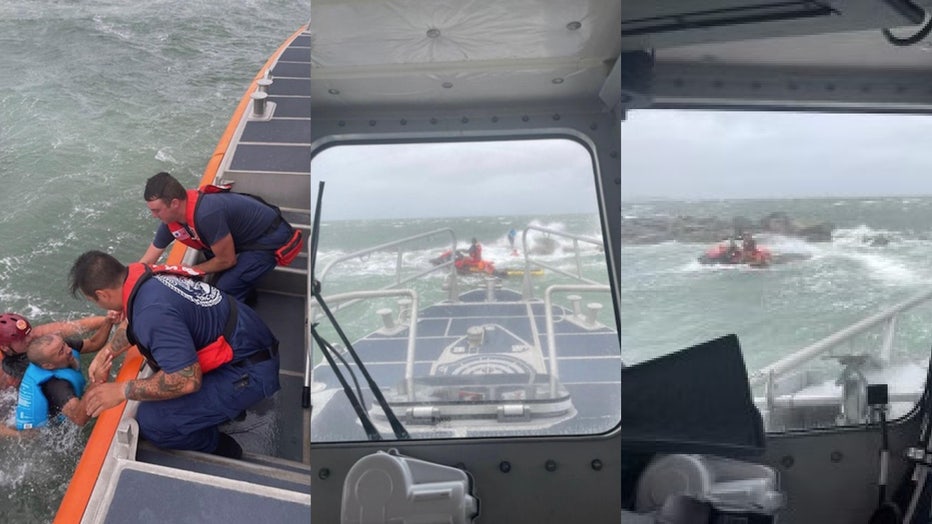 Photo credit: Volusia County Beach Patrol
Beach patrol said two adults and two kids became trapped on the Ponce Inlet Jetty in Volusia County, and couldn't get back on their own when the mystery person stepped in to help out.
"Despite the lightning, towering five-foot swells, and powerful wind gusts, the extraordinary efforts of the Good Samaritan, Volusia County Beach Safety, and the U.S. Coast Guard led to all victims being safely rescued," the post read.
"It was a very treacherous weather rescue with crazy conditions and there was a language barrier as well," explained Tammy Malphurs, Deputy Chief of Volusia Beach Safety.
She said the man was on a boat and rescued one of the children as a storm rolled into Ponce Inlet. Volusia County Beach Patrol released three photos of the rescue to FOX 35. While there are pictures of the rescue, there are no pictures of the man who assisted. 
"It was a very heroic act with the weather conditions in a boat with a jetty can be very dangerous. We're thankful that the rescuer, this individual good Samaritan, and the child were safe," Malphurs said.
Beachgoers were impressed when they heard the news of the rescue.
"I did see the post on social media, and I thought about it. It's just amazing," said Jessica Tejera. "I hope they can step forward and be recognized for what they did."  Her mother Nancy Meres agreed, adding, "[With] all this craziness in the world, it's amazing that somebody would just risk their own life. And I used to be a lifeguard, so I know the importance of it."
Rescuers hope to find the good Samaritan and present them with an award during an upcoming Volusia County Council meeting on July 11.
"We thank you very much in helping this family bring their child home," Malphurs said. 
Call Beach Safety Headquarters if you have information at 386-239-6414.