USF TikTok ban: University of South Florida joins UF, banning multiple apps from school devices, internet
TAMPA, Fla. - The University of South Florida notified students, faculty and staff they would no longer have access or be permitted to use TikTok and a handful of other apps, effective immediately, according to the school's online publication.
Bulls will no longer be able to install or use TikTok, Tencent QQ, WeChat, Vkontakte and Kaspersky under the new rules, which are part of Florida's proposed Digital Bill of Rights.
The bill was introduced by Governor Ron DeSantis back in February and is still being considered by lawmakers. The governor said the bill's intent is to "protect Floridians' digital rights and privacy from Big Tech companies."
PREVIOUS: Sen. Marco Rubio introduces legislation to ban TikTok in America
When he announced the proposed Digital Bill of Rights, DeSantis called on state-funded organizations, including universities, to "implement all necessary safeguards to block access to applications and software tied to China."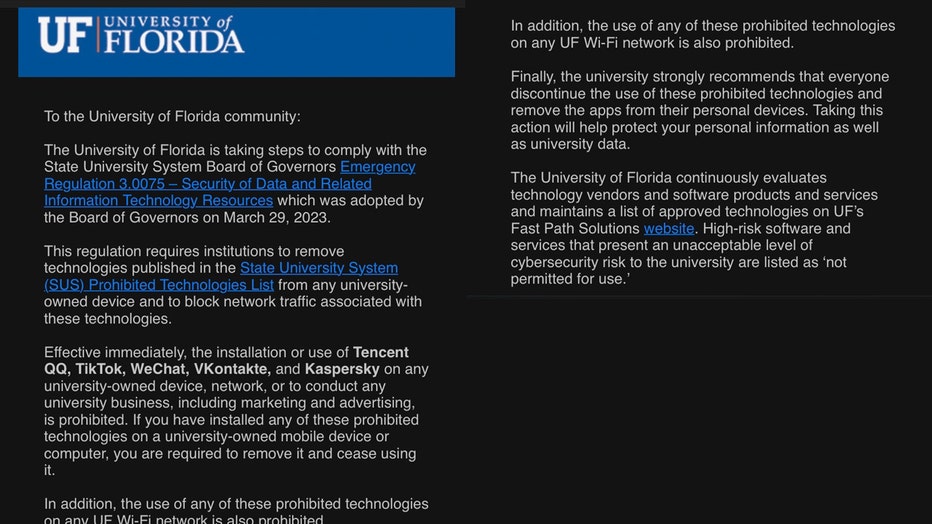 Email sent to University of Florida students, notifying them of TikTok ban (student-provided image)
MORE: University of Florida bans TikTok on school devices and Wi-Fi, 'effective immediately'
As part of USF's ban on the social media and chat apps, anyone connected to the school's Wi-Fi or internet will not be able to access the platforms. Those using university-owned devices will not be able to install the apps.
The University of Florida made a similar announcement, banning the same apps from being used on its internet connection and school devices.