Video captures Florida doctor screaming at patient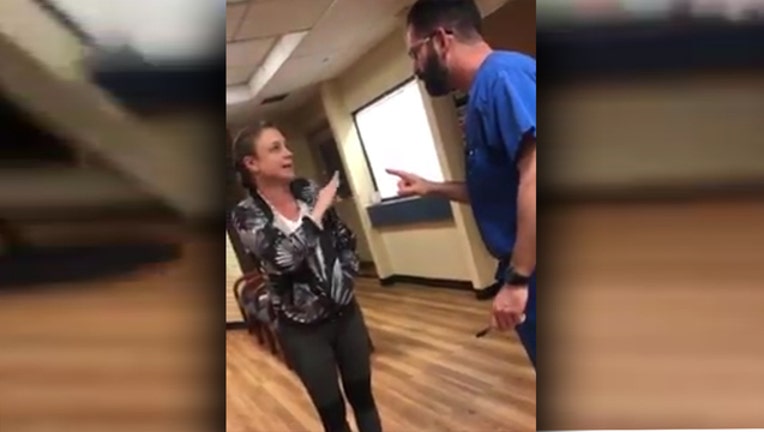 article
GAINESVILLE, Fla. (WOGX FOX 51) - A confrontation between a patient and doctor at a Florida clinic, captured on a cell phone and posted on social media, is garnering some national attention.
Jessica Stipe posted the video on her Facebook page of the argument between her and Dr. Peter Gallogly of Gainesville After-Hours Clinic, in Gainesville, Florida.  Stipe's teenage daughter recorded the video.
During the incident in the waiting room, Gallogly charges toward Stipe, shouting and jabbing a pointed finger toward her face.  The video captures Gallogly asking, "You're recording this?" before grabbing the teen's phone and walking away with it. 

Stipe says things got out of hand after she asked the office to return her copay.  The clinic posted a statement from Gallogly on its Facebook page Wednesday afternoon.
"Ms. Stipe had been increasingly belligerent and abusive to the office staff, cursing them and threatening them with violence, because she was unwell and had been waiting to be seen by me for more than an hour," Gallogly wrote. "I went to the front desk only because after Ms. Stipe received her refund, she refused to leave the office, and continued her abusive behavior towards staff."
Gainesville Police have opened a criminal investigation into the incident.
Stipe's video has over 300,000 views and over 4,000 shares on Facebook as of Thursday afternoon.