Wanted Florida man taken down by deputies at Publix after allegedly attacking ex-girlfriend at gas station
CLERMONT, Fla. - A man accused of violently attacking three people, including his 64-year-old ex-girlfriend and a good Samaritan who tried to intervene, at a gas station convenience store was taken down by deputies in a chaotic scene at a Publix in Central Florida on Wednesday. 
Jose Chaidez was arrested and charged with attempted second-degree murder, armed burglary with battery, burglary with battery, criminal mischief, and stalking. 
The 35-year-old man allegedly attacked three people at J & S Food Mart, a gas station convenience store on Hinson Avenue in Haines City, on Saturday. Surveillance video from the Polk County Sheriff's Office shows Chaidez beating several people in the convenience store.
Deputies said Chaidez threatened the woman at the store with a butcher knife, slapped her with it and pulled her by her hair. A man who witnessed the incident tried to stop Chaidez, but was overpowered and struck in the head while lying unconscious on the floor, surveillance video shows. He then attacked another man before leaving the store. 
The good Samaritan was rushed to the hospital, where he remains in critical condition. 
At the time, deputies asked for the public's help in locating him.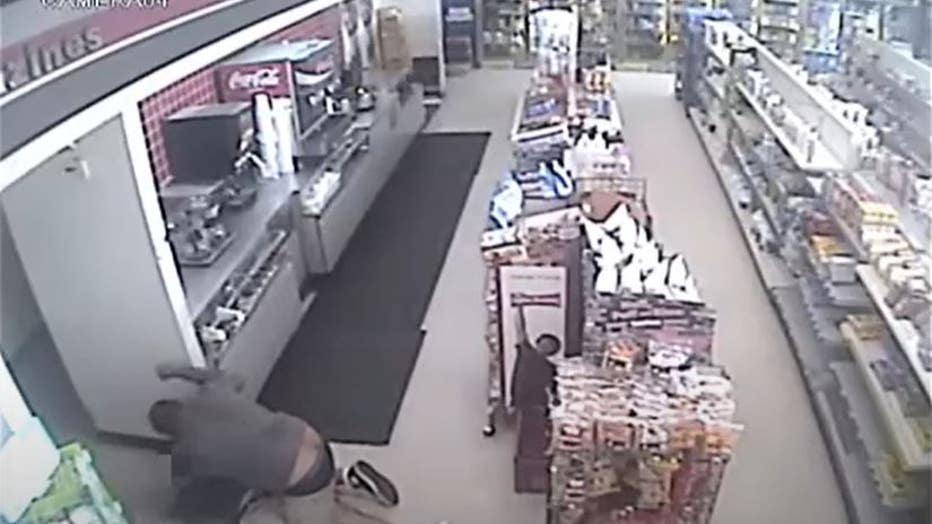 Photo: Polk County Sheriff's Office
On Wednesday, the Lake County Sheriff's Office was contacted by Polk County detectives about a possible location for Chaidez. As deputies were getting ready to look for him in the Clermont area, dispatchers got a call from an employee at Publix on US-27 and Citrus Tower Boulevard in Clermont for an incident involving a man whose description matched Chaidez. 
The employee said there was a suspicion man at the customer service counter trying to use the phone and "acting nervously," according to deputies. 
Deputies responded and took Chaidez down inside the grocery store by the customer service counter. Bodycam video from the Lake County Sheriff's Office shows the man being handcuffed on the ground and taken into custody outside. 
Photo: Lake County Sheriff's Office
MORE HEADLINES:
He was transported to the Lake County Detention Center. Chaidez attended his first appearance hearing Thursday morning, where he was denied bail, officials said. He is awaiting his transfer to the Polk County Jail, which is where any further proceedings will take place. 
Polk County Sheriff Grady Judd thanked Lake County deputies for their assistance in nabbing Chaidez. 
"Thanks to our law enforcement partners in Lake County, this violent and dangerous suspect – Jose Chaidez – is behind bars where he belongs, and where he can't hurt any innocent victims," Judd said. "Our prayers remain with the man he viciously beat and we're hoping for his full recovery."