With temporary barriers removed, Coastal Volusia County homes suffer during weekend storms
NEW SMYRNA BEACH, Fla. - If you live closer to Orlando, you may not even have known there was a weekend storm. Those along Volusia County's coast say there was no question about it.
Alyssa Morris, who visits New Smyrna Beach every year, said the storms and the damage that arose from them were astounding.
"We were downtown and the power went out down there. We saw some trees down. We were even on the bridge to the inner part of the island and there were tree branches there, which is literally surrounded by water. So the winds are pretty strong."
Those along the Coast happen to be at greater risk during those storms than they would've been a few weeks ago.
In preparation for turtle nesting season, Volusia County is taking down the barriers – called Tiger Dams – meant to protect homes following the storms. Along New Smyrna Beach, the dams are deflated and damaged. Homes that were torn apart in the hurricanes are now exposed to the elements, with waves pulling more debris further out to sea. 
"It almost looks like something out of a movie," said James Daley as he walked past the damaged homes, through a shoreline littered with rubble."It's pretty dangerous, to be honest."
Paul Vickers is the president of US Flood Control, the company that makes Tiger Dams. He's also part of the National Turtle Rescue Program.
"I'd make sure to tell everyone to be very careful and cautious from now on now because the exposure is very real," said Vickers.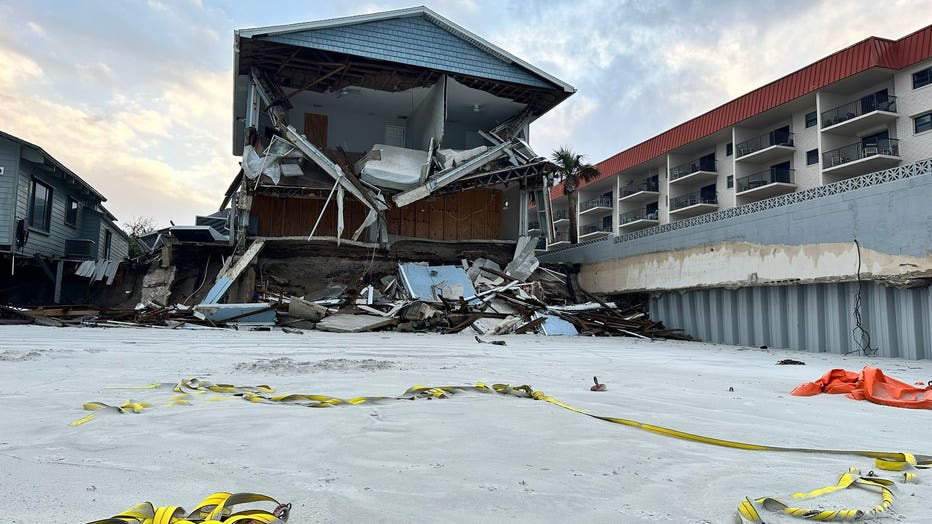 Homes damaged in the hurricanes are now at risk once again
Shortly after the storms, Sheriff Mike Chitwood talked with FOX 35 News about the difficulty people were going through trying to get things repaired. 
"Turtles have more rights than people do in Florida. They really do," he said in November 2022.
When FOX 35 News asked Vickers what his take on that was, he says the issue is certainly a challenge.
"It's just an incredibly difficult thing for the poor turtles, and I do understand those who want hose removed. Of course, you also understand the plight of the people who live on those shore edges, who are in grave danger after the hurricanes come through. With a small amount of storms, you can see some serious damage."
The Volusia County government told me some tiger dams were destroyed in New Smyrna Beach, and residents reported the same thing in Daytona Beach Shores. Thankfully, representatives in the City of Daytona Beach Shores said no buildings there were damaged, but property owners said they lost around five feet of sand.
In Wilbur-by-the-Sea, one homeowner estimated the same. New Smyrna Beach isn't fairing any better. 
"A lot of it's been eroded away just from the storms this past weekend," said Morris. 
The Tiger Dams are scheduled to be removed entirely by May 1st. That's the start of turtle nesting season. They'll be replaced with a different type of barrier called a TrapBag.