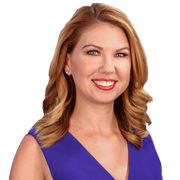 Amanda is an Emmy-nominated and award-winning journalist. Since 2018, Amanda has loved being part of the FOX 35 Good Day Orlando morning news team.
While she was born and raised in the Sunshine State, she has moved to three other states as a broadcast journalist. Most recently she reported for News 13 in Orlando investigating community concerns and covering court cases.
Prior to her move back to Central Florida, she reported in Greensboro, North Carolina for Time Warner Cable News, where she was recognized as one of the top reporters in the state by The Associated Press. While in Greensboro, she provided complete and continuous coverage of the John Edwards campaign finance trial from the federal courthouse.
Before moving to North Carolina, Amanda worked as a reporter for WAKA-CBS in Montgomery, Alabama, where she covered national stories, such as Alabama's controversial law on illegal immigration, and the devastating tornadoes that ripped through the state, causing severe damage and hundreds of fatalities.
She completed graduate work at the New York Film Academy in Manhattan, where she studied broadcast journalism in a program affiliated with NBC News. She graduated Magna Cum Laude with a Bachelor of Science degree from the University of Florida's College of Journalism and Communications.
While in college, Amanda completed internships at NBC's "Today" show in New York City and WCJB TV20 News in her hometown of Gainesville.
In her free time, Amanda enjoys going for runs, traveling and playing with her Cavalier King Charles Spaniel, named Rosy.
The latest from Amanda McKenzie
An estimated 10% of all vehicles will be electric by 2025. With that increase, it poses new challenges for firefighters in case they encounter a fiery vehicle crash.