'Break the Glass Challenge' kicks off Hilton Grand Vacations Tournament of Champions
LAKE NONA, Fla. - At this week's Hilton Grand Vacations Tournament of Champions at Lake Nona, the celebrities don't play directly against LPGA players in the tournament rounds. However, on Tuesday, they mixed it up a little bit, for a "Break the Glass" competition – celebs versus the LPGA Tour players.
"It was lot of fun," said actor and host Alfonso Ribiero. "I went two for two. I did my part, that's all you can do."
Ribiero was the only celebrity to break the glass in both of his shots.  "The Office" star Brian Baumgartner missed the glass on both his attempts.  Country music star Chris Lane missed his shot.
But the LPGA Tour pros showed why they are the best in the world, with Paula Reto smashing the glass twice, and two-time LPGA Tour winner Marina Alex smashing the game-winner.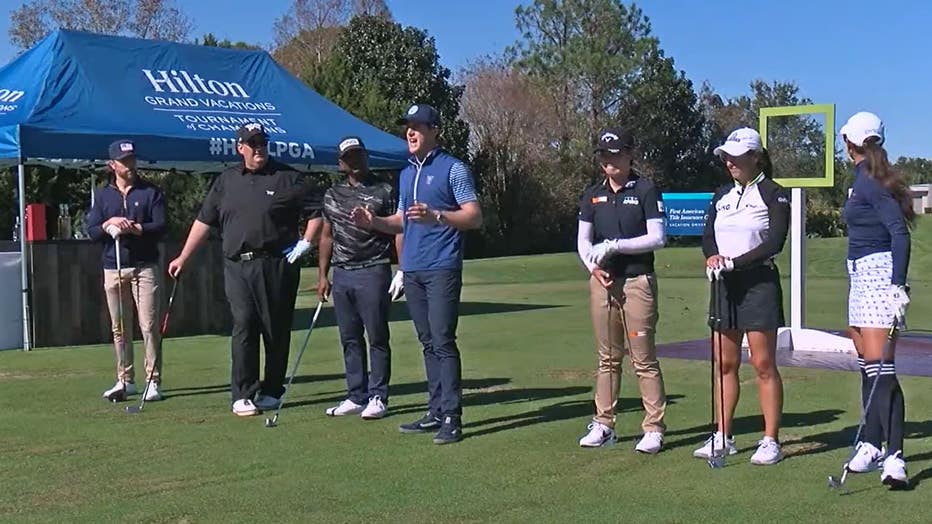 "It was like sneaky hard," said Alex. "It was a little nerve-wracking there on the last one. You know we should be able to beat them and at one point I was like uh-oh, they might kick our butts."
MORE HEADLINES: 
Actual tournament rounds start Thursday, with these celebrities playing right alongside the LPGA players in separate, real competitive tournament rounds for both groups.
"I love it. I love playing with the players of the LPGA Tour," said Baumgartner. "I have a blast. Watching them hit the ball. The consistency is amazing. So I really, really enjoy it."
"I'm used to walking out on stage in front of a crowd, but, hitting in front of some LPGA Tour players was definitely pretty nerve-wracking," said Lane. "I think just meeting a lot of the other players and celebrities and just the camaraderie of just hanging out and meeting new people. And of course, I'm obsessed with the game of Golf. So getting to play four rounds plus the practice rounds is pretty special."
Things get a little more serious starting Thursday, but the whole tournament still keeps a fun vibe all weekend.