Lingering showers follow day of severe weather
ORLANDO, Fla. - Damaging wind gusts, heavy rain, and lightning were reported on Thursday across the region, with the bulk of the severe weather passing over the Florida peninsula early afternoon.
The latest forecast modeling shows lingering showers along the Atlantic Coast but the region is mostly in the clear now for inclement weather.
A FOX 35 Storm Alert Day was declared for Thursday in anticipation of the severe weather.
Small, pea-sized hail was reported across Brevard County, near Titusville.
"We did see some very gusty winds across portions of Flagler, Volusia, Orange, and Brevard counties," said FOX 35 Storm Team Meteorologist Allison Gargaro.
Gargaro said the strongest wind gust was recorded in Holly Hill at 53 mph, while Patrick Air Force Base saw 43 mph winds.
"Now as we head into the overnight hours, things are definitely calm down, and actually, temperatures are going to be cooler on the back end of our cold front," Gargaro added.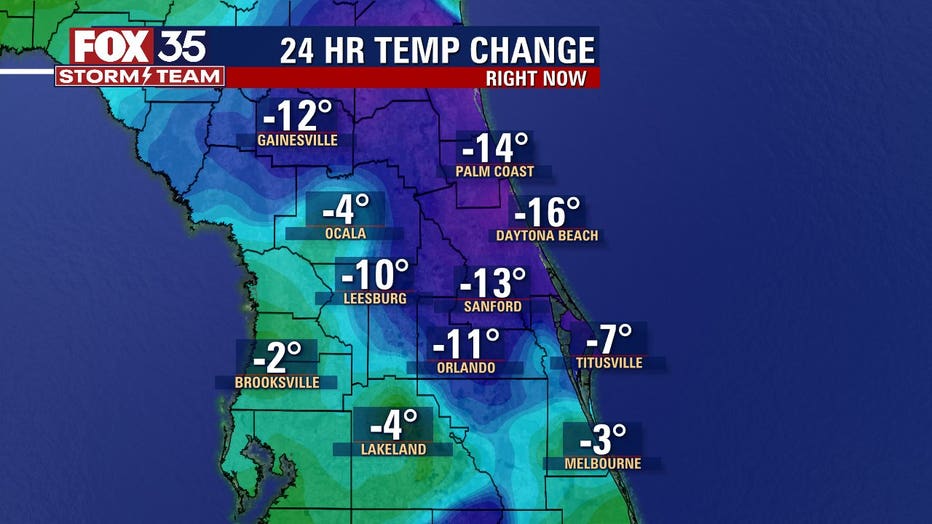 As the system departs Central Florida late Thursday night into Friday, there will be drier air and a sun-filled sky heading into Mother's Day weekend with a high of 91 on Sunday.
WEATHER ALERTS: Download the FOX 35 Storm Team Weather app for live radar, severe weather alerts, and daily forecast reports on your phone
Watch FOX 35 Orlando for the latest weather updates.