Why is it raining so much in Florida? And what does that have to do with hurricane season?
FORT LAUDERDALE, Fla. - Why has it been raining so much in South Florida? Experts say the latest windy, rainy storm system has nothing to do with hurricane season — and it's finally moving on.
The storm system that formed over the Florida Keys this week and dumped up to 9 inches (23 centimeters) of rain across parts of South Florida has moved into the Atlantic Ocean, bringing clearing skies to the region on Thursday, the National Weather Service in Miami said.
While hurricane season doesn't officially end until Nov. 30, this storm wasn't associated with a tropical system, according to Luke Culver, a meteorologist with the National Weather Service in Miami.
"It's not considered a tropical system because of the way it formed," Culver said, noting that the system developed more like a nor'easter, which are more common in the northeastern United States.
FOX 35 STORM IMPACT DAY: Heavy rain, gusty winds, coastal flooding possible across Central Florida on Thursday 
Heavy rain started falling across South Florida on Tuesday night, continuing into Wednesday before mostly ending early Thursday. High winds accompanied the rain, with some areas along the South Florida coastline experiencing gusts up to 70 mph (112 kph), Culver said.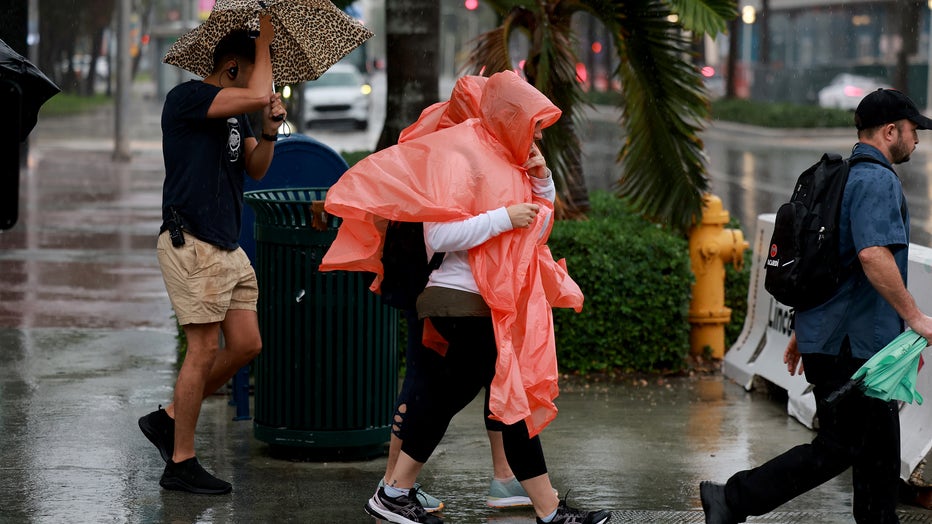 MIAMI BEACH, FLORIDA - NOVEMBER 15: Pedestrians try to stay dry as rain inundates the area on November 15, 2023 in Miami Beach, Florida. A weather system slowly passing through South Florida is leaving Miami-Dade soaked and causing concern for potent
The potential for flooding led officials with the Broward County school system to cancel classes on Thursday. The district is the nation's sixth largest, with more than 251,000 students. Schools in neighboring Miami-Dade County remained open on Thursday.
The rain has not been limited to South Florida. In central Florida, the week felt more like Seattle as the area's abundant theme park tourists faced a steady, nonstop pelting of raindrops, rather than the usual Sunshine State style of intense but quick downpours.
There were no major cancellations, though a few local outdoor Christmas-related festivities and food festivals were postponed on Thursday due to the inclement weather.
During a 24-hour period beginning Wednesday mornings, some areas in Miami received between 5 and 9 inches (12 to 23 centimeters) of rain, while the Fort Lauderdale area recorded between 4 and 7 inches (10 to 18 centimeters), Culver said.
It's the second time this year that Fort Lauderdale has experienced heavy rainfall during a one-day period.
In mid-April, a storm system that stalled over South Florida dumped up to 25 inches (63.5 centimeters) of rain on parts of Fort Lauderdale, causing neighborhoods to flood. The fast-rising water left dozens of motorists stranded on flooded streets and forced Fort Lauderdale-Hollywood International Airport to close.
"I think it's almost more of a bad luck kind of thing," Culver said. "That one event (in April) was obviously very historic, on the extreme end of the scale, where this is more of an event that occurs every few years. It just happened to be that they were both in the same year."
AP reporter Mike Schneider contributed to this report from Orlando, Florida.